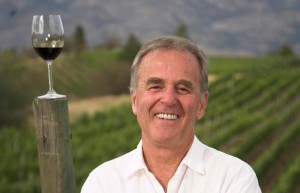 http://www.cowichannewsleader.com/entertainment/221871031.html
Opens minds, full stomachs and glasses of Google research are among Terry Tips for a terrific time at the Cowichan Wine & Culinary Festival.
Terry David Mulligan, a prominent Vancouver TV and radio show host and author, pours years of viticultural smarts into his popular Tasting Room radio show — and Hollywood & Vines TV show shared with fellow actor and corkhead Jason Priestley.
Mulligan joins Troy Townsin of CBC's Time For Wine, and sommelier-author Treve Ring during a lively panel discussion at Rocky Creek Winery Sept. 14.
Mulligan can't wait.
"I've been bored out of my mind with various panels, but I intend this hour will be as entertaining as possible," he told the News Leader Pictorial, while sipping pinot noir from Cowichan's Unsworth Winery.
It and Rocky Creek are just two of a dozen valley wineries — plus various bistros — tapping barrels and starting ovens for the Sept. 7 to 15 cork-and-fork festival launched by Saturday's team-theme Grape Stomp! at Cowichan Exhibition grounds.
Cowichan's festival is new to Mulligan — an actor, DJ and former host of Good Rockin' Tonight — who has visited the Warm Land, but not as a globetrotting wine critic.
"I truly have no expectations of the Cowichan Valley. I'm going over to learn, and find out more about the area.
"It's time for me to get caught up with everyone in Cowichan," he said of vino reporting planned for The Tasting Room and beyond.
"Not everyone will get a rave review — I'll talk about the wines that interest me; they all have to find their own voice. Wines that should be encouraged, I'll encourage."
Mulligan also encouraged festival goers to plan routes to maximize tasting time.
"You can't do everything, so make your choices and live with them. Ask around and do some Googling about (for example) who Unsworth is, and why they're making a sensational pinot.
"Go to shows like mine and do some due diligence, and ask which wines are making headlines," suggested Mulligan.
"Also, make a short list and try and take your time; if you just blaze through the festival, you won't remember anything. Eat before you go, too."
But for Mulligan, festivals offer more than vino.
"I'll also looking forward to checking out the culinary side of Cowichan. I know great food when I taste it, and great food that pairs with wine."
That fare will be served by local eateries including the Stone Soup Inn, Thistles Cafe, the Teafarm, La Pommerie, Satellite Bar & Grille, Pioneer House, and Vinoteca during a chalice of chef's dinners, many back ed by live music and art exhibits.
A highlight meal will be the 150-seat Cowichan Long Table Dinner by the Island Chefs' Collaborative at Dragonfly Farms on Sept. 8, marking the IFF's debut pairing with the Cowichan Wineries Co-operative.
That's where products by Blue Grouse, Averill Creek, Vignetti Zanatta, Rocky Creek, Silverside, and Damali wineries, plus Merridale Ciderworks, can be tried during the farm-to-table event.
Meanwhile, Rocky Creek's panel will tap key questions.
"We'll ask ' What grape will lead the island in the future?'" year-round rosé fan Mulligan explained.
"The region that's successful will have something that gets people's attention.
"In Oregon, it's pinot noir. Right now, everyone's just guessing. I think it might be pinot noir, or a blend, because you make can a lot of everything."
Also on deck: What do island wineries want to be known for? What kind of destination are they?
Mulligan's experienced a barrel of wineries and festivals.
"One of my favourites is Cornucopia in Whistler in November, because it's smaller venues and contained — you can walk from event to event.
"The other one is The Playhouse, Vancouver's wine festival."
Mulligan urged Cowichan's 16 or so wineries to bottle locally but think provincially — even globally.
"Lots of wineries sell out locally, but some equate that to having great wines, but if they bring that wine to Victoria, Vancouver, or Calgary there may be a hard reality coming their way.
"You can't just be heroes in your own ball park, you have to expand outside your region."
But Mulligan was miffed at Prohibition-type barriers to bringing wines across provincial boundaries.
"It gets hairy with Tourism B.C. saying 'Come to wine country', and the Alberta government saying 'You can't just bring wine in from B.C.'
"It's a lousy cash grab (by government). But finally, wineries are realizing they've cowed since 1928 — no one has ever been charged.
"It's all phoney (threats), and the wineries are standing up and shipping. Their (bureaucrats') bluff has been called."
For festival details, visit wines.cowichan.net, or call 250-748-5622.