VANCOUVER'S ROCK 'N' ROLL MUSICAL
Arts club classic Vancouver, 1957. Five teens come of age while DJ Red Robinson plays the biggest hits of the time—from the raucous "Great Balls of Fire" and "Jailhouse Rock" to ballads like "Diana" and "Crying." This infectious musical captures the excitement and innocence of the city's burgeoning rock 'n' roll scene.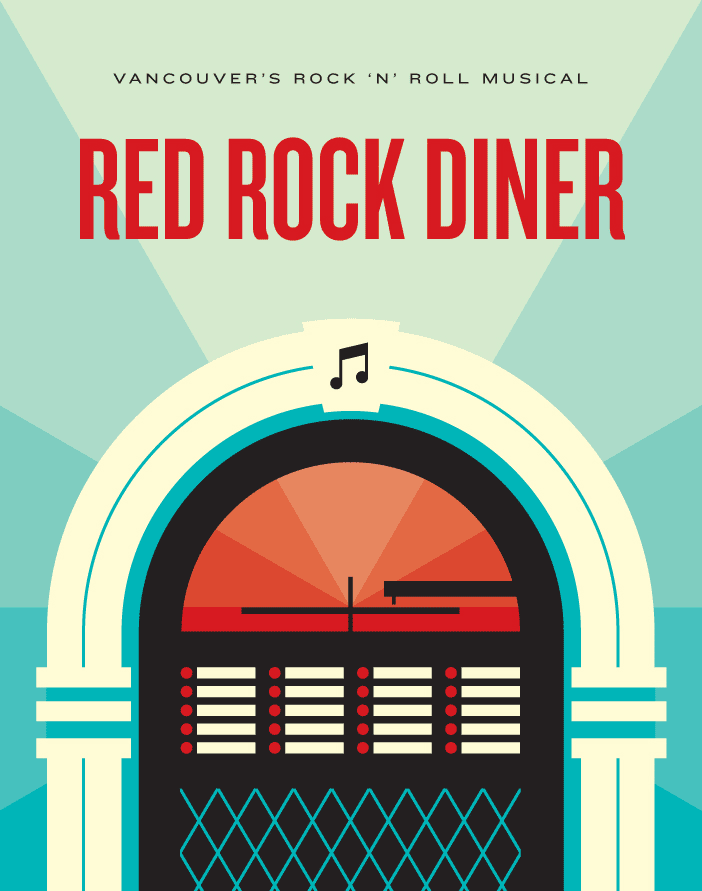 About Red
Red Robinson's roots go back to the beginning of Rock'n'Roll.
Red was spinning the hits on Vancouver's CJOR while still in high school in 1954. He was the first DJ to play rock'n'roll music on a regular basis in Canada. In 1957, Red jumped to Vancouver Top 40 giantCKWX, where he met Buddy Holly and Elvis and was MC for Elvis' appearance.
In 1964, Red introduced The Beatles on the same stage where Elvis appeared seven years earlier.  I couldn't wait to talk to Red about his life and times with legends such as:
Wynonie Harris , Jerry Lee Lewis, Chuck Berry, Ritchie Valens, Bobby Darin, Little Richard, Fats Domino, Elvis, Buddy Holly, Sam Cooke, James Brown, Ray Charles, The Every Brothers.
His web site is : http://redrobinson.com/
And we play them all..in the second hour..


 Listen to my RAW Interview with Red Robinson here:       Red Robinson RAW June 2014
Playlist:
| | | |
| --- | --- | --- |
| Highway 61 (live) | John Mellencamp | JM performs Trouble No More Live at Town Hall July 31 2003 |
| Satellite (live) | Dave Mathews Band | Live at Red Rocks |
| Born in the USA (live) | Bruce Springsteen | The Bridge School Concerts |
| Don't make them like they used to | The harpoonist & the Axe Murderer | A real fine Mess |
| Tommy Gun (live) | The Clash | Live / Mojo |
| Instead | Madeleine Peyroux | Bare Bones |
| Taking it to the Break | ckua.com | TDM/The Stew |
| Daytime Nighttime | Keith Hampshire | single |
| Wondering where the Lions are (live) | Bruce Cockburn | Roots Essentials Vol 1 |
| Stones in my Passway (live) | John Mellencamp | JM performs Trouble No More Live at Town Hall July 31 2003 |
| Water or Gasoline | Blackie & the Rodeo Kings | Roots Essentials Vol 1 |
| sneaking Sally through the Alley (live) | Colin James | Twenty Five Live |
| Down by the Henry Moore | Murray McLachlan | Songs from the street |
| Bo Diddley | Bo Diddley | Rock&Roll: The Early Days |
| Please Hold. We'll be right back | with Red Robinson. Canada's 1st Rock DJ | and all the stars from rocks roots |
| Host | TDM | playlist www.mulliganstew.ca |
| Pink Houses (live) | John Mellencamp | JM performs Trouble No More Live at Town Hall July 31 2003 |
| Driven to Tears (live) | Sting | Bring on the Night |
| Break | Loading up the tunes for Red Robinson | playlist mulliganstew.ca |
| TDM and Red | How it all started | |
| Good Rockin Tonight | Wynonie Harris | Rock&Roll: The Early Days |
| tdm and Red | Jerry Lee & Chuck Berry | |
| Great Balls of Fire | Jerry Lee Lewis | Rock&Roll: The Early Days |
| Maybelline | Chuck Berry | Rock&Roll: The Early Days |
| TDM and Red | Talking Ritchie Valens & Bobby Darin | |
| Queen of the Hop | Bobby Darin | Best of |
| La Bamba | Ritchie Valens | The Ritchie Valens Story |
| tdm and Red Robinson | Stories of Little Richard and The Fat Man | |
| Tutti Fruiti | Little Richard | Rock&Roll: The Early Days |
| Blue Monday | Fats Domino | They call me The Fat Man Box Set |
| tdm and red | Talking Elvis – first impressions | |
| Heartbreak Hotel – Live in Vegas May 1956 | Elvis Presley | The Complete 50's Masters |
| tdm and Red Robinson | Memories of Buddy Holly. Sam Cooke. James Brown. Ray Charles | |
| Cupid | Sam Cooke | best of |
| Mess Around | Ray Charles | Ultimate hits Collection |
| tdm and red | the wrap up.. | |
| Wake up Little Susie | The Everly Bros | Uncut: The Beatles |
| Thank You Red | Keep on Rockin | TDM/The Stew |