The Wine Diva has Part One of her Top 100 wines under $20 and 89 points or better..
Beppi Crosariol and Lucy Waverman from the Globe and Mail  and their book The Flavour Principal
We talk to three wineries from The Golden Mile..BC's new wine sub region.
Tinhorn Creek – Fairview Cellars – Road 13!   

Podcast: Play in new window | Download
[divider]
 THE SHOW     
 Daenna van Mulligen loves her lists. The latest is the 2014 Top 100 wines under $20.00..all with review points 89 points or better.
You can see the complete line-up www.winediva.ca
 

Quinta do Ameal Branco Seco Vinho Verde, Portugal $17.50
Alamos Cabernet Sauvignon Mendoza Argentina $14.99
'Veedha' Douro, Portugal $16.00
Perseus Viognier, Okanagan Valley BC $15.00
Finca Las Moras 'Paz' Malbec $18.99
Louis.M.Martini Cabernet Sauvignon, Sonoma County California $19.99
Marchesi de Frescobaldi Chianti Castiglioni, Tuscany Italy $16.99
Bodegas Piqueras 'Castillo de Alamansa Reserva', Alamansa, Spain $13.99
Edna Valley Vineyard Chardonnay 'Cathedral Coast', San Luis Obisbo County California $19.99
Wente 'Morning Fog' Chardonnay, Livermore Valley California $19.99
Whitehaven Sauvignon Blanc, Marlborough New Zealand $19.99
Michel Torino 'Cuma' Organic Torrontes, Cafayate Valley, Argentina $13.99
Stoneboat Vineyards 'Chorus', Okanagan Valley BC $18.00
La Tarasque Old Vine Grenache, Cotes du Rhone France $17.99
Alfiero Boffa 'Storica' Barbera d'Asti, Piedmont Italy $15.00
Navarro Lopez Rojo Granrojo Tempranillo, Castilla Spain $16.00
The Flavour Principal..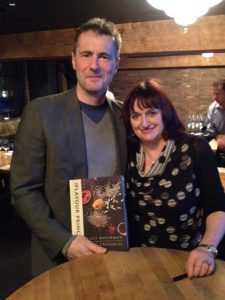 Beppi and Lucy
LUCY WAVERMAN is a leading Canadian food writer. Author of eight cookbooks, she has won numerous culinary book awards and honours. She is the food editor of the popular Liquor Control Board of Ontario magazine, Food and Drink (600,000 readership), and writes a weekly column for The Globe and Mail's Life section and a bi-weekly column in its Style section.
WEB: lucywaverman.com
FACEBOOK: Lucy Waverman 's Kitchen
TWITTER: @lucywaverman
BEPPI CROSARIOL has been The Globe and Mail's wine and spirits columnist for twelve years. His columns regularly cause a rush on liquor stores across Canada as avid readers run to buy up his recommendations. His readership is broad, covering both the establishment and younger urban drinkers who want guidance on wine and great tips on less expensive bottlings, served up with candour and humour.
http://www.harpercollins.ca/books/Flavour-Principle/?isbn=9781443413435
The Golden Mile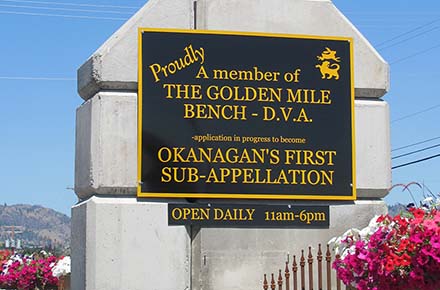 When sub-appellations are named in the Okanagan, the Golden Mile Bench between Oliver and Osoyoos is on track to be among the first (along with the Black Sage and Naramata benches).  Sub-appellations are part of the evolution of a mature wine region—and much coveted by wineries.
Situated on an upper bench, significantly warmer than the valley floor, Golden Mile vineyards benefit from good airflow, allowing the vines to escape spring and fall frosts. Generally facing east to south-east, the vines catch good early morning sun but shade by late afternoon. The cool evenings slow ripening, encouraging the development of complexity and intense flavours. The unique conditions are ideal for growing cooler climate varieties, such as Pinot Noir and Riesling, as well as sinewy reds.
For wine trekkers, the Golden Mile (more than a mile) runs from Fairview Cellars, named after the old gold mining town outside Oliver, to Castoro de Oro, north of Osoyoos Lake. Home to a dozen wineries, the Golden Mile integrates intriguing vintages with a dynamic, rural setting.
Combine fine wines with winery restaurants, plus local history, a network of hiking trails overlooking the bench and beyond, and you have the formula for one of the Okanagan's most irresistible agri-tourism experiences.
Our guests are
Sandra Oldfield. Co-Owner/Winemaker  TinHorn Creek  www.tinhorn.com

Bill Eggert.
Owner/Winemaker  Fairview Cellars fairviewcellars.ca       
Joe Luckhurst
GM Road 13 Vineyards. road13vineyards.com
Podcast: Play in new window | Download
[divider]
Stories we're working on:
Okanagan Crush Pad
Hahn Wines from California
Michael Bartier
Alan Doyle The book , the album..the wines.