Follow Frazey: @FrazeyFord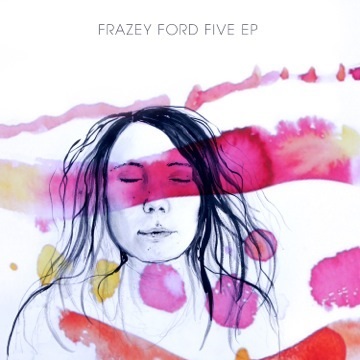 FRANCOIS MARCHAND, VANCOUVER SUN
Documentary filmmaker Robert Gordon was driving down a Memphis road when
Frazey Ford stopped him dead in his tracks.
Ford was on the radio singing If You Gonna Go, a song from her 2010 album
Obadiah. To Gordon, it felt as if Ford was channeling the spirit of Memphis
soul, a topic he was documenting at the time, focusing on soul icon Al
Green, producer Willie Mitchell and Memphis' famous Royal Recording Studio,
where Green cut some of his classic recordings.
He immediately called the radio station to find out who was playing, and
invited Ford to come down to Tennessee.
What Gordon didn't know was that the Vancouver-based singer-songwriter – who
is also a member of roots-folk trio Be Good Tanyas – had been a longtime Al
Green fan, and that one of her dreams was to one day work with Green's famed
Hi Rhythm Section: organist Charles Hodges, Sr., bassist Leroy "Flick"
Hodges and guitarist Mabon "Teenie" Hodges.
"(Gordon) looked me up and sent me an email asking if I wanted to come work
with those guys," Ford said in a phone interview. "It took me about a month
to respond because I was so in shock. I've been obsessed with that band and
those particular musicians most of my musical (life).
"It was too much of a bizarre dream come true."
Ironically, it had never occurred to Ford, who had first heard Green's
classic album Love And Happiness while sojourning in London in the early
'90s, to reach out to Mitchell and the Hodges brothers on her own.
"In the Be Good Tanyas, I was always used to working with my own band," Ford
said. "When I set out solo, I took (guitarist) Trish (Klein, also from Be
Good Tanyas) and John (Raham, the Be Good Tanyas' drummer) – I work within a
circle of people that I knew and was comfortable with. So to go and do a
whole album with these new people was a very expanding experience for me."
The resulting album, Ford's superb sophomore solo effort Indian Ocean, was
recorded in multiple separate sessions: In Memphis with Raham, bassist
Darren Parris and the Hi Rhythm Section, and in Vancouver with her regular
crew of Klein, Raham, Parris, guitarist Craig McCaul, backup vocalists Debra
Jean Creelman and Caroline Ballhorn, and pianist Phil Cook.
Ford admitted the initial Royal Recording Studio session was terrifying.
"I was very intimidated to be having to guide these sessions. We just
experimented. I wanted to jam with them. That's how they play and that's how
I play. We play by intuition and feel and that's why it worked between us.
"For (album opener) September Fields, I was in the control room and I was
singing into (Memphis soul singer) Ann Peebles' microphone. I was so nervous
that I didn't have a proper headphone mix. I couldn't hear what they were
doing. I came out of the backroom and they had turned it into this whole
other thing: It sounded like something between Dolly Parton and Love And
Happiness to me – like, wow."
In a strange twist of fate, Indian Ocean is the last recording Teenie Hodges
appeared on. He died shortly after the album was completed in June from
complications of emphysema. He was 68. Indian Ocean is dedicated to him.
"He was such a wonderful person and we became quite close," Ford said. "He
would call me before I'd go on tour. He was a lovely, hilarious character.
He went into a coma not long after we did our last session with him and he
had been saying he might come visit. I feel like he held on to finish that
album. He looked good but he was very frail and he was on oxygen the whole
time. He didn't have a lot of energy but the energy he had he gave to that
album."
Recorded over a period of two years, Indian Ocean strikes a fine balance
between light and dark, between elegiac, soul-lifting musicality and
confessional, soul-baring lyricism.
Heartbreak, frayed relationships and, Ford admitted, memories of childhood
abuse and trauma resurfaced on Indian Ocean, but not because she had planned
it.
"It was a really challenging album for me," Ford said. "Some of the stuff
coming out, I was like, 'Really? Now?' I couldn't see the overall picture
for a long, long time. (Obadiah) came out in one fell swoop: Making sense of
family and all this stuff. (Note: Obadiah is Ford's middle name, inspired by
the name of the family cat.)
"One thing that's so clear about (the Hi Rhythm Section) is that, in the
tradition of African-American music, you're not playing a sad song to bring
somebody down. You may sing about the hardest thing but you sing about it in
a way that's uplifting. You are interested in being truthful and being
expressive and moving through things."
That's the spirit Gordon felt when he heard Ford that time while driving his
car. That's the spirit every listener will hear and feel when giving Indian
Ocean a spin or when seeing Ford live at her two sold-out shows this week in
Vancouver at St. James Hall.
It won't be painful to dig deep. Rather, it will make you stronger.
"We carry so much unexpressed stuff because we're so terrified of it. You're
not alive when you carry too much of that stuff. Life is painful, no matter
what you do. But that movement through, with beauty and courage, is what
we're mean to do while we're here.
"This album traverses some heavy, hard things. There's no particular answer
or particular resolution – just the tides of life."
Story by: FRANCOIS MARCHAND, VANCOUVER SUN
PLAYLIST:
| | | |
| --- | --- | --- |
| This is Mulligan Stew | Playlist  www.mulliganstew.ca | TDMulligan |
| Feeling Alright (live) | Joe Cocker | Live at Woodstock |
| Killin Floor | The Electric Flag | From his head to his heart to his hands |
| The way it is | The Sheepdogs | The Sheepdogs |
| tdm  your holiday elf | playlist www.mulliganstew.ca | Coming Up – The CKUA Top 100 for 2014 |
| Heart is a drum | Beck | Morning Phase |
| come see about me | Tedeschi Trucks Band | Revelator |
| You've changed | Dave and Phil Alvin | Play and Sing songs of Big Bill Broonzey |
| 27 is the new 17 | Zeus | Classic Zeus |
| I just dont understand | Spoon | they want my soul |
| break | Coming UP – More highlights from CKUA Top 100 from 2014 | Our guest  Carol ann Murray |
| The 2014 CKUA Top 100 with our guest | Carol Ann Murray | Music Co-ordinator CKUA Radio |
| Let her go | Mac Demarco | Salad days |
| Straight through the Light | Zeus | Classic Zeus |
| Ive got the World on a String | Dr John & Bonnie Raitt | Ske Dat de Dat. The Spirit of Satch |
| carol ann Murray | Music Co-Ordinator CKUA | The CKUA Top 100 for 2014 |
| Headphones | Mounties | Thrash Rock Legacy |
| Poor Howard | Robert Plant | Lullaby and the Ceaseless Roar |
| Spades | Jenn Grant | Compostela |
| Break | Be right back with Carol Ann Murray | www.mulliganstew.ca |
| The 2014 CKUA Top 100 with our guest | Carol Ann Murray | Frazey Ford in 30 minutes |
| Too Bad So Sad | Michael Rault | Living Daylight |
| Backstairs | The New Pornographers | Brill Bruisers |
| West Memphis | Lucina Williams | Down where the spirit meets the bone |
| tdm  your holiday elf | Coming UP  Frazey Ford | Her new album Indian Ocean |
| Almost like the blues | Leonard Cohen | Popular Problems |
| so much to learn | Adam Cohen | We go Home |
| this is Mulligan Stew wit tdm | Coming UP  Frazey Ford | playlist www.mulliganstew.ca |
| Frazey Ford Interview at memphis Blues BBQ | Her latest release is Indian Ocean | details at www.mulliganstew.ca |
| September Fields | Frazey Ford | Indian Ocean |
| Frazey Ford Interview at memphis Blues BBQ | Her latest release is Indian Ocean | details at www.mulliganstew.ca |
| Youre not Free | Frazey Ford | Indian Ocean |
| Frazey Ford Interview | | |
| running | Frazey Ford | Indian Ocean |
| Frazey Ford Interview | | |
| These Arms of Mine | Otis Redding | Live in Paris |
| | | |
| | | |
| | | |