Jerome "Jerry" Leiber and Mike Stoller were American songwriting and record producing partners. Stoller was the composer and Leiber the lyricist.

Leiber and Stoller's initial successes were as the writers of such crossover hit songs as "Hound Dog" and "Kansas City". Later in the 1950s, particularly through their work with The Coasters, they created a string of ground-breaking hits that are some of the most entertaining in rock and roll, by using the humorous vernacular of the teenagers sung in a style that was openly theatrical rather than personal, songs that include "Young Blood", "Searchin'", and "Yakety Yak". They were the first to surround black music with elaborate production values, enhancing its emotional power with The Drifters in "There Goes My Baby", and influencing Phil Spector, who studied their productions while playing guitar on their sessions.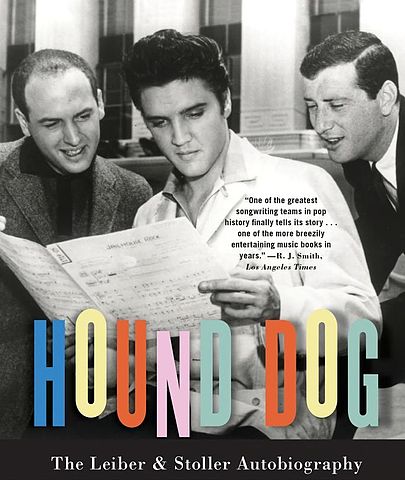 Leiber and Stoller wrote hits for Elvis Presley including "Love Me", "Jailhouse Rock", "Loving You", "Don't", and "King Creole".[3] They also collaborated with other writers on such songs as "On Broadway", written with Barry Mann and Cynthia Weil; "Stand By Me", written with Ben E. King; "Young Blood", written with Doc Pomus; and "Spanish Harlem", co-written by Leiber and Phil Spector. In 1964, they launched Red Bird Records with George Goldner and, focusing on the "girl group" sound, released some of the greatest classics of the Brill Building period.


In all, Leiber and Stoller wrote or co-wrote In all over 70 chart hits. They were inducted into the Songwriters Hall of Fame in 1985 and the Rock and Roll Hall of Fame in 1987.
---
PLAYLIST:
| | | |
| --- | --- | --- |
| This is Mulligan Stew on CKUA | Playlist www.mulliganstew.ca | Thanks for listening |
| Georgia Warhorse | JJ Grey and Mofro | Georgia Warhorse |
| Gnawing on it | Bonnie Raitt | Siver Lining |
| Lucinda/Goin down the Well | Tom Waits | Glitter and Doom (live) |
| this is Mulligan Stew with TDM | Playlist www.mulliganstew.ca | |
| Sweetest thing | U2 | The best of 80-90 |
| www.canadahouse.com | this is mulligan stew at ckua radio | |
| Coming on strong | Blue Shadows | On the floor of Heaven |
| No smoke without Fire | James Hunter | People Gonna Talk |
| this is Mulligan Stew with TDM | Playlist www.mulliganstew.ca | |
| Coming UP – Beck. Wilco.Pearl Jam.Black Keys | Mulligan Stew with TD Mulligan | |
| Youthless | Beck | Modern Guilt |
| You never know | Wilco | Wilco (The Album) |
| Thin Line between Love and Hate | Pretenders | Learning to Crawl |
| Just Breathe | Pearl Jam | Back Spacer |
| this is Mulligan Stew with TDM | Coming UP – Herbie Hancock and Pink Floyd | |
| Howing for you | Black Keys | Brothers (deluxe) |
| tdm | Playlist www.mulliganstew.ca | |
| Space Captain | Herbie Hancock/Susan Teceschi | The Imagine Project |
| Learning to fly (live) | Pink Floyd | Pulse (live) |
| TD Mulligan – Mulligan Stew | | |
| playlist www.mulliganstew.ca | Coming UP – Hour Two and The Stew | A tribute to Leiber-Stoller |
| this is Mulligan Stew with TDM | This is a tribute to songwriters Gerry Leiber and Mike Stoller | playlist www.mulliganstew.ca |
| On Broadway | The Drifters | Under the boardwalk |
| Spanish Harlem | Ben E King | Spanish Harlem |
| Dirty Dirty Feeling | Elvis | Elvis is back |
| You're so Square | Buddy Holly | Buddy Holly |
| Saved | Lavern Baker | Saved |
| Jailhouse rock | Elvis | Rarity Collection Vol1 |
| Kansas City | Wilbert Harrison | Kansas City |
| Up on the Roof | The Drifters | Under the boardwalk |
| Hound Dog | Little Ester | Best of 1932-53 |
| I (who have nothing) | Ben E King | Golden Hits (57-61) |
| this is Mulligan Stew with TDM | This was a tribute to Leiber/Stoller | Writers of the last 10 songs |
| this is Mulligan Stew with TDM | playlist www.mulliganstew.ca | |
| Only | Sublime with Rome | Yours Truly |
| The Well | Dave Stewart | The Blackbird Diaries |
| Passenger 24 | Whitehorse | Whitehorse |
| this is Mulligan Stew with TDM | www.coyotesbanff.com | |
| Domino (live) | Van Morrison | It's too late to stop now |
| Ho Cake | JJ Grey and Mofro | The Choice Cuts |
| ThANKS FOR LISTENING to The Stew | | : |
| Radio On | Jim Foster | Summer Single |
| | | |