An Hour of World Class/All Star guests from Australia with The Wine Diva @  2015 Vancouver International Wine Festival.
Podcast: Play in new window | Download
THE SHOW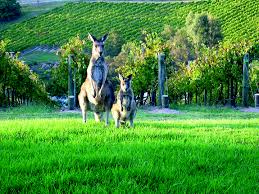 February of this year the featured region at the 2015 Vancouver Wine Festival was Australia and the featured varietal was Syrah. Talk about a beautiful pairing!!
The buzz after the festival was how the Australians completely took over the city,  the tasting room, the restaurants and in the bars.
Nobody markets themselves better than the Australians  and lately very few countries can claim to making better wines.
Canada's premier wine show marks  its 37th anniversary .  14 countries  170 wineries  8 days  1,750+ wines  25,000 participants 2015 theme country (Australia): 55 wineries from 20 distinct regions pouring 220 wines  2015 global focus (Syrah): 170+ expressions of Syrah from around the world in The Tasting Room
Rarely does a wine festival guest list get any better than the one below…
Joining the Host Daenna van Mulligen – The Wine Diva are:
(all Barossa group)
Yalumba – Jane Ferrari  www.yalumba.com
Thorn-Clarke – Sam Clarke (owner)  www.thornclarkewines.com.au
Wolf Blass – Chris Hatcher   www.wolfblasswines.com
Mark Davidson  – Brand Ambassador Wines 0f Australia  http://www.wineaustralia.net.au/
Hardy's – Bill Hardy (family member)  hardyswines.com
McWilliams –  Craig Stevenson  www.mcwilliamswine.com
Henry's Dive Vignerons – Kim Longbottom (owner)  www.henrysdrive.com
Harry Hertscheg – managing director VIWF  vanwinefest.ca
Bernard Hickin – Jacob's Creek www.jacobscreek.com/ca
Tyrell's – Bruce Tyrrell  https://www.tyrrells.com.au
Wynns – Sue Hodder   www.wynnlasvegas.com
Chris Waters – Editor Vines Magazine  www.vinesmag.com
Wakefield wines – Justin Taylor  (family & company director) Clare  www.wakefieldwines.com
Evans and Tate (Lovedale)   – Greg West www.evansandtate.com.au
Longview – Mark Saturno (owner) Adelaide Hills  www.longview.com
 

Podcast: Play in new window | Download
STORIES WE'RE WORKING ON
Texas BBQ in Parksville
Salmon Fishing at King Pacific Lodge
Wines paired with Music at Interstellar Rodeo
Ocean wise gathering at The River Cafe in Calgary
Nathan Waks  Kilikanoon Wines Clare Valley Oz