Tasting Room Radio has found a new home. It's Roundhouse Radio 98.3  Vancouver's brand new FM Station.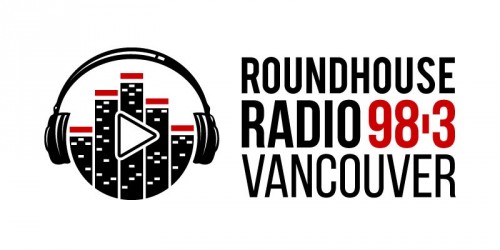 Welcome to the first show!!
Guests include Rhys Pender, Kurtis Kolt, Sandra Oldfield (Tinhorn Creek) and Wine Lawyer Mark Hicken.
Podcast: Play in new window | Download
THE SHOW
Our first two guests  are two of the best known and most respected wine educators in Canada.
Kurtis Kolt and Rhys Pender.  This week they kick off TRR talking about their favourite wines of the summer and what wines to watch for this Fall. Plus a bunch of other cool stuff.
The third member of this group,  they don't have a name yet, is The Queen of the Vines DJ Kearney.
Here's some background on Rhys and Kurtis and the list of wines they're talking about.
Enjoy!!
Rhys Pender –  Master of Wine
A passionate educator, wine lover, judge, writer, and grape grower/farmer, Rhys has worked in the wine industry since he was a teenager, back in Australia. His interest in food and wine really peaked by travelling through Europe and then a summer spent immersed in food, wine and language in the South of France with Alishan.
After following his wife-to-be back to Canada, Rhys pursued his food and wine passion by completing a Professional Culinary Diploma and working in a top Vancouver restaurant. At the same time he took his first wine course, something that gave him an insatiable appetite for learning about wine. Rhys and Alishan moved to the Okanagan in 1999 to pursue the food and wine culture. Rhys spent time working in the vineyard, the cellar, wine shops and catering events before moving back to Vancouver for a two-year stint to manage a specialty retail wine store. Back in the Okanagan in 2003 Rhys and Alishan started a catering company and Okanagan Grocery Artisan Breads, and Rhys started his Wine Plus+ business doing wine education, consulting, writing and judging. Rhys then took on the grueling Master of Wine program of study all while running Okanagan Grocery and Wine Plus+ and with two baby daughters and one sleep deprived mother-baker in the house. Yes, they thought he was crazy.
This culminated in Rhys becoming Canada's youngest Master of Wine (the wine world's highest level of achievement) in 2010, one of only 300 in the world. Through his studies, Rhys knew every reason why they shouldn't jump into the vineyard and winemaking dream but couldn't help doing it anyway. Instead he used his training to design and plant the 4 acre Mulberry Tree Vineyard at the property Rhys and Alishan purchased in Cawston in 2008.
His wines are called Little Farm and they're outstanding.
Kurtis Kolt – Master of Everything
KK is a Vancouver-based wine consultant who writes about wine, presents seminars, hosts events, judges wine competitions, works with restaurants on their wine programs and so on.
His  background is in running restaurants around Vancouver, including  managing Gastown's Salt Tasting Room until 2010 when he received the 'Sommelier of the Year' award at the 2010 Vancouver International Wine Festival.
He's  been profiled by Wine Enthusiast Magazine, run the wine program for an evening at James Beard House in New York and been a tasting panel participant at Wine & Spirits Magazine. I have various certifications and credits through London's Wine & Spirit Education Trust, the Court of Master Sommeliers & the Winemaking Program at UC Davis.
He's the  co-founder of  Top Drop Vancouver Year Two  a dynamic, new wine event in Vancouver.   We'll feature Top Drop Year 2 Next Week
He also writes a weekly wine column in Vancouver's Georgia Straight called The Bottle
https://twitter.com/KurtisKolt
Summer – Rosé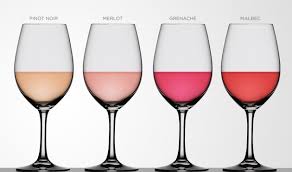 L'Ostal Cazes 2014 Rosé Pays d'Oc IGP, France
Angove 2014 Nine Vines Grenache Shiraz Rosé South Australia, Australia
Domaine du Grand Cros 2014 Côtes de Provence Provence, France
Summer – Riesling
Jim Barry 2013 The Lodge Hill Dry Riesling Clare Valley, South Australia, Australia
St. Urbans-Hof 2011 Ockfener Bockstein Kabinett Riesling Mosel, Germany
Summer – Other
Ch. De la Gravelle 2013 Muscadet Sèvre et Maine Sur Lie Muscadet, Loire, France
Hidalgo N/V La Gitana Manzanilla Jerez, Spain
L'Ormarine Picpoul 2013?
Fall Wines

Muga 2010 Rioja Reserva Rioja, Spain
Chapoutier 2013 Bila-Haut Côtes du Roussillon Villages
Stags' Leap 2011 Petite Sirah Napa Valley, California, USA
Fall – Interesting Whites & Reds
Okanagan Crush Pad 2013 Narrative White Okanagan Valley, BC, Canada
Okanagan Crush Pad 2013 Narrative Red Okanagan Valley, BC, Canada
Orofino 2014 Pinot Gris Similkameen Valley, BC, Canada
Stag's Hollow 2013 Grenache Okanagan Valley, BC, Canada
Best of the rest
CedarCreek  2012 Platinum Block 4 Pinot Noir Okanagan Valley
Domaine Weinbach 2012 Cuvée Laurence Gewurztraminer  Alsace, France
Vina Tondonia Rioja Blanco 2001
Château de Nages 2012 Vieilles Vignes Blanc, ~$30, Costières de Nîmes, France – Private Stores
Maverick Estate Winery 2014 Pinot Gris, $19+, Okanagan Valley – Winery Driect, Private Stores
Tantalus Vineyards 2012 Chardonnay, $26+, Okanagan Valley, BC – Winery Direct/Private Stores
Haywire 2014 Wild Ferment, ~25, Okanagan Valley, BC – Winery Direct/Private Stores
Yering Station 2013 Little Yering Pinot Noir, $14.49, Yarra Valley, Australia – BC Liquor Stores
Planeta 2013 Cerasuolo di Vittoria, ~$30, Sicily, Italy – Private Stores
Foradori 2012 Teroldego, $33.99, Trentino-Alto Adige, Italy – BC Liquor Stores
Mark  Hicken  and Sandra Oldfield (Tinhorn Creek)
 We start out talking about Canada's odious wine laws and then head in three different directions on living under laws made for prohibition in 1928.
Mark is a lawyer who specializes in wine law and keeping them honest in the Canadian bureaucratic  back rooms .
Sandra Oldfield is a force, pure and simple.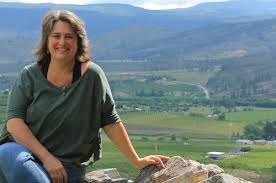 Sandra Oldfield
In 1995 she experienced her  first "crush" at Tinhorn Creek. That was the year she  moved to Oliver from Santa Rosa, California,  packed her  '66 Mustang and drove across the border to a new life, full of excitement and hope – including the hope that her  car wouldn't break down somewhere in Washington.
The facts: Studied winemaking and Canadian history at the University of California at Davis (affectionately known as UC Davis);  worked at Rodney Strong Vineyards in Sonoma; She is  part owner at Tinhorn Creek; she also has a vintage purse addiction.
Mark Hicken – Lawyer and Wine Fan
Mark has a B.A. (Honours) from UBC and a J.D. from Osgoode Hall Law School in Toronto. He has also completed the Wine Executive Program at the University of California. Davis  Mark is a member of the Board of Directors of the BC Hospitality Foundation and is the President of the Modernize Wine Association of B.C., a non-profit society that advocates for a modern food and wine culture. In April 2012, Mark appeared before the House of Commons Finance Committee as a witness in favour of Bill C-311 (the inter-provincial shipping law reform bill which became law in June 2012).  Mark believes that effective legal advice must be provided in the context of a client's business objectives. This is critical in the Canadian wine industry where regulatory structures affect every aspect of the business from conception to consumption..
Podcast: Play in new window | Download
STORIES WE'RE WORKING ON
The annual Savour Cowichan  gathering
BC's Garagiste
Royal Wood makes wine with Therapy
The Judgment of BC