It's Valentine's Day Weekend.
Thus we're spending time with people we love.   Like Colin Linden..the man who wrote and sang No more cheap wine.
We love the people behind the hugely popular and much awarded L'Abattoir Restaurant in Gastown.
We love actor Victor Garbor.  We talk Titanic. Alias. Flash. Legends of Tomorrow. Argo. Wine.
And you just have love the story of The McWatters. The first family of BC wine.
Podcast: Play in new window | Download
THE SHOW
Colin Linden
Singer. Songwriter. Superb guitarist, Producer. Actor.
A Canadian who now lives in Nashville. An integral member of Blackie and the Rodeo Kings, his own solo career, toured with Bob Dylan, is the music director of the TV series Nashville. Played The White House as a member of an all-star band saluting Gospel music in America. AND a guy who knows his wines. I just had to ask what they poured at the White House.
His latest album is Rich in Love which features the track no more cheap wine.
The song idea came from a friend of his..fighting medical issues..that "Life`s too short, so no more cheap wine".
Great thought!!
L'ABATTOIR
Consistently one of the best restaurants in Vancouver. Solid National profile. Dead Centre of Gastown.
Through hard work, great kitchen, top level service, creative staff, the very best of wines and a bar that just kills..l`abattoir consistently ranks Top of critical  and popular lists.
My question is Why?
With so many restaurants opening and closing..what is it they are doing that keeps them well ahead of the pack and always popular.  From the same people who just opened Savio Volpe.
They must be doing something right because both locations are booming and gaining critical acclaim.
Guests include:
Paul Grunberg – co-owner
Lee Cooper – co-owner and Executive chef
Lisa Haley – Asst. General manager and Wine Director
Thor Paulson – Bar Manager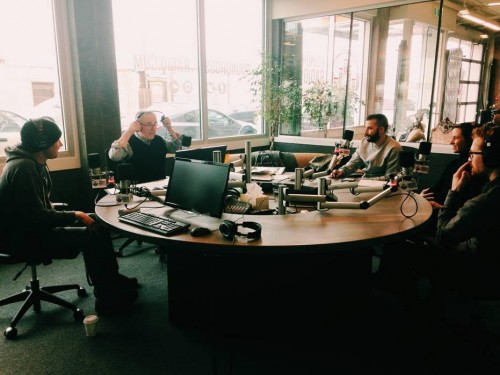 Victor Garber
He's an acclaimed actor, You've seen him in Alias, Titanic, Argo, Milk, Flash and Legends of Tomorrow and many  more films and tv roles.
Victor  has also created an impressive list of credits on and off Broadway. Wonderful singer. Outstanding actor.
And he's a Canadian. Lives very well in New York.
I first met him in Toronto when he was creating the role of Jesus in the very first production of Godspell. That took him to New York and his life changed forever.
Flash and Legends roles bring him to Vancouver 2-3 months of the year. Big fan of BC wines.
Fabulous human being. Did I mention he's Canadian?
https://en.wikipedia.org/wiki/Victor_Garber
https://www.instagram.com/therealvictorgarber/
Team McWatters
Lawrence Buhler – Winemaker at Encore Vineyards/Evolve Cellars
Christa- Lee McWatters-Bond –  Encore/Evolve
Harry McWatters – Time Vineyards
Harry McWatters is a leader in the British Columbia wine industry, and has been involved in it for more than 45 years. In 1980, he founded BC's first estate winery, Sumac Ridge Estate Winery, and later started See Ya Later Ranch Estate Winery in 1995. By spring of 2000, the Sumac Ridge Estate Wine Group was sold to Vincor Canada and Harry continued as the winery president as well as Vice-President of Vincor Canada.
Harry "retired" in April 2008, and on May 1 established Vintage Consulting Group Inc. and the Okanagan Wine Academy.
Harry is the founding chair of the British Columbia Wine Institute & the British Columbia Wine Information Society. He is also a Director of the Canadian Vintners Association, founding Chairman of VQA Canada and is the founding Chairman of the British Columbia Hospitality Foundation.
Harry was also instrumental in founding VQA Canada.    That's what you call a career in the wine business my friends.
In his role as director of winemaking for the ENCORE Vineyards wine brands, Lawrence Buhler  is responsible for setting the winemaking direction of TIME Estate Winery as well as for McWatters Collection and Evolve Cellars. He brings with him more than 15 years experience in the wine industry, most recently from Ontario where he worked in wineries large and small.
After growing up in her family's winery, Sumac Ridge  Christa-Lee went on to open a restaurant with her husband Cameron Bond which is now one of the most popular restaurants in the Okanagan Valley, Local Lounge and Grill.
And if that isn't enough, her hands are very full of these days as she is the marketing manager for Encore Vineyards, which is the parent company to TIME Estate Winery under construction in Oliver BC, her family's legacy label the McWatters Collection, and the brand-new Evolve Cellars in Summerland BC.
We welcome on of the first families of Okanagan winemaking The McWatters and a guy named BUHLER!!!
 

Podcast: Play in new window | Download
STORIES WE'RE WORKING ON
The 38th Annual Vancouver International Wine festival.
Two one hour specials with  guests from around the Wine World.