The Lure of Loire wines with Wine Diva.
David Hawksworth set to open Nightingale
La Frenz & Terra Vista from Naramata  Bench  pour in Vancouver
And Harry McWatters goes to the movies.
Podcast: Play in new window | Download
THE SHOW
 Wine Diva and Loire Wines
The Loire Valley is France's most diverse wine region, producing exemplary wines in every style. Popularity of Loire Valley wines with sommeliers and wine writers has been growing steadily for the last ten years because for all their variety, Loire Valley wines share important characteristics that make them perfect for contemporary taste.
Moderate alcohol, refreshing acidity and minerality make them ideal food wines
Pure expression of varietal and terroir unmasked by oak
Excellent value
The Loire Valley is the heart of France, famous for its natural beauty, magnificent châteaux and great wine. The region is rich in history and culture: Renaissance writer Rabelais was born here; Joan of Arc led French troops to victory in the Hundred Years' War in the Loire; and, as the Cradle of the French Language, its residents speak the purest French.
Leading the tasting session is the one and only Daenna van Mulligen – The Wine Diva
Exec Chef David Hawksworth launches Nightingale
Chef David Hawksworth realized his culinary vision at his first  restaurant, in the very heart of downtown Vancouver. At Hawksworth Restaurant, which opened in 2011, he has created the ideal setting to deliver compelling contemporary Canadian cuisine; a demonstration of his European-trained technical ability, deep appreciation for local ingredients and an absolute insistence on only the very best quality. Winner of 2012 and 2013 Vancouver Magazine Restaurant Awards Restaurant of the Year and Chef of the Year and for four consecutive years, Best Upscale Dining, as well as enRoute magazine's top three Best New Restaurants, and Maclean's magazine Restaurant of the Year; Hawksworth has anchored himself at the helm of the Vancouver – and Canadian – dining scene.
A native Vancouverite who spent a decade honing his talents in Europe working in Michelin-starred kitchens such as Le Manoir aux Quat' Saisons, L'Escargot and The Square, David Hawksworth soon emerged as one of Canada's leading culinary talents upon his return in summer 2000. In 2008 David became the youngest chef inductee in to the BC Restaurant Hall of Fame.
Now he gets set to open his next restaurant..Nightingale, a casual room with seriously great  food and service.  Check out the pizza..
It's in a heritage building on West Hastings.
David explains everything.
Jeff Martin  (La Frenz) and Senka Tennant (Terra Vista) – Naramata Bench
Every year about this time the wine regions of BC journey into Vancouver and pour their Spring wines.
It's such a great time of the year.
The Naramata Bench always bring an organized and highly charged presence to their showcase pours.
Two of the very best winemakers in Canada joined us at the Roundhouse Radio Studios to walk us through selected wines from their portfolios.
Terravista Vineyards
Senka Tennant –Co- Owner / Winemaker
Terravista Vineyards was started in 2008 by Bob and Senka Tennant. As a bit of history…Bob and Senka have been in the BC grape/wine industry for the past 16 years. Senka as winemaker and Bob as vineyard and business operator at their first business, Black Hills Estate Winery. In 2007, Black Hills was sold and Bob and Senka, not wanting to leave the industry, started looking for a small piece of property on which to establish a new vineyard and winery. Their idea was to concentrate on a couple of white grape varieties that had been attracting their interest.
After extensive searching, a piece of property was found on the Naramata Bench about halfway between Penticton and Naramata. The two chosen grape varieties for the home vineyard were Albarino and Verdejo – white grape varieties grown for 9 centuries in northwest Spain and Portugal. Over the next three years they were able to plant their vineyard as certified plant stock, sourced from California nurseries, became available. From these two varieties they are now producing the sensational white wine they call "FANDANGO"!
Grapes purchased form a select few dedicated growers allow for the production of their other white wine.  It is a delicious blend of the grape varieties Roussanne, Viognier and Marsanne that they call "FIGARO"!
New releases Senka  wanted  to talk about –  the Albarinio 2015 and Figaro 2014.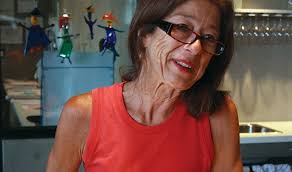 -Pouring- Albarinio 2015,  Fandango 2014, Viognier 2014, Figaro 2014.
https://www.terravistavineyards.com
La Frenz – Jeff Martin Co-Owner and Winemaker
– Jeff was ready  to talk about the 2014 Desperation Hill Pinot Noir and his
2015 Alexandria.
Jeff Martin comes from the Riverina area of Australia, and has been involved with grape growing and wine making since early childhood. Even today, much of his extended family is heavily involved in the Australian wine industry.
Jeff became involved in the wine industry at the age of eighteen, when he was employed by renowned Australian producer McWilliams as a trainee winemaker at their half million case Beelbangera facility. Here, Jeff gained a wealth of experience in a wide range of styles: table wines, fortified wines, and even fine brandy distillation. In 1983, he received one of the first degrees in enology from Charles Sturt University. During his fourteen-year career with McWilliams, he worked with many of their vineyards, from the "cool climate" hilltops area in New South Wales to the famous "terra rosa" of Coonawarra in South Australia. In 1989, Jeff became the chief red winemaker for the McWilliams group, with his wines winning major awards at Australian wine shows.
Jeff now dedicates his experience to producing some totally unique wine styles at LA FRENZ. His talent is widely recognized and he still regularly judges at international wine shows in the U.S.
Harry McWatters – Time Wine Cellars/Evolve Vineyards buys Pen-Mar Theatre.
Harry McWatters, one of the original wine pioneers in the Okanagan  has purchased the former PenMar Theatre Complex in Penticton and will convert it into an urban winery.
Encore Vineyards Ltd. made the announcement Last week.
The urban winery will be the first of its kind in the South Okanagan. While the concept is new to the area, urban wineries are in place in the United States.
Once renovations to the building are completed, the winery will include a crush pad, barrel cellar, custom fermentation hall, lab, warehouse and administrative offices.
It will also have a tasting bar, small plates lounge, outdoor patio and wine retail shop.
While three of the four theatres will be converted for wine production, the fourth will be maintained as a 75-seat theatre space.
Here's a quick catch-up with harry about how it all went down.
Let's hope it's the first of many..a concept whose time has come.
Podcast: Play in new window | Download
STORIES WE'RE WORKING ON
The California wine tour rolls through Canada.
Nik Weis – St. Urbans-Hof