Finally.  It's BBQ Season.
Here's a full hour of TRR dedicated to the do's/don't/pleasures of cooking outdoors and what to pair with the BBQ menu!
Light em UP!!
Podcast: Play in new window | Download
THE SHOW
 We start with Park Heffelfinger  and "crazy George"  Siu at Memphis Blues..
These guys are not just in the BBQ business..they live it and  breath it.
They talk smoke like some talk wine.
And speaking of wine..their drink menu includes some of the best pairing wines, a great list of bourbons, beer  and whiskey.
Park and George make BBQ fun!!  The boys walk and talk us through the do's and don'ts of Q.  It's a Master Class in smoke!!
Multiple locations in BC and Alberta.
In January 1999 George Siu and Park Heffelfinger  had a stopover in Memphis while flying from New Orleans. Lunch was a Pulled Pork Sandwich, and it was love at first bite.
Since then, they have attended the World Barbecue Championships in Memphis where they conducted extensive research. They were able to reproduce the recipes at home, and decided to bring Authentic Southern barbeque to Canada.
http://www.memphisbluesbbq.com/
The Wine Diva – Daenna van Mulligen
Who better to bring to us a list of wines to go with BBQ and Summer dining?
If you follow her Facebook postings nobody enjoys  summer dining more than Daenna.
If you're looking to pair wines with meat, fish, veggies, shellfish even Tofu ,  Daenna has a list that will last until early September.
Whether its seafood, meat or veggies, everybody is firing up the BBQ.
But with those selections comes sauces, charcoal and seasoning.
So it takes a serious wine to complement your choices.
Enjoy Daenna's choices..she's tested and tasted them all.
The original list can be found at www.winediva.ca
Or go directly to her list posting
http://www.winediva.ca/viewnewsletterwines?nluuid=nl00111412816154fce46af89441&puid=951d0af1b9f76d8afd63cdbae104a9ee2594da08
Two Rivers/Left Field Cider/Chef Rob Belcham at Brewery and The Beast 2015
Three of the most interesting people at last year's BBQ event Brewery and The Beast
Jason Pleym from Two Rivers Meats in North Vancouver,  who  supply 75% of the meats at this event and around BC.
Jason has tips on meat prep and working the heat!
Theresa Petersen – Left Field Cider (Logan Lake)  Helping to lead the cider breakthrough in BC  is this female driven Cidery. Cider works with most BBQ dishes and its also a perfect patio sipper  Have a listen.
Rob Belcham from Campagnolo decided to go all the way and BBQ a whole farmed sturgeon. A fish that takes great skill to get just right.
Some fish Q tips as well.
 Similkameen BBQ King/Queen
 Guests – Chef Natasha Schooten.  Last year's winner
And  Sara Crockett – Marketing Manager for Similkameen Winery Assn
 The 7th Annual Similkameen BBQ King event will be held on Saturday, July 9th from 5-9pm at the Historic Grist Mill & Gardens in Keremeos, BC
In this award-winning event, competing chefs will create unique dishes using organic ingredients from local farmers in the heart of Canada's organic capital. In addition to the amazing food and wine at this event, there will also be live entertainment by Aidan Mayes & Mandy Coleand a silent auction that is a partial fundraiser for the Grist Mill and Gardens, which is a beautiful Heritage BC site.
This is a safe ride home event.  They  have shuttles available throughout the Okanagan and Similkameen. You can book your shuttle seats when you purchase your tickets on line or click here. Special thanks to Authentically Okanagan for working with us to coordinate our shuttle service this year.
A beautiful sunny day, amazing food, award-winning wines and ciders from the members of the Similkameen Wineries Association, live entertainment, a gorgeous venue and a silent auction with fantastic prizes. What more could you ask for?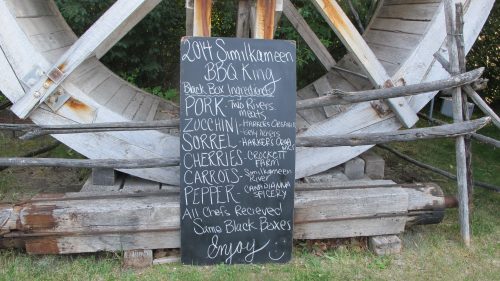 Early bird adult tickets are $80 if purchased by June 30, 2016. After that, adult ticket prices increase to $90. Youth and children tickets are also available.
Click here to purchase your tickets and book your free shuttle seat now!  Tickets are also available at any of the Association Wineries, The Keremeos Visitor Centre, Tree to Me, and the Grist Mill and Gardens.
 NOTE:  Next week we'll let you know how you could enter to win a trip for four to The Similkameen Valley and be one of the very first guests to stay at the new guest rooms at Orofino Winery!
Podcast: Play in new window | Download
STORIES WE'RE WORKING ON
Nathan Fong – Best patios in the City
Master Class:  The wines of Provence
Plus a Rose Special