It's one of the best wine festivals anywhere. The 38th annual Vancouver International Wine Festival  Held at the Vancouver Convention Centre from  Feb 20- March 1
For eight years TRR has set up a studio on the floor of the Trade Tasting on the Thursday and invited the World to sit in.
Podcast: Play in new window | Download
THE SHOW

The Vancouver International Wine Festival is one of the biggest and oldest wine events in the world, offering something for every level of wine drinker, collector and trade professional. Winery principals (winemaker, proprietor, senior executive) representing 156 wineries from 14 countries will be in attendance to pour and discuss their wines. In 2016, the theme country will be Italy.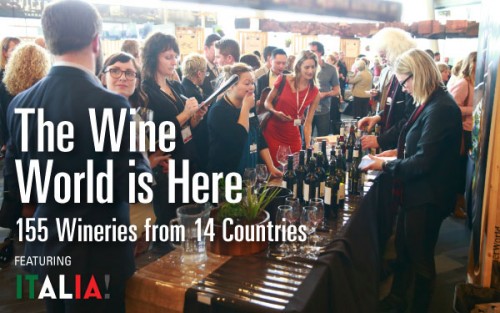 The heart of the festival is the International Festival Tastings at the Vancouver Convention Centre, where 776 wines are available for sampling, with an additional 164 wines available at two trade tastings. More than 625 additional wines will be served at special events orbiting the tasting room, including a gala dinner + auction, wine seminars, trade events, and food and wine pairing affairs such as winery dinners, lunches and brunches at top Vancouver restaurants and hotels.
The Italian table will represent an all-star moment.  Tedeschi/Ricasoli/Dogliani
Hour One:
Michaela Morris – House Wine
Stevie Kim – VinItaly
Gurvinder Bhatia – Quench Wine Editor – Edmonton
Daenna van Mulligen – The Wine Diva
Harry Hertscheg – Executive director of Festival
Riccardo Tedeschi – Tedeschi Amarone (family owner/winemaker) Veneto/Valpolicella –
Barone Francesco Ricasoli (32nd generation Ricasoli) Tuscany/Chianti Classico –
Fiorenzo Dogliani – Batasiolo.  Piedmont  CEO   (Richardo March.. Export Director)
Daenna van Mulligen – The Wine Diva
Michael Bartier – Bartier Bros  BC
Chris Wyse – Burrowing Owl  BC
Harry McWatters – Time  BC
Ezra Cypes – Summerhill  BC
Thomas Perrin – Famille Perrin  France
Jim Robertson – Stoneleigh  NZ
Eduardo Montresor  – Montessor .  Veneto Italy
Loren Gil – Gil Family Estates  Spain
 

Podcast: Play in new window | Download
NEXT WEEK HOUR TWO
 Daenna van Mulligen
DJ Kearney
Kurtis Kolt
Rhys Pender
 Matt Dumayne –  WM  Haywire
Andrew Winsor –  WM  Tinhorn Creek
John Freeman – WM Waterbrook (Washington)
Kirk Brewer – Gruet Winery (New Mexico)
Poplar Grove – Stefan Arnason, Winemaker
 
David Phillips – Michael David Winery (Cali)
Mark DeVere – Mondavi (Cali)
Ted Seghesio – Seghesio  (Abigail Smith
  
Marilisa Allegrini  – Owner-CEO – Allegrini
Ermenegildo Giusti – Owner – Giusti
David Scholefield – Haywire  Advisor
Stefano Benini – Int Export Director/Family member Marchesi De'Frescobaldi 
Gabriele Tacconi – WM –  Ruffino (1st visit to Canada)