One of the World's best winemakers Australia's Ben Glaetzer, the maker of Amon Ra, Wallace, Bishop, AnaPerenna plus Heartland and Mitolo.
Then it's   Sisters Julie Albert and Lisa Gnat who've released their third cook book Lick Your Plate.  These ladies are just a bag of fun.
Podcast: Play in new window | Download
THE SHOW
 Ben Glaetzer – Winemaker at Glaetzer Wines (Barossa Valley)
 His father Colin was winemaker at Barossa Valley Estate before the family set up Glaetzer Wines, also based in the Barossa, in 1995.
Ben is now winemaker at Glaetzer Wines. The  line-up includes the top end, award-winning Amon-Ra and Anaperenna, and is also winemaker at Heartland Wines from the Limestone Coast and Langhorne Creek (both in South Australia), and at Mitolo in McLaren Vale (just outside Adelaide).
Ben has been made a "Baron of the Barossa" for his contribution to the cultural fabric of the Barossa Valley. Life membership of this wine fraternity is by invitation only.
New World Winemaker of the Year in Behind the Label 2006 (UK).
Qantas Young Winemaker of the Year in 2004.
Robert M. Parker Jr chose Ben as his Wine Personality of the Year 2005.
These wines have won so many awards around the World it's important to know where and how  they're grown.
All fruit for Glaetzer Wines is taken from the small sub-region of the northern Barossa Valley, called Ebenezer.
The ancient dry-grown vineyards in the renowned Ebenezer district are an important part of Australia's winemaking heritage and a living link to traditional Barossa viticulture. Exceptional fruit from a loyal group of third and fourth generation Barossa grape growers is the backbone of Glaetzer wines. The most exceptional fruit is sourced from 80-110 year old, non-grafted bush vines which are extremely low yielding.
The very old vines require minimal attention. Their deep root structure means they are self-sufficient and can adapt to climatic extremes.
Amon Ra and Anaperenna are World class wines..at world class prices BUT one of the best secrets in wine you can afford is the fact that Ben Glaetzer also leads the winemaking team at Heartland Wines..The makers of Directors Cut  and Heartland wines and they are very affordable.
But before you leave this planet..please make an attempt to have one of Ben's top wines. Glorious and good for the soul.
Lick Your Plate  –  Authors Julie Albert and Lisa Gnat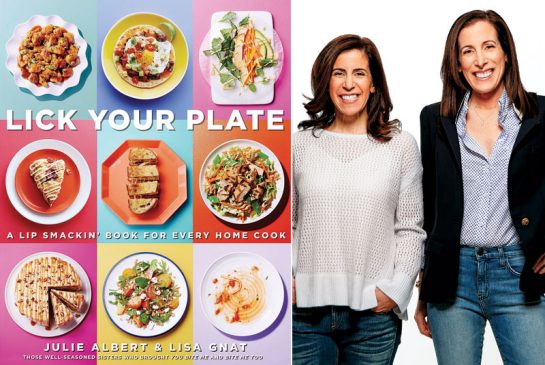 Yes,  they are sisters and best friends, they each have 3 kids and they live within 5 blocks of each other.
These sisters  create a force in any kitchen. Julie writes Lisa Cooks.
Julie and Lisa have  released their third cookbook Lick Your Plate. A follow up to Bite Me and Bite me Too!
The girls write about food and family (family first).
They talk with me about Sloppy Joe's, Baja Fish Tacos, Slutty brownies and the fact that it takes  Twinkies 45 seconds to explode in a microwave!
We do take time to go back and remember their Grandmother.  Alice Leiberman welcomed them into her kitchen and very likely set this whole career in motion.
We also get sidetracked into their fave MuchMusic VJ, Bon Jovi and what BC wines I'm recommending to these two Torontonians
Lick Your Plate offers 160 original recipes, several 30-minute dinner ideas, tips, tricks, mouthwatering visuals, funny anecdotes, drool-worthy descriptions of every recipe, and is perfect for everyone from the beginner to the well-seasoned home cook.
"We're not Martha telling someone to make the eight-hour broth, but we're also not Rachael Ray saying put cheese on toast. There is that happy medium," says Gnat, who developed the recipes.
The sisters say they understand the importance of accessible recipes, where all the ingredients can be bought in one shop.
"We love and admire 'the foodie' and we're happy to sit down to a gourmet meal. And we are all about fresh flavours and great food. But we also live in the real world with six kids between us. We don't always have that sort of time and inclination to go on a goose chase for fig paste," says Julie.
http://www.penguinrandomhouse.com/books/252970/lick-your-plate-by-julie-albert-and-lisa-gnat/9780147529886/
Podcast: Play in new window | Download
STORIES WE'RE WORKING ON
Mike Grgich – His life and his book
Fanny Bay Oysters. They open a restaurant in Vancouver.
Unsworth Wines in the Cowichan Valley.  The wines and the Food.
Bruce Cockburn.  Singer, songwriter. Wine fan
TacoFino.  The exploding taco truck.
The Wine Align Winners