This week we're talking Fanny Bay – The Oysters and the Oyster Bar
And a feature on Unsworth Wines in the Cowichan Valley.
THE SHOW
Even though both Fanny Bay Oysters and Unsworth Wines are Vancouver Island based..we also intend to follow the story back to their best customer..Vancouver!
And include wine pairing suggestions along the way.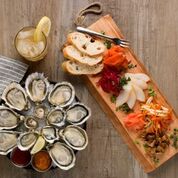 Nick DeWitt/Ray Silvey  –  Fanny Bay Oysters  Vancouver Island
Nick is the Beach Manager..(let's face it, he's an Oyster Farmer. A damn good one.)
Ray is Fanny Bay Sales Manager.
The guys give us a backgrounder on how FB got its start, what they're growing and how farming oysters has become a very competitive business.
The boys throw in some tips about the do's & don'ts of working with fresh oysters and favourite liquid pairings.
Issac Martin Del Campo    General Manager  Fanny Bay Oyster Bar  Vancouver
 Issac got his oyster basic training with Frenchy at Joe Fortes and hasn't looked back. He's also created a very inventive and free thinking wine and drink menu. This  was fun, trying to figure out what oysters go with what wines and what to order for those who don't do oysters.
Recently opened at 762 Cambie St. in Vancouver's Stadium District, Fanny Bay Oyster Bar is  providing a true, tide-to-table feast to the heart of the city with its 50-seat dining room — which includes a dedicated, 16-seat oyster bar — and a full bar as well as a retail shellfish market where patrons can purchase take-home catches like fresh, live or frozen oysters and clams, mussels, lobster, crab
Live shucked, fresh and frozen oysters and clams, scallops, shrimp and prawns. Part of the Taylor Shellfish Family of Farms, Fanny Bay Oyster Bar offers lunch, dinner and weekend brunch as well as daily happy hour specials. www.fannybayoysters.com
Tim Turyk  Proprietor  Unsworth Vineyards Cowichan Valley  Vancouver Island
Ron Bogdonov    General Manager Unsworth Vineyards

This is a two parter because there's a lot to take in at Unsworth. New winery grounds, restaurant update, busy tasting room, key tourism wine destination and a rising star in the BC wine community.
It was Will Flatt and the Rose he brought to the house. That's what did it.
We loved that Unsworth Rose. As good as anything being made in Canada.
Reminded me of Bordeaux.
Went looking for more..sorry Sold Out. (I blamed Will for telling EVERYBODY)
They're making more Rose these days but they're also creating a very interesting portfolio.
And that's where we start with Tim and Ron.
How did they pull this off, under the radar so to speak, in the Cowichan Valley?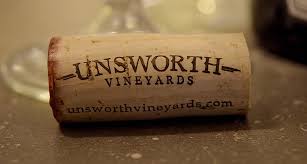 Winery Chef Steve Elskens
Chris Turyk –  Brand Ambassador Unsworth Vineyards
The day we talked Chris Turyk had just returned from an extended stay on the wine team at Hawksworth  in Vancouver.
He feels like a team leader for the future of Unsworth.  Plus, from his Hawksworth experience  he now has a huge overview of what makes great World wines.
Sitting in with him is Winery Chef Steve Elskens, who arrived in the Cowichan Valley from kitchens in Belgium fully formed and ready to go.
They make a great team..Chef throwing out menu items and Chris recommending Unsworth wines to pair with well constructed plates.
Enjoy!!
STORIES WE'RE WORKING ON
Angels and Cowboys
Tony Aspler
Christine Coletta – Haywire Wines
Pascal Madevon – Culmina
Larry Gerelus/Linda Pruegger  Stags Hollow
Railtown Café
In two weeks
Top Drop Vancouver 2016
James Cahill – Soter Wines  Oregon
Christoph Hedges –  Hedges Vineyards  Red Mtn Washington
Axel Schug –  Schug Carneros
James Lindner – Langmeil  Barossa
Marcus Ansems – Daydreamer  Naramata Bench
Podcast: Play in new window | Download