DJ Kearney –wine educator and expert – presents The Advent Wine Calendar
Two reports from The Wine Diva and Samantha Rahn (Araxi) on  Cornucopia,  this weekend's Whistler Wine Festival.
Savio Volpe celebrates EnRoute Award and raises $ for Italian Earthquake Communities.
Jean Claude Mas on the wines of Domaines Paul Mas.  
 

Podcast: Play in new window | Download
THE SHOW
Paul Grunberg  –  Co-Owner of Savio Volpe (and  l'Abattoir) 
We start this week's Tasting Room Radio with Paul Grunberg Co-Owner of Savio Volpe, the wildly successful Italian Restaurant in The Frazer Hood Vancouver.
From the some of the same team that created L 'Abattoir in Gastown.
They have just been awarded a Top 10 placing in the 2016 Air Canada EnRoute Magazine Best New Restaurants in Canada.
Savio has also decided  next Tuesday Nov 15th  to raise funds for devastated towns in Italy from the recent Earthquakes by serving a special pasta dish on the night.
AND they celebrate being open and very busy for one full year.
Paul graciously fills us in on everything that's going on.
DJ Kearney – Wine Director at New District  
– New District, an innovative B.C.-based online wine marketplace, has released a limited number of their wildly successful Wine Advent Calendars for the 2016 holiday season. Boasting 25 diverse bottles, wrapped and numbered for each day in December leading up to Christmas, the curated pack includes bottles valued up to $100 each. All Wine Advent Calendars purchased by November 20 are guaranteed to be delivered by December 1.
Last year, the Wine Advent Calendar sold out in only five days. Each bottle is hand-picked by New District's Wine Director, and one of B.C.'s top wine authorities, DJ Kearney – ensuring that each package contains a unique wine experience. Beautifully wrapped in tissue, the 25 bottles come nestled in an elegant wooden case. Beginning December 1, New District will release a daily video (newdistrict.ca) unveiling that day's wine selection.
By the time we get this story on the air, this amazingly successful wine calendar may be sold out..I believe that much  of the popularity is because the wines are chosen by our highly respected guest DJ Kearney.
update: The Advent calendar is sold out…  BUT if you call 604 229-3663 , they can create custom wine advent calendars, more info at the website…. Have fun!
 The info and number can also be found at
Deanna van Mulligen – The Wine Diva
Samantha Rahn – Wine Director at Araxi Whistler
Cornucopia is the True North of food & drink festivals
This  weekend and next , Cornucopia celebrates 20 years
Cornucopia shines a light on the chefs, vintners, brewers and distillers of BC.  We're talking grapes, hops, the fruits of the sea and the soil.
Winery dinners, grand tastings, culinary demonstrations and events, industry gatherings – including the brand new Cornucopia Wine Summit.
An 11 day festival of food + drink, Cornucopia brings together the wild and the refined, and puts the art of eating and drinking centre stage.
Both Daenna and Samantha will be extremely busy over the next 10 days. Both are hosting seminars and tastings.
If you are at all a wine fan you're going to like  this segment.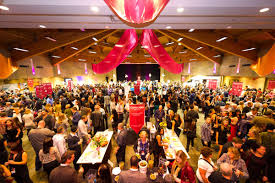 whistlercornucopia.com
winediva.ca
winescores.ca
Jean-Claude  Mas  – Domaines Paul Mas /  Langedoc
In 2015, Drinks International ranked the world's 50 most recognized wine brands. Domaines Paul Mas was 16th, between Chateau Haut-Brion and Chateau Mouton Rothschild.  Its Arrogant Frog label, launched in 2005 in Australia, now sells more than five million bottles around the world.
Jean-Claude Mas was born in a winemaking environment in the Languedoc, in Pézenas. At the age of 3, during the harvest, he escaped from his mother and ran 2.5 km to meet his grandfather in the cellar! This was a moment that he never forgot, when his interest and passion for wine were born!
At school and later at university, he studied economics and advertisement, and wine became a hobby. No matter where he lived, he was always involved in the wine: in the North of France, he created a wine club, then in England,  he set up a small import company for organic wines, then in Miami he worked in the consulate to develop the import and distribution of French food & wine products.
In his professional life, he devoted the first 3 years of his career to his second passion :  Race Car Driving , but very soon, he came back to his first love : the Family Winery.
Jean-Claude Mas is often described as a pioneer from the New Languedoc, belonging to the New wave of French wines, one of those on a mission to give Languedoc his former glory back in a region where wine production goes back to more than 2000 years.
Surprisingly, Jean-Claude leads an Old World winemaking juggernaut but thinks and sells  like a New World Winemaker. Brilliant!!
Podcast: Play in new window | Download
STORIES WE'RE WORKING ON:
Nk Mip named Canadian Winery of the Year.
Chief Clarence Louie and Winemaker Randy Picton.
The Wine Diva – Daenna van Mulligen