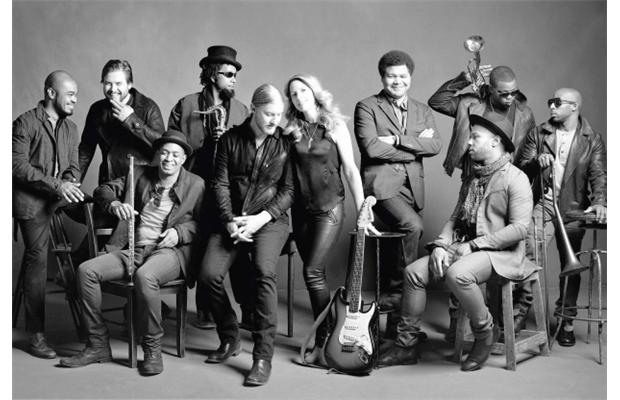 But most of all, I was struck by the visual of an 11-piece outfit that includes men, women, black people, and white people standing on the same stage — sharing, collaborating, dancing, celebrating, and above all working together toward a common goal. The music itself was a thoroughly American amalgamation of blues, soul, jazz, and funk. But Tedeschi Trucks Band hit hardest that night as a reiteration of an idea about America that seemed to have been discarded in a road-side ditch earlier that week. That the election didn't kill the compassionate spirit of this country — particularly the ways in which that spirit is manifested in American music, our nation's greatest export — filled me with so much unexpected hope. Like that, Tedeschi Trucks Band became my new favorite live band.
Steven Hyden  – UPROXX


Susan, Derek and I go over a lot of subjects including the death  and life of Leonard Cohen.  Bob Dylan, Bands that do it right, honest music, songwriting in this political climate, and their place in today's music.
Also highlight tracks from the new Live LP – including Bird on a wire, Let me get by, Within you Without you, I pity the fool, Don't know what it means, Just as Strange!

On March 17th, 2017, Tedeschi Trucks Band l released their second live album and first ever concert film, Live From The Fox Oakland, on Fantasy Records. Led by the husband-and-wife duo of guitar master, Derek Trucks, and singer-guitarist, Susan Tedeschi, the 12-piece ensemble's breathtaking live show is captured here over 15 blistering tracks.
Watch the full 10-minute powerhouse performance here: https://youtu.be/h0kXfPrHHcw.
For a band that spends hundreds of days on the road a year, it was important to choose the right time for their second live album. As Derek explains, "we've been wanting to properly document the progress of this band for a while and it really felt like we were hitting our stride and firing on all cylinders last fall."Tedeschi adds, "it was special capturing the live performance from Oakland. The audience was great and the band played with passion. I am thankful we captured the band at this moment in time."



On July 1, they will launch their third annual Wheels of Soul tour, this year featuring like-minded roots-rockers, The Wood Brothers, and bona fide rock legends, Hot Tuna.
Album Track List
Don't Know What It Means
Keep On Growing
Bird On The Wire
Within You, Without You
Just As Strange
Crying Over You
These Walls (featuring Alam Khan)
Anyhow
Right On Time
Leavin' Trunk
Don't Drift Away
I Want More (Soul Sacrifice outro)
I Pity The Fool
Ali
Let Me Get By
Film Track List
Don't Know What It Means
Keep On Growing
Bird On The Wire
Within You, Without You
Just As Strange
Crying Over You
Color Of The Blues
These Walls (featuring Alam Khan)
Leavin' Trunk
I Pity The Fool
I Want More (Soul Sacrifice outro)
Let Me Get By
You Ain't Going Nowhere
PLAYLIST:
| | | |
| --- | --- | --- |
| A World Between | Royal Wood | Ghost Light |
| Try a little tenderness | Otis Redding | My Blueberry Nights |
| Satan pulls the strings | The Avett Brothers | |
| Sweet little 66 | Steve Earle | Exit O |
| www.CanadaHouse.com | Coming UP – Bob Marley Live in Boston | |
| Lively up Yourself (live) | Bob Marley and the Wailers | Easy Skankin Live in Boston 78 |
| 17 Horses | The Crooked Brothers | Lawrence, Where's my knife? |
| The Stew – Year 21 and counting | Coming UP – Tedeschi Trucks Special | Next – The Frames Live |
| Lay me down/Ring of Fire (live) | The Frames | Set List (live) |
| Cry Love | John Hiatt | best of |
| Lowdown | Eric clapton/Steve Winwood | Live from madison Square Garden |
| www.coyotesbanff.com | WWW.MULLIGANSTEW.CA | |
| Lola (live) | The Kinks | Come Dancin |
| Love the one you're with (live) | Crosby Stills Nash | CSN 2012 |
| Good to be young | Royal Wood | Ghost Light |
| NEXT – Tedeschi Trucks Live from The Fox Oakland | Susan Tedeschi & Derek Trucks | |
| Susan Tedeschi & Derek Trucks Interview | | |
| Bird on a wire | Tedeschi Trucks band | Live from The Fox Oakland |
| Susan Tedeschi & Derek Trucks Interview | | |
| Let me get by | Tedeschi Trucks band | Live from The Fox Oakland |
| TDMulligan | Mulligan Stew | |
| Within you Without you | Tedeschi Trucks band | Live from The Fox Oakland |
| Mulligan Stew – TDMulligan | | |
| Susan Tedeschi & Derek Trucks Interview | | |
| I pity the fool | Tedeschi Trucks band | Live from The Fox Oakland |
| Susan Tedeschi & Derek Trucks Interview | | |
| Don't know what it means | Tedeschi Trucks band | Live from The Fox Oakland |
| Susan Tedeschi Interview | | |
| Just as Strange | Tedeschi Trucks band | Live from The Fox Oakland |
| Thank you for listening – | www.mulliganstew.ca | |
| | | |