The Culinary  Legend himself Jeremiah Tower with comments from  Chef Ned Bell and  San Francisco's  Foodie Chap: Liam MayClem.
DJ Kearney with a yuge list of wines to pair with Spot Prawns and Christopher Silva from St Francis Wines on Sonoma.
Podcast: Play in new window | Download
The SHOW
 
"Jeremiah Tower's menus were a complete re-evaluation of not just American food and ingredients – but food itself."

ANTHONY BOURDAIN  Producer
Jeremiah Tower – The Last Magnificent
 The new Documentary that opened last  weekend –  JEREMIAH TOWER: THE LAST MAGNIFICENT –explores the remarkable life of Jeremiah Tower, one of the most controversial and influential figures in the history of American gastronomy.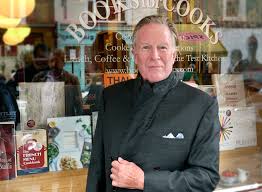 Jeremiah Tower 
Jeremiah Tower began his career at the renowned Chez Panisse in Berkeley in 1972, becoming a pioneering figure in the emerging California cuisine movement.  After leaving Chez Panisse, due in part to a famously contentious relationship with founder Alice Waters, Tower went on to launch his own legendary Stars Restaurant in San Francisco. Stars was an overnight sensation and soon became one of America's top-grossing U.S. restaurants.
After several years, Tower mysteriously walked away from Stars and then disappeared from the scene for nearly two decades, only to resurface in the most unlikely of places: New York City's fabled but troubled Tavern on the Green. There, he launched a journey of self-discovery familiar to anyone who has ever imagined themselves to be an artist.
Featuring interviews by Mario Batali, Anthony Bourdain, Ruth Reichl and Martha Stewart, this delicious documentary tells the story of the rise and fall of America's first celebrity chef, whose brash personality and culinary genius has made him a living legend.
When you walk into your favourite restaurant and see an open kitchen, farm to table dining, farmers and farms mentioned in the menu that's just some of the legacy of Jeremiah Tower.
 We start the show with two plugged in culinary stars.  First is Ned Bell:  Executive Chef Ocean Wise Canada
…and second is a bit of a legend himself Liam Mayclem, The Foodie Chap of KCBS-SF.
They both paint a verbal picture of Jeremiah Tower.
Facebook: Last Magnificent
Twitter: Last Magnificent
Instagram: Last Magnificent
DJ Kearney – Wine Director at NewDistrict.ca
 
Last weekend DJ was the final  guest on our LIVE broadcast from the 11th annual Spot Prawn Festival kick off.
She brought with her a large list of recommended wines to pair with most spot prawn recipes but the show was so busy I felt we didn't really give her the spotlight she and the wines  deserved.
She is after all, a very special wine educator. She gives you all the information you need and entertains at the same time.
Thanks Deej.
Here's THE LIST!
 Cipes Blanc de Noirs 2008
Mission Hill  Perpetua  Chardonnay
Hedges Sauvignon Blanc
St Hubertus Reisling
Culmina R&D White Blend
Haywire Pinot Gris
Tightrope  Rose
The Meyer Rose
  St Francis  – Chris Silva (President/CEO)  Sonoma
 Fifth-generation Sonoma County native, Christopher Silva is firmly rooted in Sonoma County agriculture. He was raised in a family of Petaluma dairy farmers, and nine years after graduating from Loyola Law School in Los Angeles, he retired from practicing law to join St. Francis Winery. At the age of 38, he became President & CEO of St. Francis in 2003. He understands firsthand that a farmer's footprint and intimate knowledge of the soil, microclimates and terroir of the region are the most important ingredients for healthy vines.
As President & CEO of St. Francis Winery & Vineyards, Chris has a specific focus: crafting world class Sonoma wine. St. Francis is best known for luscious, elegant, fruit driven Sonoma County Chardonnay, Cabernet Sauvignon, Merlot, and "Old Vines" Zinfandel.  Additionally, St. Francis was named "#1 Restaurant in America" by Open Table  in 2013 and 2015 in recognition of its farm to table wine and food pairings offered on site to Winery visitors each day.
"Our time at St. Francis will not be measured in years. It will be measured by the contributions each one of us makes—as individuals—to constantly improving the quality of our grapes and our wines. 'Good enough' is contrary to our mission."
 Chris gives us a Master Class in St Francis ZIN.
 http://www.stfranciswinery.com/
Podcast: Play in new window | Download
 STORIES WE'RE WORKING ON
The return of Jane Ferrari – Spokesperson for Yalumba and The Caley
Cider Special
BC Shellfish Festival