The 6th annual Friends. Fishing. Food. Fluids. With Rhys Pender. (MW-Little Farm)  Chef Mark Filatow (Waterfront Bistro)   John Weber (Orofino)
At Skitchine Lodge.   16 Lakes, 21 wines and 2 Tomahawk Chops.
Summerhill Vineyards receives 100 pts for their Ice Wine in SF.   We talk to Ezra Cipes  CEO.
Podcast: Play in new window | Download
THE SHOW
We THINK it's the 6th  annual  4F trip.  No matter.  It's still the most fun you can have .
This year, as last,  we head for Skitchine Lodge on the Bonaparte Plateau North of Kamloops.

You have fifteen lakes to choose from. In many cases you are the only boat on that lake.
Some lakes are catch and release, some you can keep 2,4 or 6 trout.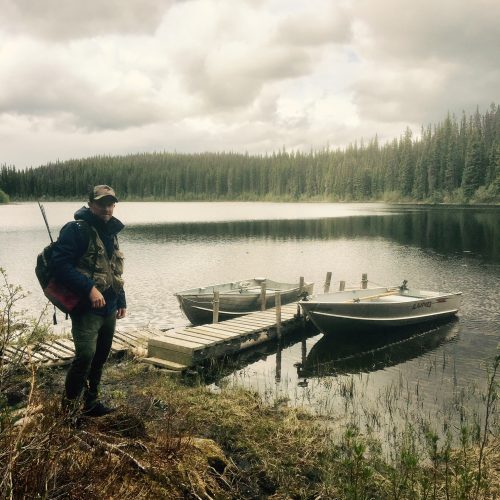 Most guests never leave with a trout.
Perfect!
Yes,  it's an excuse to go fishing but it's also about food and wine.  And friends.
John, Rhys, Mark and myself all bring wines we think each other would like. As a result, we have far too many but they all get tasted.
Wines from all over the world. All over Canada and all over BC.
Chef Mark creates a meal that stays in the memory bank for a long time..and always includes two tomahawk chops from Two Rivers Meats. Always done over an open fire and always brilliant.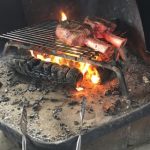 Our hosts are Mark and Tania Lee and this year Tania is the resort chef.
We talk to both about fishing and food.
If you EVER get a chance to visit Skitchine Lodge – GO!!!
Good for the soul.
https://www.orofinovineyards.com
https://waterfrontrestaurant.ca
Ezra Cipes – CEO Summerhill Winery
This very month Summerhill Pyramid Winery in Kelowna received a perfect 100 point score and double gold medal for its "small lot" Semillon ice wine from the San Francisco International Wine Competition. From a field of 4200 entries from 31 countries.
Ezra Cipes is humbled by the awards however he points out that you have to grow great grapes and have exceptional cellar habits to get a perfect score.
Summerhill is the same winery that earned the Canadian Winery of the Year award and also won the Best Chardonnay in the World at the Chardonnay du Monde in France with over 700 wines entered from 38 countries.
Ezra  and Summerhill exemplify  what it takes to makes great wine. Passion, smarts and a relationship with the Earth.
Podcast: Play in new window | Download
STORIES WE'RE WORKING ON