Hour Two of 2018 VanWineFest
 

Podcast: Play in new window | Download
THE SHOW
Last week's show focused of Spain and Portugal.
This week its friends and neighbours.
BC, Washington, California, Nova Scotia and a final Spanish Winemaking Star Alvaro Palacios.
Loved doing this hour.  Winemaking friends from all over sharing thoughts and opinions.
We talk about the Alberta Wine Ban and its effect.
I felt it was important that I ask the question "What are you pouring here today and why?"
Co-hosts were Sandra Oldfield and Daenna van Mulligen (The Wine Diva). They did a great job!
www.WineDiva.ca  /  https://sandraoldfield.com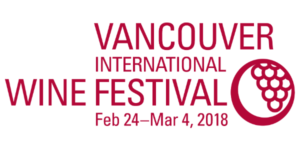 Guests include:
DJ Kearney – Wine Director www.NewDistrict.ca
Christine Coletta – Co-Owner of Okanagan Crush Pad (Haywire)   https://okanagancrushpad.com
Galen Barnhardt – Winemaker at Monte Creek. Kamloops https://www.montecreekranchwinery.com/
Chris Turyk – Brand Ambassador Unsworth. Cowichan Valley https://www.unsworthvineyards.com
Bruce Ewert – Co-Owner/Winemaker L'Acadie Vineyards. Nova Scotia www.lacadievineyards.ca
Howard Soon – Head Winemaker Vanessa Vineyards www.vanessavineyard.com
John Skinner – Owner Painted Rock www.paintedrock.ca
Nikki Callaway – Winemaker Quails Gate https://www.quailsgate.com
Kurtis Kolt – The Bottle / Georgia Straight. Top Drop Vancouver. www.kurtiskolt.com
Calla Bischoff – Sileni Estates NZ https://www.sileni.co.nz
Jim Robertson – Stoneleigh  NZ  www.stoneleigh.com
Alvaro Palacios – Spanish wine legend  www.rarewineco.com/producer/alvaro-palacios
Ray Signorello –  Owner Signorello Estates. Napa  https://signorelloestate.com
Randy Ullom  – Chief Winemaker – Kendall-Jackson.  Sonoma www.kj.com
Eugene Mylnczyk.  Master of Wine . Charles Smith Wines. Washington https://www.charlessmithwines.com
Podcast: Play in new window | Download
STORIES WE'RE WORKING ON
Alex Chen – Gold Medal Winning Chef
John Glavina – Giant Head Wines
Naramata Bench pours on the Coast
Susana Trilling – Seasons of my Heart Oaxaca, Mexico
Craig McAllister – Head Winemaster  La Crema Russian River Valley
John Weber – Owner.  Orofino Vineyards. Similkameen Valley
CC Jentsch – On the Golden Mile Bench