Saturday on CKUA's Mulligan Stew Steven Page is our special guest.
How special?
Barenaked ladies had just been inducted into the Canadian Music Hall of Fame.  The National Music Centre in Calgary  had just opened an exhibition of BNL memorabilia
Steven was working on final mixes for his next album, a UK tour and extended tour of the USA later in the year, a second musical, speaking engagements on mental health and being the current Master in Residence at NMC. Working with up and coming artists on their songwriting!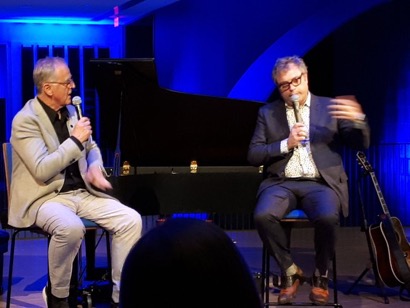 Speaking of songwriting, Steven Page is credited with writing or co-writing 97 of 113 songs for Barenaked Ladies prime studio albums while he was a member.
Steven hasn't exactly slowed down since leaving BNL in 2009.
Last Saturday night on the Victoria Day long weekend 300 music fans showed up at the NMC theatre to hear the 6 singer/songwriters he had been mentoring.
Then I sat down with Steven to talk all things Page.
Working with new talent
How If I had a  Million Dollars became a song that now belongs to the audience
A great Billy Bragg story
His memories of the Speakers Corner song BNL recorded for a Loony that got them play on MuchMusic and a career launch.
The Yellow Cassette that sold 100,000 copies
His pride in being an Indy band.
His thoughts on being an artist … as a job
The Juno Reunion of BNL
Being a solo artist
Being arrested – " I was acquitted"
Mental Health issues which leads into his live performance of Brian Wilson (and an amazing Brian Wilson story)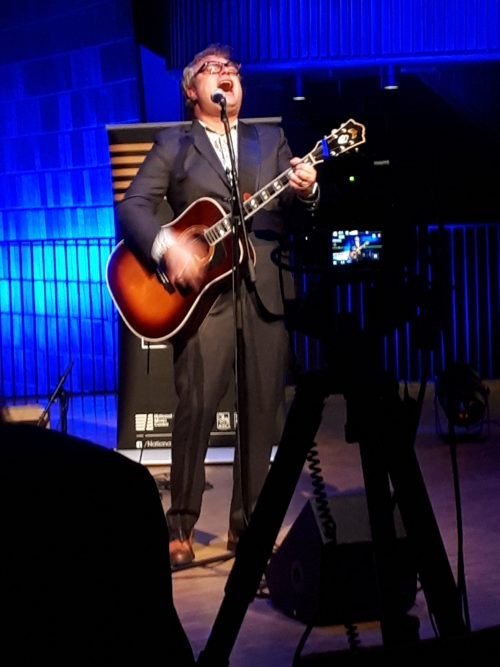 And hey..the playlist below isn't too shabby either.  Enjoy!!
The complete one hour interview can be heard if you subscribe to  Mulligan Stew The Podcast on Spotify, Google Play Music, and iTunes.
-TDM
PLAYLIST:
| | | |
| --- | --- | --- |
| Mulligan stew | May 26 2018 | |
| Welcome to Year 22 of The Stew | TDMulligan | special guest steven page |
| we're gonna make it | Peter Karp and Sue Foley | beyond the crossroads |
| just a loser | robert cray | i was warned |
| what is Hip? | Tower of Power | Best of |
| out on the road | Norah Jones | Little broken hearts |
| www.deanehouse.com | Coming UP – Steven Page | |
| Doing the right thing | David Byrne | American Utopia |
| Hide and seek | JJ Grey and Mofro | Georgia Warhorse |
| www.mulliganstew.ca | NEXT – Steven Page | |
| Steven Page Interview | Mulligan stew Podcast on Itunes | |
| What a good boy | Barenaked Ladies | Gordon |
| Steven Page Interview | National Music Centre | |
| There's a melody | Steven Page | Heal Thyself 1 |
| Steven Page Interview | Mulligan Stew Podcast on Google Play Music | |
| One week | Barenaked Ladies | Stunt |
| Mulligan Stew Year 22 | Coming Up – Steven Page Part Two | |
| Steven Page Interview | National Music Centre | |
| Brian Wilson – Live from NMC | Steven Page | |
| Mulligan Stew | www.mulliganstew.ca | |
| Moondance | van morrison | Moondance |
| 1999 | Prince | the Hits |
| This is The Stew – year 22 | Mulligan Stew Podcast on Spotify | |
| Uptown funk | Bruno mars | Uptown Special |
| Tighten up | The James Brown Band – maceo parker | Tighten up |
| Stomp and buck dance | The Crusaders | Southern Comfort |
| www.coyotesbanff.com | Complete Steven Page Interview on Mulligan Stew Podcast | |
| Ooh Child | The Five Stairsteps | Ultimate Soul Collection |
| Once in a lifetime | Talking Heads | Remain in Light |