Hour Two of 2018 VanWineFest
 

Podcast: Play in new window | Download
THE SHOW
Last week's show focused of Spain and Portugal.
This week its friends and neighbours.
BC, Washington, California, Nova Scotia and a final Spanish Winemaking Star Alvaro Palacios.
Loved doing this hour.  Winemaking friends from all over sharing thoughts and opinions.
We talk about the Alberta Wine Ban and its effect.
I felt it was important that I ask the question "What are you pouring here today and why?"
Co-hosts were Sandra Oldfield and Daenna van Mulligen (The Wine Diva). They did a great job!
www.WineDiva.ca  /  https://sandraoldfield.com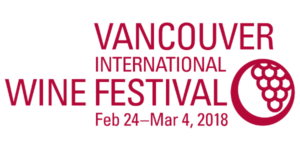 Guests include:
DJ Kearney – Wine Director www.NewDistrict.ca
Christine Coletta – Co-Owner of Okanagan Crush Pad (Haywire)   https://okanagancrushpad.com
Galen Barnhardt – Winemaker at Monte Creek. Kamloops https://www.montecreekranchwinery.com/
Chris Turyk – Brand Ambassador Unsworth. Cowichan Valley https://www.unsworthvineyards.com
Bruce Ewert – Co-Owner/Winemaker L'Acadie Vineyards. Nova Scotia www.lacadievineyards.ca
Howard Soon – Head Winemaker Vanessa Vineyards www.vanessavineyard.com
John Skinner – Owner Painted Rock www.paintedrock.ca
Nikki Callaway – Winemaker Quails Gate https://www.quailsgate.com
Kurtis Kolt – The Bottle / Georgia Straight. Top Drop Vancouver. www.kurtiskolt.com
Calla Bischoff – Sileni Estates NZ https://www.sileni.co.nz
Jim Robertson – Stoneleigh  NZ  www.stoneleigh.com
Alvaro Palacios – Spanish wine legend  www.rarewineco.com/producer/alvaro-palacios
Ray Signorello –  Owner Signorello Estates. Napa  https://signorelloestate.com
Randy Ullom  – Chief Winemaker – Kendall-Jackson.  Sonoma www.kj.com
Eugene Mylnczyk.  Master of Wine . Charles Smith Wines. Washington https://www.charlessmithwines.com
Podcast: Play in new window | Download
STORIES WE'RE WORKING ON
We're heading for Okanagan Falls..or rather they're heading to Vancouver.
Pouring their new releases for 2018 are winemakers and owners from
Blasted Church
Noble Ridge
Liquidity
Stags Hollow
Wild Goose
Meyer Family
Pentage
Painted Rock
Crescent Hill
Nighthawk
Blue Mountain
Skaha
Synchromesh
In two weeks it's the winemakers and wines of The Naramata Bench