Keb' Mo' is a charismatic singer/guitarist/ songwriter and four-time GRAMMY Award winner who has consistently made music that reflects his own passions and interests. In the process, he's earned a reputation for his ability to make deeply expressive, highly personal music. Don't believe me?  Check out the title track (Oklahoma), Put A Woman In Charge (Featuring Rosanne Cash), and Don't throw it away, a song about plastics with Grammy buddy Taj Mahal.
But my fave is the first track,  I remember you and its first line which he says to the lady in the Red Dress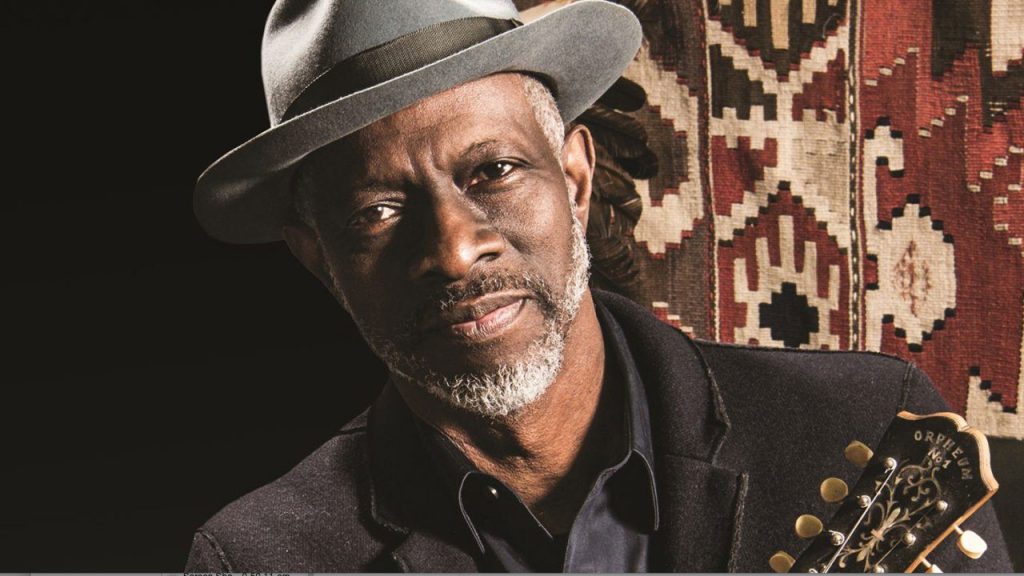 "My name is Junior and come from Memphis Tennessee"
Colin Linden produced the album and infused his love of blues and passion into each and every song.
This is a very special album.  Oklahoma from Keb Mo
Keb guests on Mulligan Stew Radio  ckua.com
And the complete interview on Mulligan Stew  Podcast. Subscribe to Apple Podcasts. Spotify. Google Play.
As for the music ..
We remember Mac Rebennack – Dr John
Leeroy Stagger/Black Keyes/Elton John Soundtrack/Brandi Carlile, Little Steven, Vaughn Brothers, Pearl Jam, Rob Plant, Matt Anderson, Beastie Boys and Lots  More .
Thanks
Terry
PLAYLIST:
| | | |
| --- | --- | --- |
| Mulligan Stew | June 15 2019 |   |
| Welcome to Mulligan Stew | with Terry David Mulligan | www.mulliganstew.ca |
| The Monkey | Dr John | N'awlins |
| let the good times roll | Dr John | Gumbo |
| Remembering Dr John |   |   |
| Shoo Fly dont bother me | Bluesiana Triangle | Bluesiana Triangle |
| www.deanehouse.com | www.mulliganstew.ca |   |
| caught in the middle | Leeroy Stagger | Me and the Mountain |
| howlin' for you | The Black Keyes | Brothers |
| Crocodile rock | Taron Egerton | Rocketman soundtrack |
| www.mulliganstew.ca | Guest tonight is Keb Mo |   |
| Long Rider | Matt Anderson | halfway home by morning |
| poor Howard | Robert Plant | Lullaby and the ceaseless roar |
| Groove Holmes | Beastie Boys | Check your head |
| One Scotch | John Lee Hooker | Best of |
| Keb Mo is tonights guest | New album Oklahoma |   |
| I'm going to make you love me | Buddy and Julie Miller | singles from Breakdown |
| of the girl (live) | Pearl Jam | Benaroya Hall |
| blackbird | Sarah McLachlan | Rarities Vol 2 |
| www.mulliganstew.ca | complete interview on mulligan stew podcast |   |
| Keb Mo Interview | complete interview on mulligan stew podcast |   |
| this is my house | Keb Mo | Oklahoma |
| Keb Mo Interview | complete interview on mulligan stew podcast |   |
| Don't throw it away | Keb Mo | Oklahoma |
| Keb Mo Interview | with tdm |   |
| I remember you | Keb Mo | Oklahoma |
| Keb Mo Interview | complete interview on mulligan stew podcast |   |
| Put a woman in charge | Keb Mo | Oklahoma |
| The Complete Keb Mo Interview | at Mulligan Stew Podcast Apple Podcasts.Google Play. Spotify |   |
| Raise Hell | Brandi Carlile | Bear Creek |
| Rehab | Amy Winehouse | Back to Black |
| I'll wait | The Strumbellas | Rattlesnake |
| Company in my back | Wilco | A ghost in born |
| www.coyotesbanff.com | www.mulliganstew.ca |   |
| Love again | Little Steven and Disciples of soul | Summer of Sorcery |
| Brothers | Vaughn Brothers | Family style |
| Thank you for being out there | www.mulliganstew.ca |   |
| I'm going home | Dr John | N'awlins |
|   |   |   |