Hello Stew Heads…
No interview today…2 hours of tunes for the start of your hard-earned Saturday night.
Kick off with Ry Cooder, The Jerry Garcia Band, new Bahamas, and a remixed Instant Karma from John and Yoko.
There's a boogie set with John Lee Hooker/David Wilcox/Colin James
Remixed Goats Head Soup from The Stones.
Hour two starts with Little Feat Live/Jann Arden & Jackson Browne and a great new track from War and The Treaty. (next weeks guests and podcast)
Speaking of MulliganStew Podcast.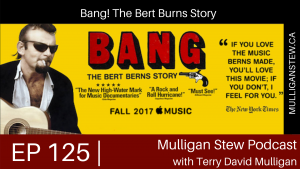 This week it's one of the most unknown legendary figures in rock. Bert Berns. Wrote huge hits. Produced stacks of soul hits, hung with the mafia and has an amazing documentary you might want to check' out
HERE
.
Cheers. Wash your mask
-TDM
PLAYLIST:
| | | |
| --- | --- | --- |
| The Stew | Sept 26 2020 | |
| TDMulligan | Donor Supported CKUA. Mulligan Stew | |
| Jesus on the Mainline | Ry Cooder | Anthology |
| The way you do the things you do (live) | Jerry Garcia Band | Jerry Garcia Band |
| Trick to Happy | Bahamas | Trick to Happy |
| www.mulliganstew.ca | NEXT – John and Yoko/Bonnie Raitt/Colin James | |
| Instant karma (Ultimate Mix) | John Lennon and Yoko Ono | Gimme some truth |
| www.deanehouse.com | www.River-cafe.com | |
| Angel from Montgomery (live) | Bonnie Raitt | Road Tested |
| www.mulliganstew.ca | Terry David Mulligan | |
| Boogie Chillin' | John Lee Hooker and Eric Clapton | King of the Boogie |
| That hypnotizing boogie | David Wilcox | Out of the woods |
| Boogie Funk | Colin James | Blue Highways |
| Donor supported CKUA Radio | www.mulliganstew.ca | |
| Angie | The Rolling Stones | Goat's Head Soup Re-Issue |
| Lousiana 1927 | Aaron Neville | Warm your heart |
| Just a boy | Mark Knopfler | Down the road wherever |
| The Stew – with tdm | Coming UP – New music from The War and Treaty | |
| Dancing with Mr D | The Rolling Stones | Goat's Head Soup Re-Issue |
| playlist at | www.mulliganstew.ca | |
| waiting for a miracle (live) | Jerry Garcia Band | Jerry Garcia Band |
| Yes, we can | Allen Toussaint | Our New Orleans |
| Strong Enough | Ray LaMontagne | MonoVision |
| We get by | Mavis Staples | We get by |
| www.coyotesbanff.com | Its taco time at Coyotes | |
| Lousiana 1927 | Randy Newman | Greatest Hits |
| Can you see me | Maya Rae | Can you see me |
| Daybreak | Ariel Posen | How long |
| Mulligan Stew | www.mulliganstew.ca | |
| Backstroke (live) | Albert Collins | Alive and well |
| I lost my way | Matt Anderson | Weightless |
| Old men | Corb Lund | Agricultural Tragic |
| Fat man in the bathtub (live) | Little Feat | Waiting for Columbus |
| Good Time | Eric Gales | Middle of the Road |
| The Stew with tdmulligan | www.mulliganstew.ca | |
| Unloved | Jann Arden and Jackson Browne | Living under June |
| Take me in | The War and Treaty | Hearts Town |
| | | |