Here s the deal…
Early on Afie Jurvanen decided if he was going to make music – his name was
going to get in the way.
So he inherited  a character name – Bahamas – because everyone knew that
name and how to say it.
As of Friday Afie is now 5 albums into a very successful career.
At about the halfway point in this interview, Afie says something that
really stops me.
He basically says
"I try and work with people who are a  little out of my league. So I have
to work a little bit harder and faster."
Just for the record – Afie has worked with
The Lumineers, Feist, Howie Beck. , Jason Collett, Jack  Johnson, Robbie
Robertson and more.
The album is called Sad Hunk. The cover is a shot of Afie as if he were a
80's crooner.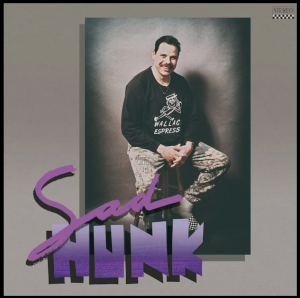 I love his view of himself…it shows in the songs and lyrics.
And his sound is unique to himself. Close harmonies have a horn section
feel them.  With a layer of funk beneath the wordplay.
The complete Zoom interview can be heard and seen at MulliganStew Podcast
(Spotify., Google Play. Apple Podcast)
PLAYLIST:
| | | |
| --- | --- | --- |
| Mulligan Stew | October 10 2020 | |
| This is The Stew with TDM | Bahamas is our special guest | |
| Mind Eraser | Black Keys | El Camino |
| Long Tall Texan | Lyle Lovett and Randy Newman | The road to Ensenada |
| Favourite daughter | Jenn Grant | Love, Inevitable |
| Cadillac Walk | Boz Scaggs | Memphis |
| www.rivercafe.com | www.deanehouse.com | |
| Days gone by | Van Morrison | 3 chords and The Truth |
| This is The Stew with TDM | Special Guest – Bahamas | www.mulliganstew.ca |
| Don't worry baby (live) | Billy Joel | My Lives |
| Don't be denied | Norah Jones | Spotify Singles |
| Mexican Home | John Prine | Sweet Revenge |
| Colour of the Blues | John Prine and Susan Tedeschi | For better or for worse |
| Mulligan Stew | Happy Birthday John Prine | |
| Steve Dawson and Jim Byrnes | One Life Episodes on Music Makers and Soul Shakers Podcast | |
| NEXT – Afie Jurvanen – Bahamas | www.mulliganstew.ca | |
| Afie Jurvanen – Bahamas Interview | New album Sad Hunk | |
| Own Alone | Bahamas | Sad Hunk |
| Afie Jurvanen – Bahamas Interview | New album Sad Hunk | |
| Done do me no good | Bahamas | Sad Hunk |
| Afie Jurvanen – Bahamas Interview | New album Sad Hunk | |
| Fair Share | Bahamas | Sad Hunk |
| Afie Jurvanen – Bahamas Interview | Complete Zoom Interview on MulliganStew Podcast | |
| Half your Love | Bahamas | Sad Hunk |
| Wisdom of the World | Bahamas | Sad Hunk |
| www.mulliganstew.ca | Complete Zoom Interview on MulliganStew Podcast | |
| Black and blue | The Harpoonist and the Axe Murderer | A real fine mess |
| Medicine Hat | Blackie and the Rodeo Kings | King of this town |
| Won't change the World | Barney Bentall and Jim Cuddy | The drifter and the preacher |
| When I call your name | The Bros Landreth and Mariel Buckley | Something New. Something Blue |
| www.coyotesbanff.com | Reservations are recommended | |
| Running scared (Desert Song) | The Strumbellas | Rattlesnake |
| Compared to what | John Legend and The Roots | Wake Up |
| Cathedral | Eddie van Halen | Diver Down |