There was a time when we humans could get on a plane,  fly 14 hours to New Zealand and  travel about the Islands. shake hands with   farmers, growers, winemakers and owners. Dine in wonderful restaurants,  bistros, tasting incredible wines at World famous wineries and fly back to your home with 300 other people – for fourteen hours and still be healthy for the rest of the year.
Let us take you back 5 years to 2015 and DO JUST THAT.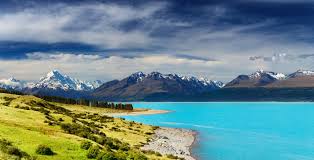 TRR presents New Zealand in an Hour 

Podcast: Play in new window | Download
Subscribe: RSS
THE SHOW 
Last March I had the pleasure of touring various outstanding wine regions in NZ.
What drove the various stories was New Zealand's remarkable sustainability record.
New Zealand in an Hour!!   
94% of all NZ wines are farmed under sustainable practices.
It's not so much a program as a way of life. New Zealanders are all about being green..
We start in Auckland, then Hawkes Bay, Marlborough and finally Central Otago.
 Our guests include
Auckland:
We talk to our "host" Phillip Manson, the man in charge of New Zealand's Sustainability efforts.
He's proud of New Zealand's reputation. So he should be. www.nzwine.com
On the Ferry heading for  Waiheke Island..just off the coast from Auckland..we visit Mike Spratt at Destiny Bay, maker of only three wines.  three Bordeaux influenced red blends..one of which,  Magna Praemia,  is the most expensive wine in NZ.  Mike, his scientist wife Ann and winemaking son Sean lead a stellar team.  http://www.destinybaywine.com/
mike-spratt-destiny-bay
Before we leave the dormant volcanoes of beautiful Auckland we visit just one more winery.
The most awarded winery in all NZ – Villa Maria!!  www.villamaria.co.nz
Sir George Fistonich has spent five decades at the forefront of New Zealand's wine industry
that he helped develop. As an icon of the New Zealand wine industry, Villa Maria is known for
bold and industry-changing moves such as moving to 100% screw cap through to the
emphasis on sustainable practices in every area of the family owned company.
Villa Maria Estate was named the supreme winner at the New Zealand Sustainable Business Network awards in November 2012
Here's  the man himself, Sir George Fistonich.    
 Pask     Hawkes Bay    
On our tour of NZ #1 we talked to Kate Ranburnd the famous winemaker  at Pask.
Hawkes Bay is a short flight from Auckland. http://www.hawkesbaynz.com/
Hawke's Bay's long, hot summers and cool winters offer the best weather for growing grapes. The climate is dry and temperate. Hawke's Bay is renowned for its horticulture with large orchards and vineyards on the plains.
Hawkes Bay is one of New Zealand's warmest, driest regions and this has made it one of the country's leading producers of wine; notably red wines – cabernet sauvignon, merlot and syrah – but also with some quite stunning whites.
They are working on being the Syrah Capitol of NZ.  www.winehawkesbay.co.nz/
Pask Winemaker and Managing Director Kate Radburnd is one of New Zealand's most acclaimed winemakers. She commands an international reputation for her extensive record of award winning wines and her vision and contribution to the industry.
Pask's 59 hectares of vineyards are located on Gimblett Road where Chris Pask was first to plant in the region now known as the Gimblett Gravels Winegrowing District®.
Formed over 100 years ago when the Ngaruroro River changed its course, the light, stony soils of the region are low in nutrients, completely free draining, and create the perfect environment for growing premium quality grapes. Their  very first vintage of 1985 Cabernet Sauvignon was awarded 5 stars in Cuisine Magazine. Since then Pask wines have consistently enjoyed gold medal and  trophy success in London, Australia, Asia, the United States, Canada and New Zealand across a range of varietals and winestyles.
 Kate holds the role of Deputy Chair of the Wine Institute of New Zealand, has been a Director of the Wine Institute of New Zealand and New Zealand Winegrowers since 1999, and is Chair of Judges at New Zealand's oldest wine competition, the New Zealand Royal Easter Show Wine Awards.
Kate has also been instrumental in the development of the Sustainable Winegrowing New Zealand program and led Pask to be among the first group of wineries in the country to secure ISO environmental accreditation.
Kate  spent five years as Chair of the SWNZ advisory/working group, which at that time saw the introduction of the winery programme under the scheme.
Four of her  labels command the wine world's attention :
Declaration
Gimblett Road
Roy's Hill
Kate Radburnd
 Loved this interview. Enjoy!!  http://www.pask.co.nz/ 
 
 YEALANDS  Marlborough   
You want Character?
You want baby goats in the vineyard?
How about a visit to one of NZ most successful organic wineries Yealands. Named after the character owner Pete Yealands.  
Peter's trademark "can do" attitude is the stuff of legend.
Peter has a track record of making pioneering, innovative plans come to fruition – and his successes have been recently chronicled in a book "A Bloke For All Seasons – the Peter Yealands story".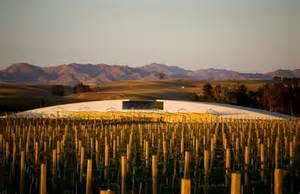 He has developed seven of his own vineyard sites in Marlborough, plus several others under contract for other companies. However his entrepreneurial vision extends well beyond grapes. Early on, Peter recognized the potential to farm Greenshell mussels commercially and in 1971 was issued with New Zealand's first marine farming license. Thanks to his efforts in designing innovative technologies and helping establish aquaculture in the region, marine farming now contributes $160 million a year to New Zealand's export earnings.
In the mid '80's Peter established one of New Zealand's most successful deer farms, specializing in stud animals and embryo transplants. This 2,000 hectare property in Kaiuma Bay in the Marlborough Sounds won a rural environment award in 2003. 

Peter, wife Vai and son Aaron now focus their energies on building Yealands Estate into a global brand.
Pete was on the road when we got there so our guest today is Michael Wentworth the General manager.
FYI  Yealands makes 1.2 Million cases. All sustainably grown.
STAETELANDT –  Dorien Vermaas  Co-Founder  Marlborough.
While Ruud is hands on in the winery, Dorien has had her finger on the pulse of the marketing / sales of StaeteLandt Wines since the beginning. Her background as a marketing manager in larger companies and her love for wine has certainly given her the edge when it comes to understanding this intricate side of the business.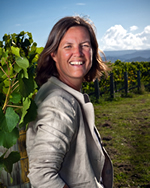 Her bright and bubbly personality are a true asset to the company. Along with Ruud, her philosophy is to produce wines of character and integrity – words that sum up her attitude to all she has done for StaeteLandt Wines
 
FELTON ROAD  Central Otago  
One of the world's finest Pinot Noirs. No Question.
 This Central Otago icon produces stunning biodynamic wines year after year. These guys really know their stuff.
In 2010 Felton Road was designated a Grand Cru winery of New Zealand. This Grand Cru status, currently only held by two other wineries (including Ata Rangi), recognizes the premier producers of Pinot Noir in New Zealand.
Winemaker Blair Walter is a master of less is more, Pinots are unfined and unfiltered and challenge the very best the world has to offer.
Felton Road is situated on warm, north facing slopes of glacial loess soils in Bannockburn, in the heart of Central Otago. The modern gravity fed winery receives 100% estate grown fruit from its three vineyards that are all farmed biodynamically and are fully certified by Demeter. Minimal intervention in the winemaking with such practices as wild yeast, no fining or filtration, allow the unique vineyard characters to further express their considerable personality.
Since the first vintage in 1997, Felton Road has acquired a formidable worldwide reputation.
Felton Road is one of the legendary names in New Zealand wine. They're probably the most famous of the Central Otago wineries, making some highly regarded Pinot Noirs.
It was my great pleasure  to spend a number of hours talking to Owner, part time chef and team leader Nigel Greening.
Looking for one of the best wineries anywhere in NZ?  you've just found it.  Felton Road.
 www.feltonroad.com  
STORIES WE'RE WORKING ON:
Zoom tasting at Yalumba
Sandra Oldfield – Back Again!!
Fonseca Zoomathon from Portugal
Sam Roberts – Music and Wine
Tightrope
Lock and Worth/Nichol
Taylor Fladgate – Zoom from Portugal
A return to Hillside
Doin' The Douce in North Vancouver.  Douce Diner
Bartier Brothers