His name is Elvis Costello.
His new album is called Hey Clockface., Recorded pre-Covid in Helsinki, Finland, and Paris.
It's in part,  an Elvis you might not have heard before. Spoken word over Jazz riffs, a title track that's a throwback to the 1920's and 30's and the music of Ukulele Ike.
A winner of Grammys 1999 and 2020. Inducted into the Rock and Roll Hall of Fame.  Elvis is  a living breathing historian of music and the artists who create it.
He's our guest on The Stew this week.
We'll cover off tales of how the album came together,  growing up in England, how the British invasion of the 60's affected his music choices, the life of a musician, the re-release of Armed Forces, the possibility of getting back together with Nick Lowe and a great story of Chuck Berry and Leonard Cohen.
The complete 40-minute interview can be heard on the Mulligan Stew Podcast.  On it, he takes us through several tracks from the album,  the joy of being a Father in 2020 and spending time with his family, and his multi-year work on a Broadway play.
(Subscribe on Spotify, Google Play, and Apple Podcasts)
Oh by-the-way, Hour One features a Game Of  Stew Bingo as created by our donor Jocelyn Leszcynski to celebrate her Dad Bob's 65 Birthday.
If you look below you can see how the game is played.  Why not open a pop and play along.
https://bingobaker.com/view/3623900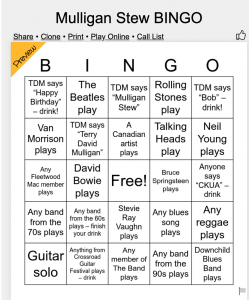 PLAYLIST:
| | | | | | |
| --- | --- | --- | --- | --- | --- |
| Mulligan Stew  www.mulliganstew.ca | Todays Guest  – Elvis Costello | | 1:00 | | |
| Bring it on Home | Downchild Blues Band | Straight Up | 2:55 | | |
| Respect Yourself | Aaron Neville & Mavis Staples | Bring it on Home | 4:10 | | |
| Tripped out Slim | Trombone Shorty | Parking lot symphony | 2:19 | | |
| www.winebc.com | Special Guest – Elvis Costello | | 2:20 | | |
| I'm on your side | Bonnie Riatt | Fundamental | 3:45 | | |
| Hoochie Coochie Man | Eric Clapton | Live on Tour 2001 Staple Centre | 4:30 | | |
| Changes | David Bowie | Hunky Dorey | 3:40 | | |
| Oh Carol (live) | The Rolling Stones | Get yer Ya's Out | 3:45 | | |
| Elvis Costello Interview in 30 minutes | www.mulliganstew.ca | | 4:00 | | |
| Rememberance | Robbie Robertson | Sinematic | 5:30 | | |
| crazy love | Van Morrison | Moondance | 2:35 | | |
| The thrill is gone (live) | BB King | Live at the Apollo | 3:30 | | |
| Johnny Bye Bye (live) | Bruce Springsteen and the E Street Band | Songs from around the World | 3:40 | | |
| www.mulliganstew.ca | Coming UP – Elvis Costello Interview | | 1:00 | | |
| Ahead by a Century | The Tragically Hip | Trouble at the Henhouse | 3:45 | | |
| The Stew on CKUA Radio | Next – Eric Clapton – Nina Simone | | :30 | | |
| Tulsa Time (live) | Eric Clapton | Crossroads 2 Live in the 70's | 4:30 | | |
| I put a spell on you | Nina Simone | I put a spell on you | 2:30 | | |
| www.mulliganstew.ca | NEXT – Elvis Costello | | 2:00 | | |
| Elvis Costello Interview | Complete Interview on MulliganStew Podcast | www.mulliganstew.ca | 4:20 | | |
| We are all cowards now | Elvis Costello | Hey Clockface | 3:36 | | |
| Elvis Costello Interview | Complete Interview on MulliganStew Podcast | www.mulliganstew.ca | 1:35 | | |
| Revolution #49 | Elvis Costello | Hey Clockface | 2:41 | | |
| Elvis Costello Interview | Complete Interview on MulliganStew Podcast | www.mulliganstew.ca | 2:33 | | |
| Radio is everything | Elvis Costello | Hey Clockface | 4:26 | | |
| Elvis Costello Interview | Complete Interview on MulliganStew Podcast | www.mulliganstew.ca | 1:10 | | |
| No Flag | Elvis Costello | Hey Clockface | 4:00 | | |
| Elvis Costello Interview | Complete Interview on MulliganStew Podcast | www.mulliganstew.ca | :50 | | |
| TDMulligan – The Stew Year 26 | www.mulliganstew.ca | | 2:00 | | |
| Elvis Costello Interview – last question | Complete Interview  Mulligan Stew Podcast  (spotify etc) | | 2:45 | | |
| What's so Funny about Peace Love and Understanding | Elvis Costello | Armed Forces | 3:32 | | |
| The Power of Prayer | Bruce Springsteen and the E Street Band | A Letter for you | 3:37 | | |
| Otta Mind. Otta Sight. | Wilco | Being there | 3:10 | | |
| Long ride home | Patti Griffin | 1000 kisses | 3:34 | | |
| www.coyotesbanff.com | Coming UP – The T's – T Rex and T Bone Walker | | 2:25 | | |
| Cosmic Dancer | T-Rex | T-Rex | 4:30 | | |
| Shake it baby | TBone Walker | Sunday Blues | 3:07 | | |
| Thank you for listening – Love you guys | check out the Elvis Interview on Mulligan Stew Podcast | Spotify – Apple Podcasts – Google Play | 1:10 | | |
| Ain't misbehaving | Cliff Edwards – Ukelele Ike | Best of | :45 | | |