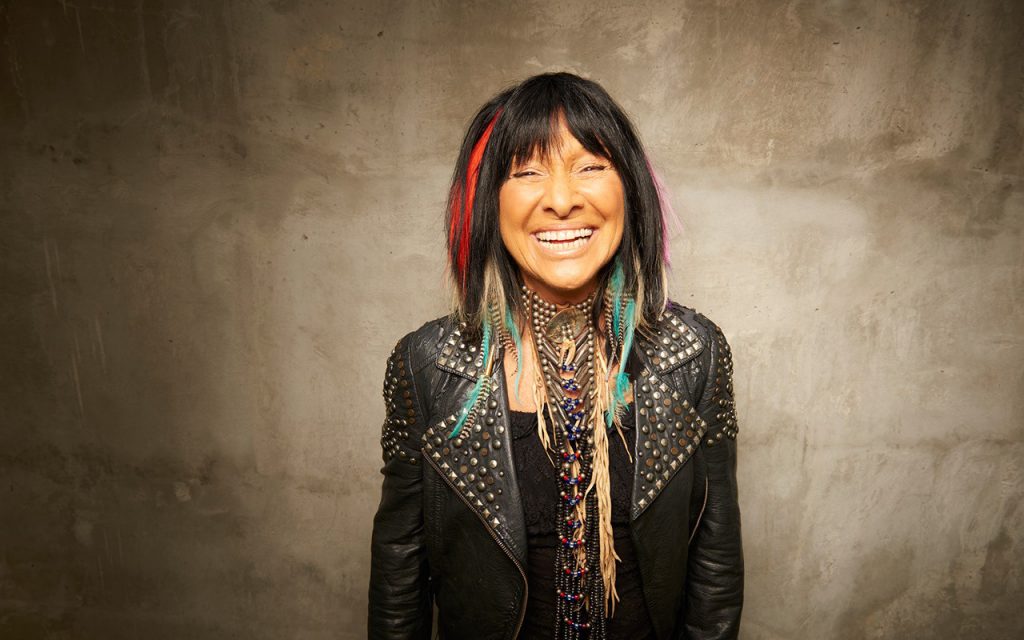 It appears we have a Saskatoon thing going on this week.
One of the brightest lights on our music world – Saskatoon's  Buffy Saint Marie is turning 80 years old Saturday!
She is without a doubt the best-looking 80-year-old we know.
She could pin me two falls out of three.
We're calling her in Hawaii on Saturday as a special guest on The  Stew.
Winner of an Academy Award, a Grammy, Multiple Junos, Order of Canada, and  – trust me – many more.
We'll take time to talk to Buffy about her life, career highlights, personal moments that define who she is and what's next.
Also from Saskatoon – Leslie Stanwyck and Johnny Sinclair from Tucker Lane. (X – Pursuit of Happiness)
They are releasing a new album called Random Fireworks on a beach obscured by trees.
In hour two of The Stew, we celebrate the life of Susan McCulloch. Lost to cancer Jan 12/2021.
Her family and friends are virtually gathered to remember the light of their life.
But Susan's songs will play on.
Please join us in the music for Susan…
PLAYLIST:
| | | |
| --- | --- | --- |
| Mulligan Stew | Feb 20 2021 | |
| Welcome to The Stew with TDMulligan | Its Buffy's Birthday – She's our guest shortly | www.mulliganstew.ca |
| Squib Cakes | Tower of Power | Back to Oakland |
| Look at Little Sister | Stevie Ray Vaughn | The Real Deal |
| www.deanehouse.com | www.river-café.com | |
| Buffy Ste Marie Interview | It's Buffys Birthday – from Hawaii | |
| | | |
| | | |
| | | |
| | | |
| | | |
| Segments B.C and D | | |
| Mulligan Stew | Playlist at www.mulliganstew.ca | |
| Stand by me | Dominique Fils-Aime | 3 little words |
| Tucker Lane Interview | From Saskatoon | |
| Ghosts | Tucker Lane | Random Fireworks on a beach obscured by Trees |
| Tucker Lane Interview | www.tuckerlane.ca | |
| Stevie Nicks Freedom | Tucker Lane | Random Fireworks on a beach obscured by Trees |
| Tucker Lane Interview | www.tuckerlane.ca | |
| Blue Sky High | Tucker Lane | Random Fireworks on a beach obscured by Trees |
| Free Fallin | Tom Petty and the Heartbreakers | Full Moon Fever |
| Regret | Corb Lund | Cabin Fever (Deluxe) |
| Coming UP – Bonnie Raitt. Tina. CCR.Van.Neil.Otis | www.mulliganstew.ca | The Stew Hour Two |
| Angel from Montgomery (live) | Bonnie Raitt and friends | Road Tested |
| Proud Mary | Tina Turner | 1993 Single |
| Bad Moom Rising | Creedance Clearwater Revival | Chronicles – 20 hits |
| www.nobleridge.com | Coming UP – Van the Man, Neil Young, Otis Redding | |
| Brown eyed girl | Van Morrison | Blowing your Mind |
| Harvest Moon | Neil Young | Harvest Moon |
| Dock of the Bay | Otis Redding | Dock of the Bay |
| This is The Stew with TDMulligan | Podcast is Rock Camp – The Movie | Subscribe at Spotify. Google.Apple Podcats |
| This hour celebrates the life of Susan McCulloch | For her famiuly and dear friends..who are gathered.. | |
| Hotel California (live) | The Eagles | When Hell Freezes Over |
| Always Alright | Alabama Shakes | Silver Lining Playbook |
| When Love comes to town | U2 and BB King | Rattle and Hum |
| www.mulliganstew.ca | Podcast is Rock Camp – The Movie | |
| Power of Prayer | Bruce Springsteen and the E Street Band | Letter for you |
| Song for Susan | Crosby, Stills & Nash | Daylight Again |
| We'll meet again | Johnny Cash | Cash |
| | | |