Welcome to The Stew – Year 26.  Hope you're having a  memorable Easter weekend.
It's another one of those "a donor sent me off in a new direction" emails.  They're always welcome.
Donor Hour One just said – "Do what you do"
So…it's a mix of JJ Cale, Leo Kottke, Kinks, G Love and Keb Mo, Walk off the Earth, Lake Street Dive, Ron Sexsmith, John Hiatt, Colin James, Ariel Posen and Mick Jagger with the Red Devils.
The Donor of Hour Two suggests…
"In light of so many racial divides and intolerances  to cultural differences, perhaps a focus on cultural musical influences would be a way to open the mind""
With that in mind the mix of Saturday night music includes…
Sting and Shirazee, Wyclef Jean, Taj Mahal, and Los Lobos, Toots and Keith Richards, Paul Simon and Ladysmith Black Mombasa, Los Lobos. 
PLUS
New tracks from Paul McCartney/Beck and Van Morrison.
Blue Rodeo, Feist, and The Stones Midnight Rambler finish off the first Saturday of Spring.
The Mulligan Stew Podcast is very special – First it's EP 150.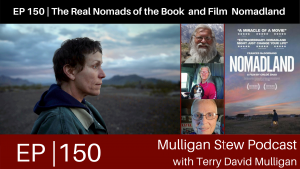 Nomadland may very well win the Oscar for Best Film. It's been winning lots of other awards including @CriticsChoice.
We have interviews with the actual Nomads who the story, book, and screenplay were written about and who play themselves in the film.
Swankie, Linda May, Bob Wells plus the author of the book Jessica Bruder.
Happy Easter weekend all!
Subscribe to the MulliganStew podcast on Apple Podcasts, Google Podcasts, and Spotify
PLAYLIST:
| | | |
| --- | --- | --- |
| The Stew April 3 | Have a safe Easter | www.mulliganstew.ca |
| world turning | Leo Kottke | standing in my shoes |
| shady grove | JJ Cale | Number 10 |
| Mississippi Phone Booth | John Hiatt and Jerry Douglas | single |
| Lola (live) | The Kinks | One for the road |
| www.mulliganstew.ca | Podcast-The Nomads from Nomadland | |
| Go crazy | G. Love S. Sauce and Keb Mo | The Juice |
| Checking up on my baby | Mick Jagger and The Red Devils | The very best of Mick |
| Being a woman | Lake St Dive | Obviously |
| www.river-café.com | www.deanehouse.com | www.mulliganstew.ca |
| How is it | Walk off the Earth | How is it |
| Brighter still | Ron Sexsmith | Exit strategy of the mind |
| Heart by heart | Ariel Posen | Headway |
| www.mulliganstew.ca | Podcast-The Nomads from Nomadland. The real deal | |
| For no one | The Beatles | Revolver |
| The shape I'm in (re-mix) | The Band | Stage Fright (remastered) |
| Rainy day dream away | Colin James | Traveler |
| TDMulligan – The Stew | Coming UP – Sting. Taj.Toots.Feist.Stones to close | |
| Tootie mama is a big fine girl | Medeski, Scofield, Martin and Wood | Juice |
| This is Mulligan Stew – Year 26 | The Podcast is – The Real Nomads from Nomadland | www.mulliganstew.ca |
| Englishman/African in New York | Sting/Shirazee | African in New York |
| La Bamba | Wyclef Jean | Konpa 200% Soleil |
| Never let you go | Taj Mahal and Los Lobos | Maestro |
| Careless Ethiopians | Toots & Maytals and Keith Richards | True Love |
| www.mulliganstew.ca | Next – McCartney and Beck/ New Van Morrison. Feist | Podcast – The real Nomads from Nomadland |
| find my way | Paul McCartney and Beck | single |
| Mushaboom (Mocky Mix) | Feist | Open Season |
| www.nobleridge.com | Stew Podcast – The real nomads of Nomadland | |
| after the rain | Blue Rodeo | Casino |
| Diamonds on the soles of her shoes (live) | Paul Simon & Black Ladysmith Mombasa | Live in NYC |
| Malaque | Los Lobos | Disconnected in NYC |
| Midnight Rambler | The Rolling Stones | Let it Bleed |
| Be CAREFUL out there | Have a safe EASTER | Be KIND |