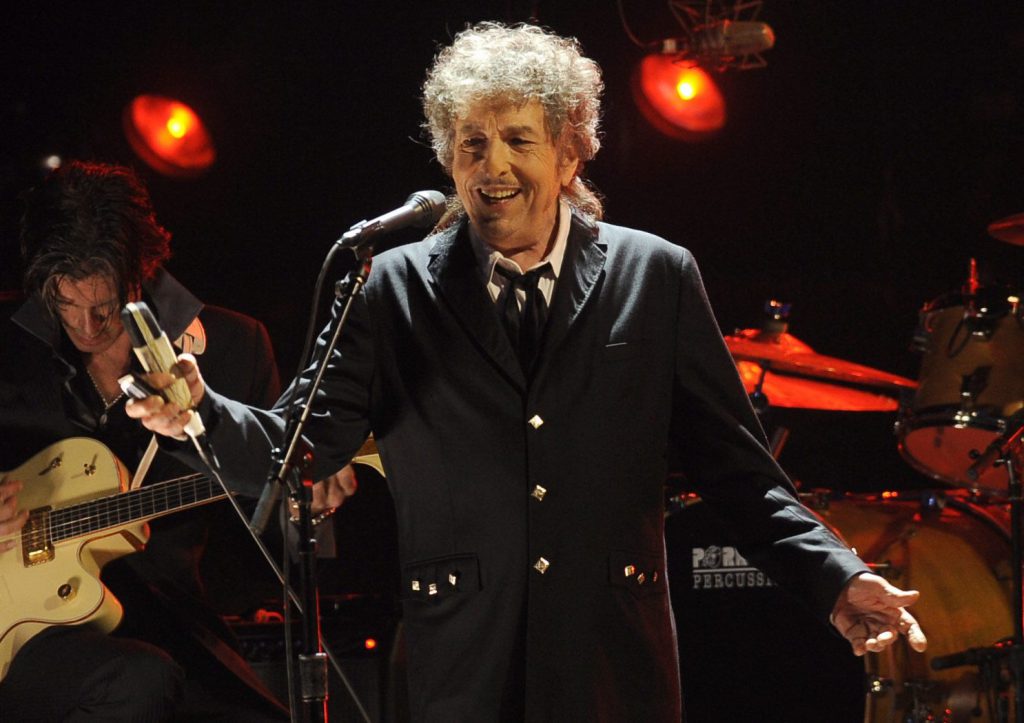 Bob Dylan turns 80 years on Monday.
For the many who have lived their lives inside his songs, that, in itself, is a flag they carry high.
Bob Dylan defies description. Always has.
One way to get a clearer picture of the man and his many songs, thoughts, words, and music is to talk to the artists who have played with him or were his peers or followed Bob into a life of music.
This week's guests on Mulligan Stew include:
David Bowie – on the judgement of Bob's generation
Robbie Robertson – what did the Band learn from Bob and Bob from them.
Colin Linden – toured in Bob's band.
The Avett Brothers – playing The Grammys with Bob and Chimes of Freedom LP
Barney Bentall/Steve Dawson – all about Blood on the Tracks
Susan Tedeschi- Derek Trucks – on their two heroes,  Leonard Cohen, and Bob Dylan.
Plus great tracks from Bob.  Thank You for a memorable 80 years, Bob!
Hour ONE has
Sly and The Family Stone
Curtis Mayfield and The Impressions
Steely Dan
new Amy Helm
The Wood Bros
Jon Batiste/Leon Bridges/Gary Clark Jr
Etta James
Steve Cropper
Bob Marley Live
Marvin Gaye Live
Ry Cooder Live
Emmy Lou Harris Live
Have a GREAT long weekend.
PLAYLIST:
| | | |
| --- | --- | --- |
| The Stew May 22 | Hour Two is our Bob Dylan turns 80 special | |
| If you want me to stay | Sly and the Family Stone | Fresh |
| It's all right | Curtis Mayfield and The Impressions | Best of Soul |
| Peg | Steely Dan | Aja |
| Sweet Mama | Amy Helm | What the flood leaves behind |
| False Prophet | Bob Dylan | Rough and Rowdy Ways |
| Is this love (live) | Bob Marley and The Wailers | Babylon By Bus |
| www.mulliganstew.ca | Coming UP – a one hour Dylan 80th Birthday party | |
| www.deanehouse.com | www.river-café.com | |
| Ohio | Jon Batiste. Leon Bridges.Gary Clark Jr | Soul Soundtrack |
| What's going on? | Marvin Gaye | Live at Kennedy Centre |
| Dylan Special Guests – Robbie Robertson. Bowie. Greg Keelor | Colin Linden. Avett Bros. Barney Bentall & Steve Dawson. Tedeschi-Trucks | |
| Crazy bout an automobile (live) | Ry Cooder and Corridos Famosos | Live in SF |
| Goin' back to Harlan (live) | EmmyLou Harris | Lillith Fair |
| www.mulliganstew.ca | Bob Dylan Party Hour Two | |
| midnight rider | The Wood Brothers | Up above my head |
| I'd rather go blind | Etta James | Tell mama |
| Coming Up our Bob Dylan Party | Bowie. Avett bros. Colin Linden. Greg Keelor etc | |
| Bush Hog Part 1 | Steve Cropper | Fire it up |
| Highway 61 Revisited | Dave Alvin | From an old guitar |
| I shall be released | Elvis Presley | Essential 70's Masters |
| www.mulliganstew.ca – Playlist can be found | Next – Colin Linden | |
| Colin Linden Interview | www.mulliganstew.ca – Bob Dylan Birthday Special | |
| Highwater (for Charlie Patton) Live | Bob Dylan | Tell Tale Signs |
| TDMulligan | Bob Dylan Party Hour Two | |
| David Bowie Interview | bob Dylan Party | |
| Girl from the North Country | Bob Dylan and Johnny Cash | Nashville Skyline |
| The Stew May 22 – our Dylan Special. Bob turns 80 | www.mulliganstew.ca – Bob Dylan Birthday Special | |
| Greg Keelor Interview | TDMulligan | |
| I contain Multitudes | Bob Dylan | Rough and Rowdy Ways |
| Steve Dawson Interview for The Stew Dylan Special | www.mulliganstew.ca – Bob Dylan Birthday Special | |
| Tangled Up in Blue | Bob Dylan | Blood on the Tracks |
| Barney Bentall Interview for The Stew Dylan Special | TDMulligan | |
| Meet me in the Morning | Bob Dylan | Blood on the Tracks |
| www.coyotesbanff.com | Coming UP – Avett bros. Tedeschi Trucks. Robbie Robertson | |
| Avett Brothers Interview | Bob turns 80 | |
| Susan Tedeschi – Derek Trucks | Talk about influence of Leonard Cohen and Bob Dylan | |
| Robbie Robertson | Speaks of the dynamic between The Band and Bob | |
| Forever Young (live) | The Band and Bob Dylan | The Last Waltz |
| Baby let me Follow you down (live) | The Band and Bob Dylan | The Last Waltz |
| | | |