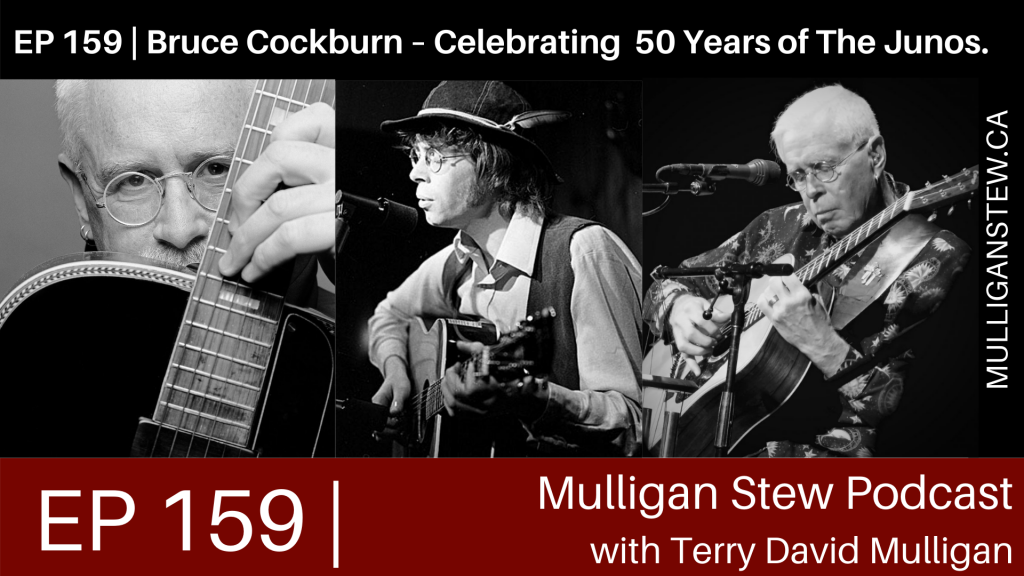 Canada's Music Awards – The Junos – take place Sunday night.
50 years ago,  the first-ever Folksinger of the Year Juno Award went to Bruce Cockburn. Also nominated were Joni Mitchell and Great Speckled Bird (featuring Ian and Sylvia)
 Bruce Cockburn won 12 more Juno Awards  over the past 50 years. He's nominated again this year for his brilliant instrumental album Crowing Ignites.
We have much to talk about.  Those very early days when he was just starting. "I wasn't me yet".
How he has sustained a songwriting and performing career, the moment when he thought perhaps he wouldn't/couldn't  write another song and what project changed that possibility.
He touches on the state of radio, folk music, how he stayed engaged as an artist, his instincts that told him  – when writing a new song – that he had already said what the song was about and finding a new way to continue saying what was in his heart,  why he never entertained the idea of being  star and how the songs would come to him if he just "waited for the flash"
The interview includes  Bruce's personal thoughts on the tragedy unfolding at the Residential School in Kamloops, BC.
This is the complete conversation with music included.