Our Special long weekend guest is Ed Robertson from Barenaked Ladies.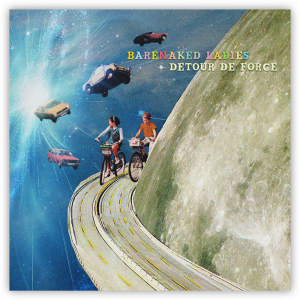 'Detour de Force,' is Barenaked Ladies' 16th studio album.
Over the course of 33 years, the Toronto quartet has sold 15 million records worldwide and built up an arsenal of hits such as "If I Had $1,000,000," "One Week," "Pinch Me" and "The Big Bang Theory Theme."
Ed Robertson, Jim Creeggan, Tyler Stewart, and Kevin Hearn are widely acknowledged as one of the best live acts on the planet, BNL has won eight Juno Awards and was inducted into the Canadian Music Hall of Fame in 2018.  Great!  Fine!  Bang ON.  I've got another word that I believe defines  The Ladies – "admirable."
Here's the thing.  These guys do NOT sit back on their past hits and success. They all continue to write and refine their songs, vocals, and performing.  They push each other to be even better.
Case in point. Three songs from the 14 on Detour de Force
You'll certainly hear Flip/Good Life/Roll Out
But the  three tracks that show the craftsmanship of BNL are
New Disaster – deals with the dark cloud of snarly social opinions.
Paul Chambers – Yup. A song about the legendary bassist who played on and supported Miles Davis etc on Kind of Blue.  Jim Creeggan makes him a metaphor.
And then Kevin Hearn contributes Internal Dynamo the last track that starts like Pink Floyd, hangs a hard left into Rage Against The Machine territory, and finishes like something from The Beatles White Album.
Those are the three tracks we'll play for you on Saturdays Mulligan Stew @ckuaradio.  The complete interview with Ed Robertson can be heard on The MulliganStew Podcast
And Hey- the playlist will absolutely get you rocking..
Starts with Elvis, Jerry Lee, Billy Cowsill singing Elvis and Rocket 88 – Live tracks from Elton John, Tom Petty, and the Heartbreakers, Little Feat, and  Van Morrison.
New Sue Foley, Los Lobos, Ranch Writers, William Prince, Frazey Ford &  Black Keys,
PLAYLIST:
| | | |
| --- | --- | --- |
| The Long Weekend Stew | Special Guest – Ed Robertson BareNaked Ladies | |
| Good Rockin Tonight | Elvis | A boy from Tupelo |
| Teddy Bear (live) | Billy Cowsill | Live |
| Rocket 88 | Jackie Brenston | 50 years of Alligator |
| Who will the next fool be? (live) | Jerry Lee Lewis | The Greatest Live Show on Earth |
| www.river-cafe.com | www.deanehouse.com | |
| Bennie and The Jets (live) | Elton John | Live Aid July 13 1985 |
| Farmer John | Los Lobos | Native Sons |
| Hurricane Girl | Sue Folley (Jimmy Vaughn) | Pinky's Blues |
| This is Mulligan Stew – Long Weekend Edition | www.mulliganstew.ca | |
| Big Turk | Ranch Writers | Ranch Writers |
| www.mulliganstew.ca | Coming UP – Ed Robertson BNL with new album Detour de Force | |
| Learning to fly (live) | Tom Petty and the Heartbreakers | Live Anthology |
| in the mystic (live) | Van Morrison | Too late to stop now |
| Spanish Moon (live) | Little Feat | Waiting for Columbus |
| Special Guest – Ed Robertson Barenaked Ladies- New LP | www.mulliganstew.ca | |
| Going down South | Black Keys | Delta Kream |
| The times they are changing | Frazey Ford | single |
| Run | William Prince | single |
| Playlist for The Stew | www.mulliganstew.ca | |
| Bird on a wire | The Neville Brothers | Brother's Keeper |
| www.nobleridge.com | NEXT – Ed Robertson with new music from BNL | |
| Ed Robertson – BNLadies | Detour de Force | |
| Live Well | Barenaked Ladies | Detour de Force |
| Ed Robertson – BNLadies | Complete interview on Mulligan Stew Podcast | |
| New Disaster | Barenaked Ladies | Detour de Force |
| Ed Robertson – BNLadies | Complete interview on Mulligan Stew Podcast | |
| Paul Chambers | Barenaked Ladies | Detour de Force |
| Ed Robertson – BNLadies | Complete interview on Mulligan Stew Podcast | |
| Internal Dynamo | Barenaked Ladies | Detour de Force |
| | | |