On the down sound Summer's "Done like Dinner"
On the upside, The Stew has its full two hours of showtime back again.
I do hope you enjoyed this summer's Festival Radio- Congrats to the Festival Crew.
The September 11th Stew is all music.
The first 90 minutes is a heady mix of
Wicked Grin from  John Hammond
Followed by Tom Waits/James Brown/Aretha & Ray Charles.
Then we shift to Jackson Browne/Leonard Cohen/Carlos Santana (with Clapton)
New music from Colin Linden, Mariel Buckley, and next week's guest Martha Wainwright.
Hour two kicks off with a  16 minute Motown Festival.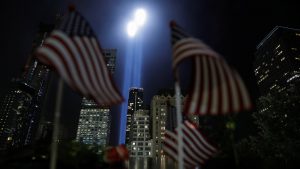 Then it's time to remember and honour The Day – September 11th. Twenty years ago the heart of New York City was broken and horribly damaged.
I've gathered a group of songs that reflect how we all felt and how the artists chose to reflect on this tragedy and the lives lost.  Frankly, what The World lost.
Music from
Emmylou Harris and Mark Knopfler
Bruce Cockburn
John Hiatt
Bruce Springsteen
U2.
Thank you for remembering.
PLAYLIST:
| | |
| --- | --- |
| www.mulliganstew.ca | Sept 11 – 20 years later |
| John Hammond | Wicked Grin |
| Tom Waits | Beautiful Maladies |
| James Brown and The Famous Flames | 50th anniversary collection |
| Aretha Franklin | 30 greatest hits |
| Ray Charles | True Soul: Genius |
| www.mulliganstew.ca | |
| Jackson Browne | Downhill from everywhere |
| Leonard Cohen | Songs from The Road |
| Santana and Clapton | Supernatural |
| Coming UP – New Mariel Buckley and Colin Linden | |
| Colin Linden | Blow |
| Mariel Buckley | 97 Riverdale |
| Lyle Lovett | My baby don't tolerate |
| www.mulliganstew.ca | |
| Martha Wainwright | Love will be reborn |
| Remembering the tragedy of 9/11 through music | |
| The Temptations | Hitsville |
| Stevie Wonder | Hitsville |
| Gladys Knight and The Pips | Hitsville |
| Mary Wells | Hitsville |
| Marvin Gaye | Hitsville |
| Remembering the tragedy of 9/11 through music – Coming UP | |
| Dawes | Nothing in wrong (Bonus track) |
| Allison Russell | Outside child |
| www.mulliganstew.ca | |
| Chuck Berry | After School Session |
| NEXT – 9/11 through music | |
| Music that helped heal | |
| Mark Knopfler and Emmylou Harris | All the Roadrunning |
| Bruce Cockburn | Singles 79-2002 |
| John Hyatt | Dirty Jeans Mudslide Hymns |
| Bruce Springsteen | The Rising |
| Thank you for listening | |
| U2 | All that you can't leave behind |