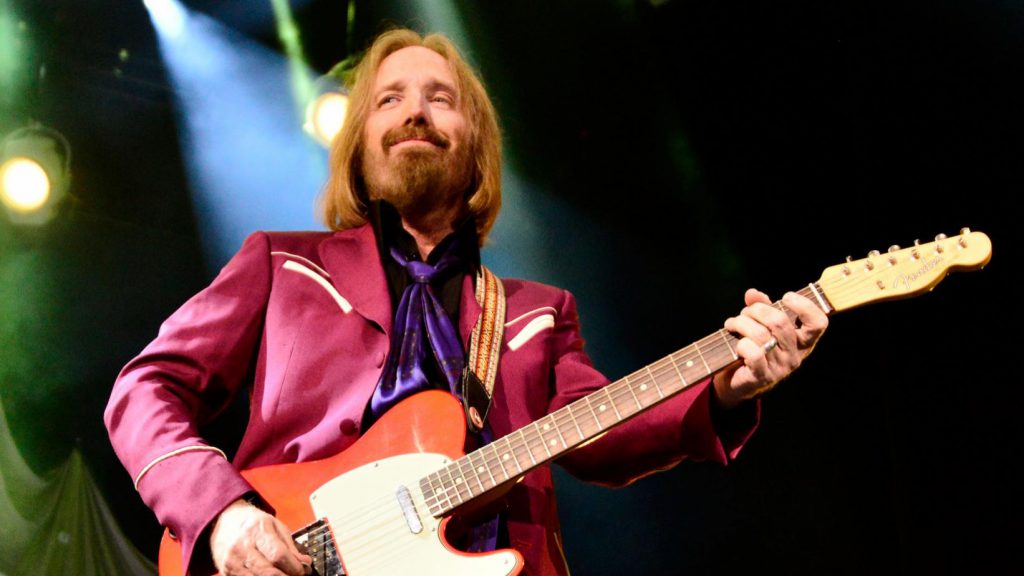 I'm going to be remembering and honoring the music and life of Tom Petty.
Tragically,  after a huge tour of many weeks and months, Tom died in his home on October 2 /2017.
I got to meet and interview him the week Tom and the Heartbreakers released that first great album. The interview was in Leon Russell's office at Shelter Records. Looking down on Sunset Blvd.
He was quiet, humble and funny. Great guy.
Now, I think of the music he would have written. The songs we'll never hear.
Tom Petty and the Heartbreakers have left us a legacy that tells their whole story.
The Stew ends with Breakdown (live) with the audience singing the first third of the song.
"you're gonna put me out of a job"
We start The Stew  with Chris and Rich Robinson Live at The Roxy laying into  Lowell George's Roll Um Easy
Then Santana /Stevie Winwood followed by Larkin Poe
Along the way, we celebrate Sting's birthday. Linda Ronstadt and James Taylor, Ray Charles (twice), Van Morrison Live at Hollywood Bowl, U2, Al Green, Martin Kerr and Celeigh Cardinal, The Hip, Stones, Rod Stewart, and Ronnie Lane doing Every Picture tell a story (live)…lots more.
SHOWTIME – 4  Pacific 5 Mtn 7 Eastern TODAY!!
Next week interviews with David GoGo and Bahamas
This week's Podcast is the complete Whitehorse Interview
PLAYLIST:
| | | |
| --- | --- | --- |
| Mulligan Stew Oct 2 2021 | www.mulliganstew.ca | |
| Roll um easy (live) | Chris and Rich Robinson | Brothers of a feather – Live at Roxy |
| Whiter shade of pale | Santana – Stevie Winwood | single |
| Mississippi | Larkin Poe | Venom and Faith |
| Black Coffee | Humble Pie | Eat it |
| www.deanehouse.com | www.river-café.com | |
| Stay | The Fretless and Nuela Charles | Let it lie |
| www.mulliganstew.ca | Stay – coming up | |
| Stay | Maurice Williams and the Zodiacs | Best of |
| Whitehorse – the complete interview on Mulligan Stew Podcast | www.mulliganstew.ca | |
| Every picture tells a story (live) | Rod Stewart and Ronnie Wood | Unplugged |
| Gonna work out fine | Linda Ronstadt and james Taylor | Get closer |
| Run | William Prince | single |
| Here comes my girl (live) | Tom Petty and the Heartbreakers | Live Anthology |
| A song for you | Ray Charles | True Genius |
| Could it be | Dominique fils-Aime | three little words |
| www.mulliganstew.ca | Next – Van Morrison Live | |
| Cypress Avenue. You came walking down (live) | Van Morrison | Astral Weeks Live – Hollywood Bowl |
| This is Mulligan Stew | with Terry David Mulligan | |
| Heavy cloud – No rain (live) | Sting | Very best of Sting and The Police |
| Fancy man blues | Rolling Stones | Rarities 1971 – 2003 |
| Have a little faith | John Hiatt | Bring the family |
| Beautiful Day | U2 | All that you can't leave behind |
| www.nobleridge.com | Coming UP – Al Green . Bill Withers Live.  Bob Dylan and son. Tom Petty Live | |
| Lets stay together | Al Green | Let's stay together |
| Lean on me (live) | Bill Withers | Live at Carnegie hall |
| Whitehorse – the complete interview on Mulligan Stew Podcast | www.mulliganstew.ca | |
| All along the Watchtower (live) | Bob Dylan | Unplugged |
| Mourning Train | The Wallflowers | Breach |
| For no one | The Beatles | Revolver |
| The Stew with TDM | www.mulliganstew.ca | |
| Set yourself free | Martin Kerr and Celeigh Cardinal | Grateful |
| Whitehorse – the complete interview on Mulligan Stew Podcast | www.mulliganstew.ca | |
| Bobcaygeon | The Hip | Phantom Power |
| Breakdown (live) | Tom Petty and the Heartbreakers | Pack up the Plantation Live |
| | | |