I imagine my delight in having Keb' Mo'  Zoom guest from his home in Nashville.
Keb's new album is Good to be. It reflects the loss of his mother, returning home to his childhood home in Compton to remodel and freshen up the home he was brought up in and to reconnect with "the community".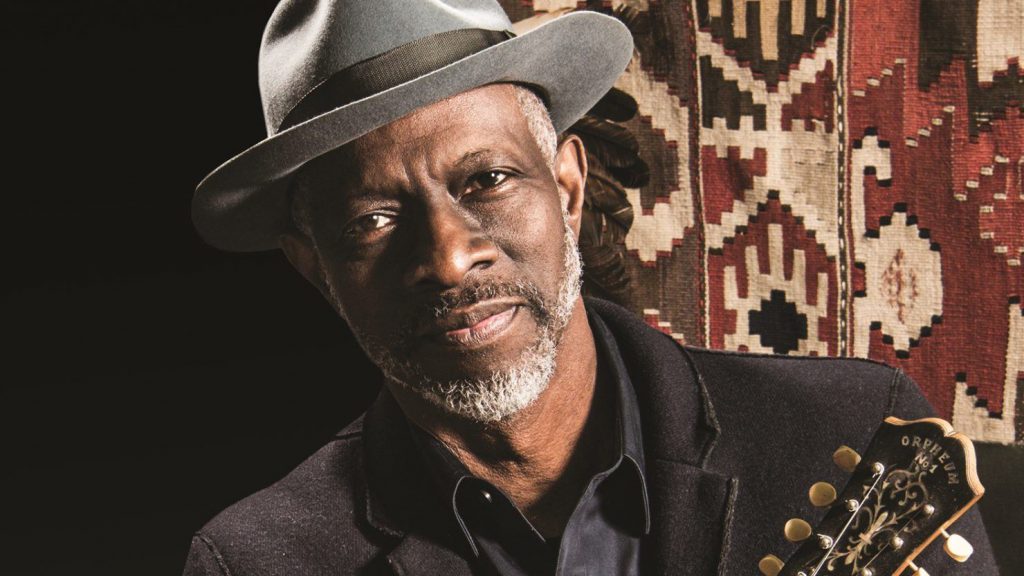 I never thought of Compton as a community because everything I read and heard only referenced the toughness of the streets and what could be a hard life. (NWA!!)
Keb references and hangs with The Compton Cowboys. Real-life people. Legends in  Compton history.
Keb also talks strongly about his thoughts on  Black History Month, working with Vince Gill, Old Crow Medicine Show, covering a song by his friend Bill Withers and more.
He answers the last question straight up – Did you find the blues or did the blues find you?
The complete audio and zoom interview drop right after The Stew.  Details  at www.mulliganstew.ca
It's good to be a Keb' Mo' Fan. The music sticks to your heart and so does the man.
and Hey!  Check out the rest of the Stew.
Leonard Cohen, Steve Miller Band, The Dead, Robert Plant, A Fats Domino mini-festival for his birthday, Fruit Bats, Blue Rodeo, Lucinda Williams, Amy Winehouse, Led Zeppelin etcetera!!
THANK YOU
PLAYLIST:
| | | |
| --- | --- | --- |
| Mulligan Stew | Feb 26 2022 | |
| Special Guest – Keb' Mo' | in 30 minutes | |
| Ninety-nine and half | Jim Byrnes | Long hot Summer nights |
| Sugaree (live) | Grateful Dead | Live at Fox Theatre St Louis |
| www.coyotesbanff.com | Coming UP -= Keb Mo Interview | |
| Can't let go | Lucinda Williams | Car Wheels on a gravel road |
| Rainbow | Robert Plant | Digging Deep Subterania |
| Spare Tire | Ariel Posen – Corey Wong | Spare Tire |
| www.mulliganstew.ca | NEXT – Keb Mo | |
| Keb'Mo' Interview | Album – Good to be | |
| The Medicine Man (Old Crow Medicine Show) | Keb Mo | Good to be |
| Keb'Mo' Interview | Complete interview on Mulligan Stew Podcast | |
| So Easy | Keb Mo | Good to be |
| Keb Mo Interview | Complete interview on Mulligan Stew Podcast | |
| Good to be (Home again) | Keb Mo | Good to be |
| Keb Mo Interview | Complete interview on Mulligan Stew Podcast | |
| Lean on me | Keb Mo | Good to be |
| Keb Mo Interview | Complete interview on Mulligan Stew Podcast | |
| Quite Moments (with Kristin Chenoweth) | Keb Mo | Good to be |
| This is Mulligan Stew in 2022 | www.mulliganstew.ca | |
| The Fat Man | Fats Domino | Fats Domino (Vinyl) |
| Blue Monday | Fats Domino | Fats Domino (Vinyl) |
| Let the four winds blow | Fats Domino | Fats Domino (Vinyl) |
| This is The Stew with TDMulligan | Coming UP – Led Zeppelin. Leonard Cohen | |
| Darlene | Led Zeppelin | Coda |
| Back to Black | Amy Winehouse | Back to Black |
| I'm your man | Leonard Cohen | More best of |
| The Joker | Fruit Bats | Some clouds are just clouds |
| Gangster of love | Steve Miller Band | Sailor |
| You're so fine | Steve Miller Band | Sailor |
| www.mulliganstew.ca | Dave Mathews. Blue Rodeo. Hooker.Sam & Dave | |
| You and Me | Dave Mathews Band | Big Whiskey |
| When you were wild | Blue Rodeo | Many a mile |
| One Burbon One Scotch One Beer | John Lee Hooker | 20th centtury masters |
| I thank you | Sam and Dave | I thank you |
| www.mulliganstew.ca | TDMulligan | |
| One | Johnny Cash | Cash |
| Thanks for donating and listening | complete Keb Mo interview on Mulligan Stew Podcast | |
| Move Over (Alt Version) | Janis Joplin and Full Tilt Boogie Band | Pearl (Legacy Edition) |
| | | |