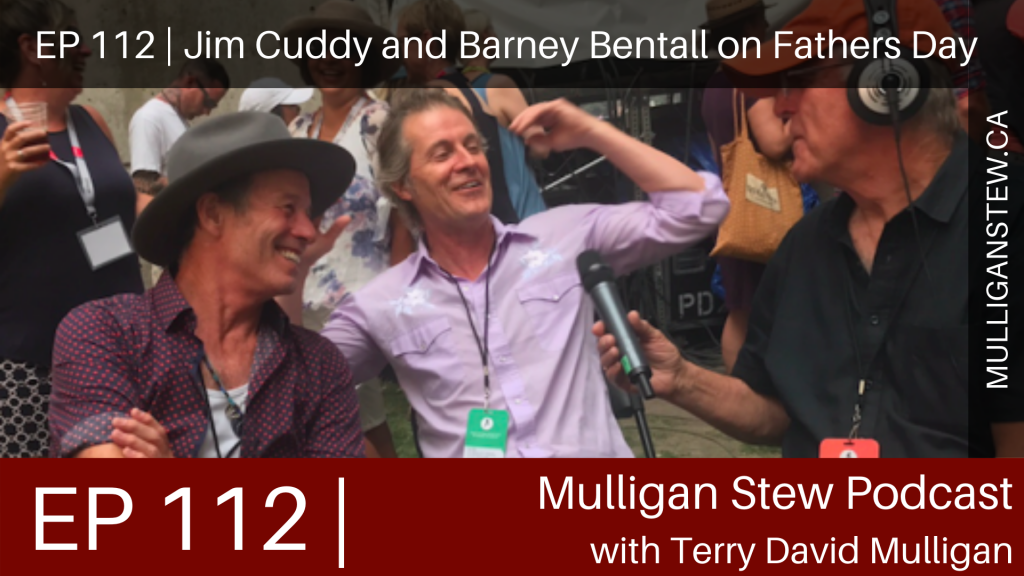 This Fathers Day gathering took place June 2020. It was so informative and fun that we decided to repeat it this year. Yes there's talk about lockdown but what that chat reveals is the joy both guys found in "watching the seasons change" and that included their children growing up. They have a revealing discussion between themselves about their children following in their footsteps and the mine field of giving those children advice.
It still rings true.
Welcome to The Mulligan Stew Podcast. Encore  Presentation 
OK. Its Fathers Day weekend.
It's also Summer Solstice
I always hear a phrase…. "I'm in the family business"
Now, that works if your family are Store Owners, or Office Workers, Doctors. Nurses. Teachers. Farmers etc.
We have two guests today who are friends and fathers.
Jim Cuddy from Blue Rodeo and The Jim Cuddy Band.
Barney Bentall. Leader of Cariboo Express. High Bar Gang. BYU and his own solo career.
How has the family dynamic changed when their sons and daughters follow them in the music business.
Share the stage. Maybe even write songs together. (maybe being the key word)
And how do family members like being the subject of songs they hear on the radio?
I was excited to get these two pals together and exchange life experiences.
Saturday June 18 Barney plays  the Beaumont Blues & Roots Fest.  New album Cosmic Dreamer
Jim and Blue Rodeo play the PNE  Aug 21
We connected on Zoom and you can find the complete conversation below: