Barney Bentall guests in the first hour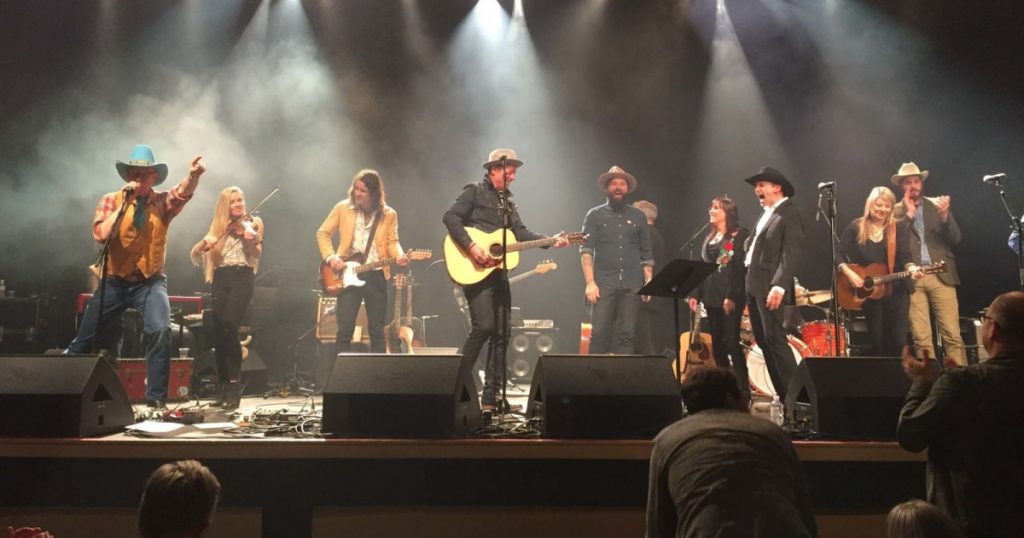 Barney Bentall and the Caribou Express are touring through the West. Raising serious money for Food Banks and city/town support groups.
They do it every year. They have raised over 4 Million dollars!!
Barney says putting this group together and keeping it focused is  "like a goat rodeo"
This year the goats are
Kirby Barber
Dustin Bentall
Ridley Bent
Wendy Bird
Stephanie Cadman
Wild Honey
Leeroy Stagger
Matt Masters
Geoff Kelly
Dates include
Calgary Friday Nov 4
Saturday Nov 5  St Albert (Arden)
Monday Nov 7 Lethbridge
Tuesday 8th – Sherwood Park
Nov 16/17/18  Sydney BC (Vancouver Island)
Nov 19 – Vancouver (Vogue)
Nov 26 – Kamloops (Barney and Dustin with Blue Rodeo)
Barney also brings  tunes from his last two albums
Cosmic Dreamer and Ranch Writers (with Geoffrey Kelly)
Hour Two is a visit with Director Teresa Alfeld and original Slug Simon Kendall.
The film is a documentary Doug and the Slugs and Me.  The Me is Teresa.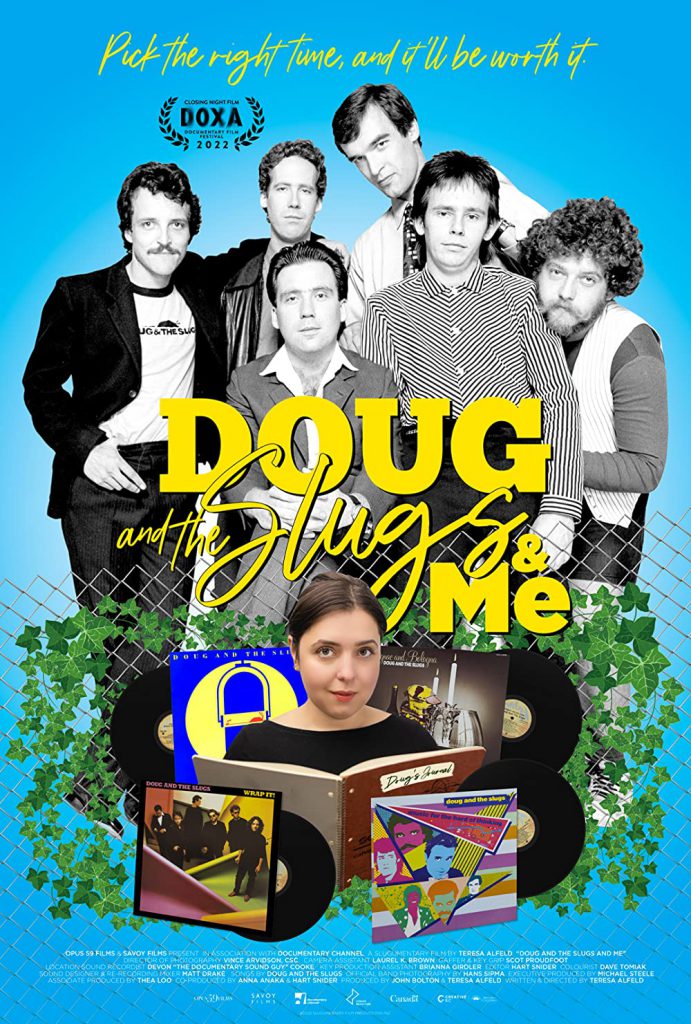 The doc is working its way through film festivals and will soon appear on CBC Gem.
It's been said if there never had been a Doug and the Slugs there would have been no BareNaked Ladies. One of those speakers was Steven Paige former BareNaked Lady.
Led by the charming and clever writer/artist man Doug Bennett, The Slugs cut a swath through a sea of really average 80's bands to become the darlings of Canada's music charts. Lots of hits. One after the other.
They sold out all 40 of their Commodore Ballroom gigs.
So….what happened to The Slugs and Doug Bennett?  That's the bittersweet and complex story of this film.
Doug Bennett died at age 52 in 2004. The music lives on.
Director Teresa Alfred grew up next door  to the Bennett household and watched the very beginnings  of The Slugs. In making the film, she came to realize there was so much more to the story.
Appearing in the doc are
Sir Bob Geldof
Ed the Sock
Bif Naked
Ron Sexsmith
Steven Paige
And yours truly.
www.dougandtheslugsandme.com
PLAYLIST:
| | | |
| --- | --- | --- |
| Mulligan Stew | Guests Barney Bentall & Slugs Doc | CKUA Radio |
| Givin' it up for your love | Delbert McClinton/Tom Johnson | Muscle Shoals small town. big sound |
| Streamline Train | Van Morrison | Moving on skiffle |
| I can't get you off of my mind | Bob Dylan | Timeless |
| If not for you | The Cactus Blossoms | Bob Dylan Song Book Vol1 |
| Steer your way | Norah Jones | Here it is |
| The Stew – with TDMulligan | Guests: Barney Bentall-Doug & the Slugs Doc | NEXT – Linda Ronstadt/Allison Russell & Brandi |
| Lago Azul | Linda Ronstadt | Canciones (deluxe) |
| You're not alone | Allison Russell and Brandi Carlile | You're not alone |
| Don't forget to Donate: Double yer dollas | Coming Up – Barney Bentall Interview | The Caribou Express |
| you never give me your money | The Beatles | Abbey Road |
| September Fields | Frazey Ford | Indian Ocean |
| The Truth | Cory Young | The Truth |
| TDMulligan – The Stew | NEXT – Barney and Caribou Express | ckua radio |
| Barney Bentall Interview | with TDMulligan | The Caribou Express |
| Cosmic Dreamer | Barney Bentall | Cosmic Dreamer |
| Barney Bentall/Caribou Express Interview | Mulligan Stew | tour dates on mulligan stew website |
| You gonna make me lonesome when you go | Barney Bentall | Cosmic Dreamer |
| Black Tusk | Barney Bentall and Geoff kelly | Ranch Writers |
| Guests – in Hour Two of The Stew | Teresa Alfeld and Simon Kendall | Documentary – Doug and The Slugs & me |
| Junkyard dog | Dylan Triplett | Who is he |
| Walking the dog | The Rolling Stones | Englands Newest Hitmakers |
| Dixie Chicken (live) | Little Feat | Waiting for Columbus |
| Tripe face boogie (live) | Little Feat | Waiting for Columbus |
| TDMulligan – The Stew Year 27 | coming up – Doug and the Slugs Doc | Mulligan Stew |
| Come on in my kitchen | Larkin Poe | Peach |
| NEXT – Doug and the Slugs and Me | Documentary with Teresa Alfred (Dir) | and Simon Kendall (Slug) |
| Real Enough | Doug and the Slugs | Wrap it |
| interview with Teresa Alfred (dir) | and Simon Kendall (slug) | Doug and the Slugs Documentary |
| Who knows how | Doug and the Slugs | Slugology 101 |
| Director Teresa Alfred and | Slug – Simon kendall | Doug and the Slugs and me |
| Too Bad | Doug and the Slugs | Slugology 101 |
| Doug and The Slugs and Me | Complete interview on Mulligan Stew Podcast | and TDM You Tube Channel |
| Day by day | Doug and the Slugs | Slugology 101` |
| Complete interview on | Mulligan Stew Podcast and tdm YouTube Channel | Check out the film. |
| Cuts like a knife (live) | Bryan Adams | MTV Unplugged |
| | | |