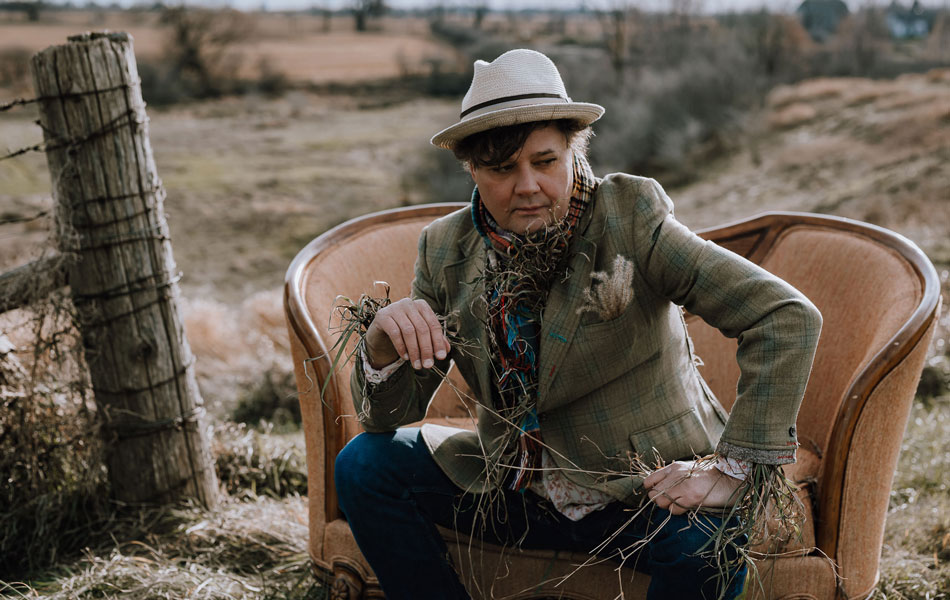 This week's Easter Bunny is dressed up as Ron Sexsmith. His 17th studio album
is called The Vivian Line.
As always Ron is very transparent in his writing and life in general.
I think he still marvels at the life he's lead and the career he's hand-built.
The Vivian Line is a rural road that winds its way out of Toronto and slowly leads to his new home in Stratford. The change in his lifestyle is reflected in these songs.
What I had in mind is Ron in grade school having second thoughts about fitting it.
The oldest song is the best I think. Diamond Wave. It just took years for all the pieces to fit.
Ron says when he first started to sing When our love was new on stage he ended up crying his way through.
He channels Leonard Cohen on the final track Ever Wonder.
Lots of stories and dry humour from a country gentleman Ron Sexsmith.
Complete interview on Mulligan Stew Podcast and
Video Ron on tdm youtube channel.
Next week AC Newman from The New Pornographers
PLAYLIST:
| | | |
| --- | --- | --- |
| Mulligan Stew | Special Guest – Ron Sexsmith | New Album – The Vivian Line |
| Come on up to the house | Tom Waits | Mule Variations |
| Set Sail part one | N Mississippi All Stars (Lamar Williams) | Set Sail |
| Made up mind | Bonnie Raitt | Just like that |
| Let it slide | Matt Anderson | The big bottle of Joy |
| The Stew with TDMuligan | Special Guest – Ron Sexsmith | NEXT – Mavericks and Los Lobos |
| Ven Hacia Mi (Come unto me) | The Mavericks | In Time (10th anniversary Deluxe) |
| Maricela (live) | Los Lobos | Live at the Fillmore |
| Tumbling Dice (Live) | The Rolling Stones | Live at The Elmocambo |
| Deane House | River Cafe | Happy Easter |
| Springtime | Donald Fagan | Kamakiriad |
| April come she will | Simon and Garfunkel | Sounds of Silence |
| Here comes The Sun | The Beatles | Abbey Road |
| You can never hold back Spring | Tom Waits | Orphans |
| The Stew – Year 27 | Coming UP – Ron Sexsmith Interview | New album – The Vivian Line |
| Higher and Higher (live) | Bruce Springsteen | Songs under Cover – The Live Series |
| Coming Up in Hour 2 of The Stew | Spring songs & Ron Sexsmith Interview | TDMulligan |
| Take me to the River | Talking Heads | Popular Favourites 76-92 |
| Live Forever | Willie Nelson & Lucinda Williams | Live Forever (songs of Bill Joe Shaver) |
| Wade in the Water | Eva Cassidy | Songbird |
| Ron Sexsmith Interview coming up | New album The Vivian Line | TDMulligan |
| Spring of the following year | Ron Sexsmith | Heritage |
| Spring can really hang you up the most | Rickie Lee Jones | Pop Pop |
| Coyotes Banff | Cocktail Festival | Happy Easter |
| Chasing every sunrise | Begonia | Powder Blue |
| Golden | Matt Anderson | The big bottle of joy |
| Ron Sexsmith Interview | with TDMulligan | The Vivian Line |
| Place called love | Ron Sexsmith | The Vivian Line |
| Ron Sexsmith Interview | complete talk on Mulligan Stew Podcast | and tdm YouTube channel |
| Diamond Wave | Ron Sexsmith | The Vivian Line |
| Ron Sexsmith Interview | -TDMulligan | The Stew |
| Ever Wonder | Ron Sexsmith | The Vivian Line |
| Ron Sexsmith Interview | -complete chat on Mulligan Stew Podcast | Video version on tdm YouTube channel |
| What I had in Mind | Ron Sexsmith | The Vivian Line |
| Thank you for listening | Happy Easter | Welcome Spring |
| A Father's First Spring | The Avett Brothers | The Carpenter |