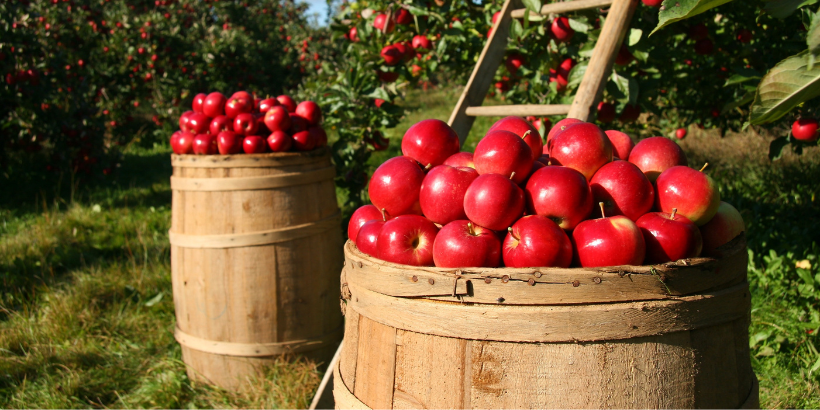 THE SHOW
Why are you doing a feature on Cider and Non-Alcoholic Wines?
Because that's what the wind kindly blew my way.  I'm a cider guy, fascinated by well-made low/no alcohol releases and a fan of Justin Wines. (And Paso Robles)
Last week we started featuring our interviews from the 4th annual BC Cider Festival and ran out of time and space to include the last two interviews.
Thus Part Two appears this week.
I felt that both of these guests deserved time to tell their stories. Just a little room to create a flourish or is it a fuss?
---
I can honestly say that Bruce McKinley is one of the planet's more interesting people and he brings that character to every cider he makes at Valley Cider in Duncan.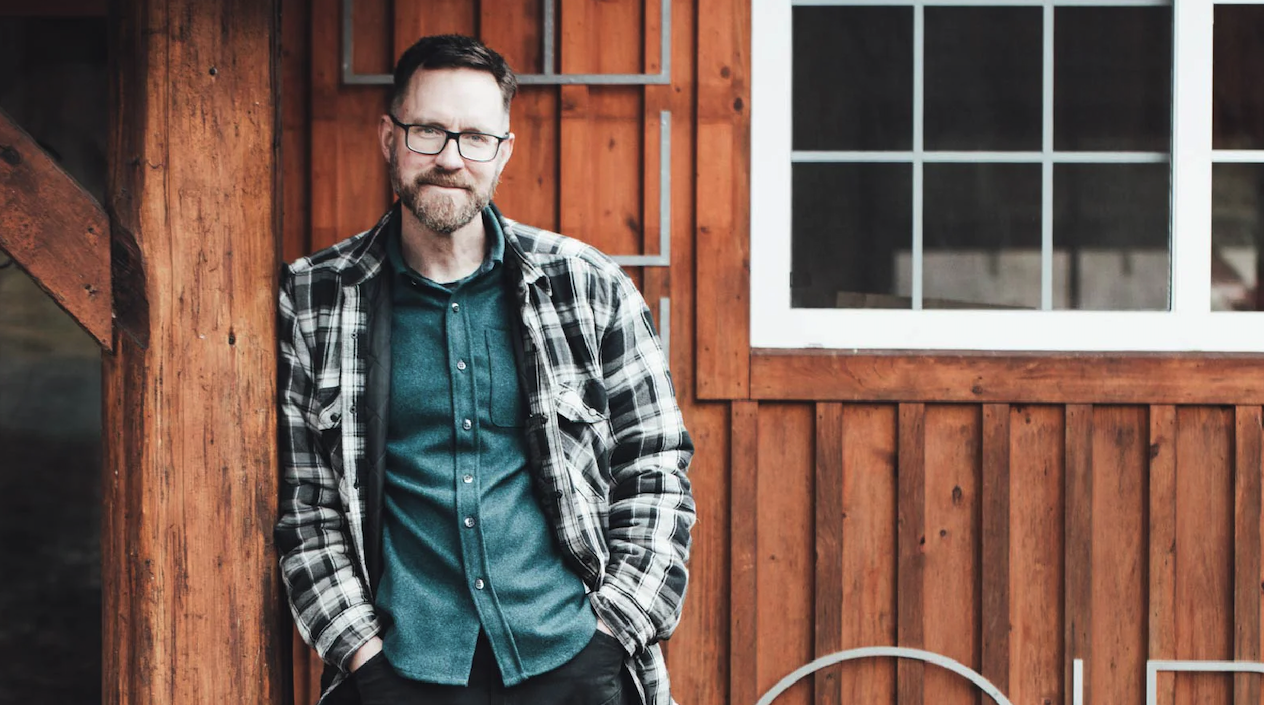 Bruce McKinley – Founder and Ciderist  Valley Cider (Duncan)
The website says "Welcome to Simply Different"
Cider is fermented apple juice. All the flavour and joie de vivre nature can be packed into a fruit, hosting a party for millions of super social yeast. After the sugar is consumed, the curtain comes down and the band packs up. Some extraordinary chemistry happens after this point depending on the care & creativity of the cidermaker, which is what you're going to miss if the juice quality was low to begin with or if the cider is just being made as a cheap sugar delivery mechanism.
This is an unfortunate consequence of cider's delayed & fairly recent reinvention as a valued craft product: the rise and domination of huge-scale low-cost commercial products, that unfortunately influence much of cider's definition and public understanding. This need not be so. Cider can reflect the true heritage and at the same time continue evolving into modern ciders without being mired in unhealthy opportunism, as long as somebody cares enough to do it well. That is a craft.
What's required is thoughtfulness, a commitment to crafting quality cider, some healthy delicious apples and a place to hang out and put it all together.
Check out the cider names –   
Bloo/Soda Love Potion/Faeriessense/Poiple/Piqabu
Pinko/Love Child /Bon Dry/Gingerella/Wait What?/Noir
After listening to our interview and Bruce's thoughts on craft, don't you really want to taste what he makes?
---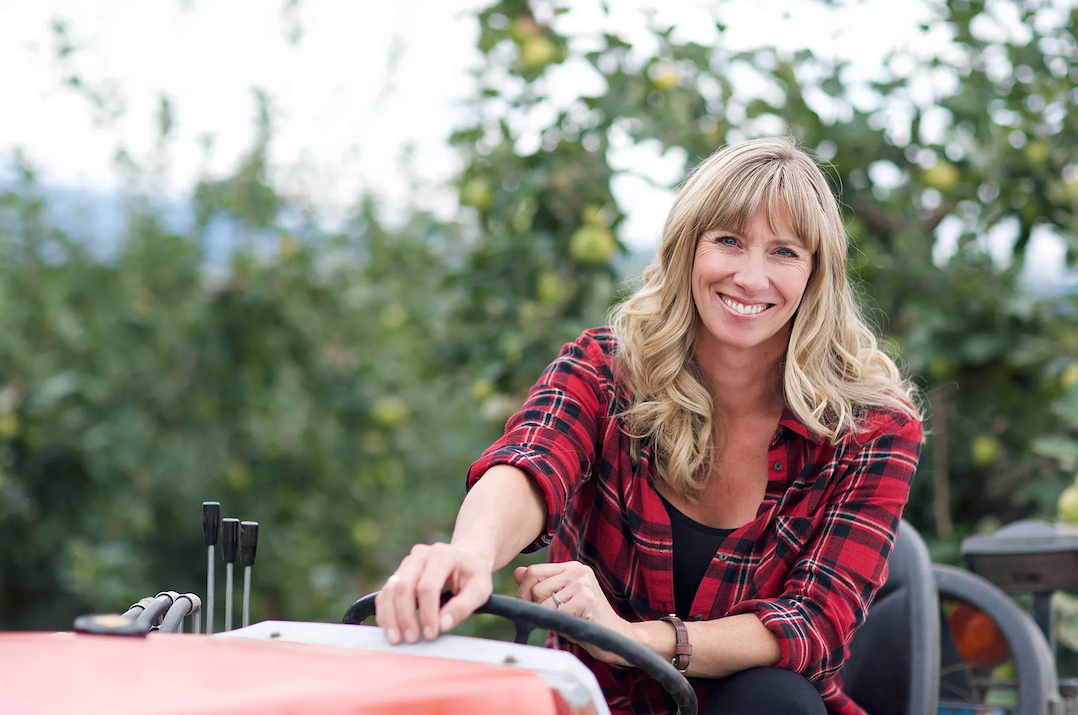 Jennifer Turton-Molgat   President.  Wards Cider (Kelowna)
Great Granddaughter to George Ward who planted the original apple trees in 1918, Jennifer Turton-Molgat carries on the family's apple-growing legacy. Under Jennifer's direction, Wards Cider stands out as a fully authentic cidery. Everything from growing and harvesting their  traditional cider apples to pressing, fermenting and bottling the finished ciders is done at their 5th generation, family-owned orchard.
With her outgoing and creative style, Jennifer leads Wards daily operations and teams, including orchards, cellars, sales, marketing and guest services.
Since 2006 Jennifer Turton-Molgat has also proudly led both The View Winery and Wards Cider to success in her role as President. Jennifer's vision and inspiration for the winery and cidery is drawn from her family's passion for the land as pioneering Kelowna orchardists and agriculturists since 1922.
---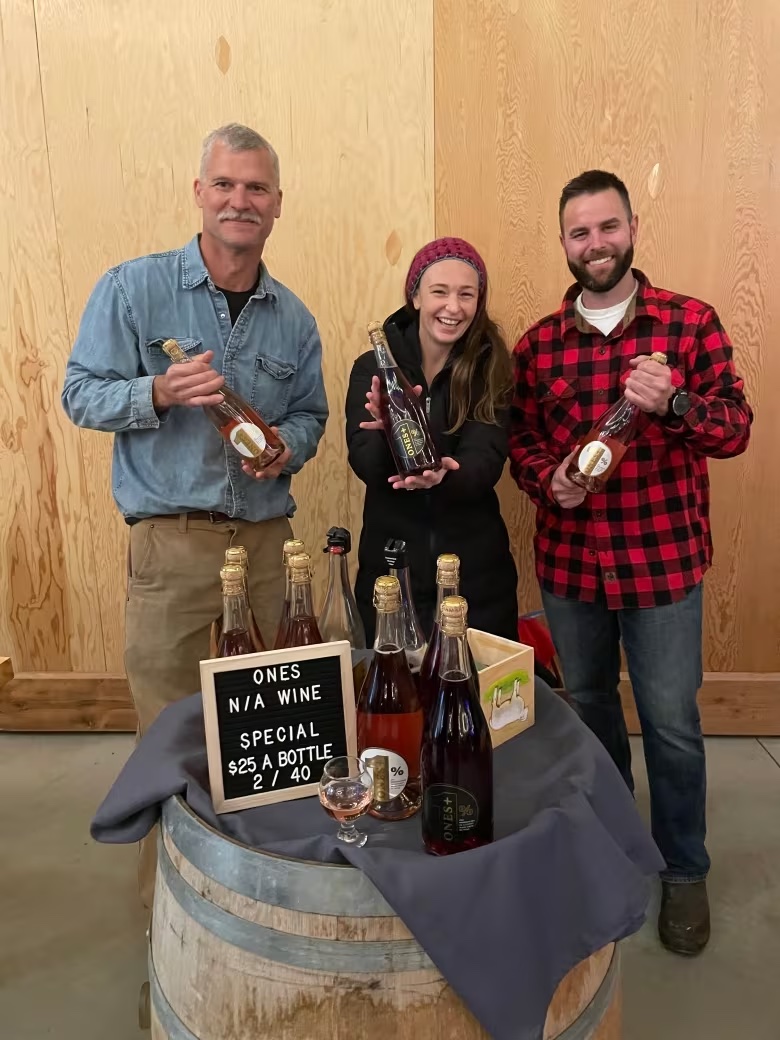 (Tyler Harleton.  Ashley Wiles Marketing.  Chris Pagliocchini)
Chris Paliocchini – co-founder of ONES+  No/Low Wines and Bubble  (Summerland)
Chris  Paliocchini and Tyler Harleton grew up on family farms. Chris' background led him to work in cherry and apple breeding in Summerland, while Tyler found his way back to the land through winemaking in the Okanagan (TH Wines)  Over the years (and glasses of wine) they realized there was a hole in the market for the non-drinker who was interested in a proper bottle of non-alcoholic wine. They landed on ONES+, a 1% wine made with BC Grapes with no added sugars or chemicals. They are proud to be making the Okanagan's only non-alcoholic wine.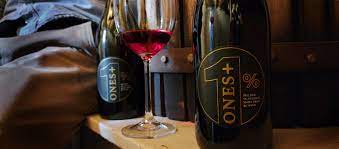 Two great sparkling wines from Ones+.
The 2021 Sparkling Rose, like champagne it arrives in your glass dry and features Chardonnay and Pinot Noir.
The 2021 Sparkling Red reminds us of a great Lambrusco
I personally recommend seeking out the 2021 Pinot Noir and the sensational 2021 Cab Franc.
It's a fact – No and Low appears to be the fastest-growing segment in the drinks industry.
A younger generation is seeking healthier choices in social, family and business gatherings.
Also moving well-being up the wish list.
Finally, the right people are making the right wines for the right reasons.
Check out One+   Highly Recommended.
---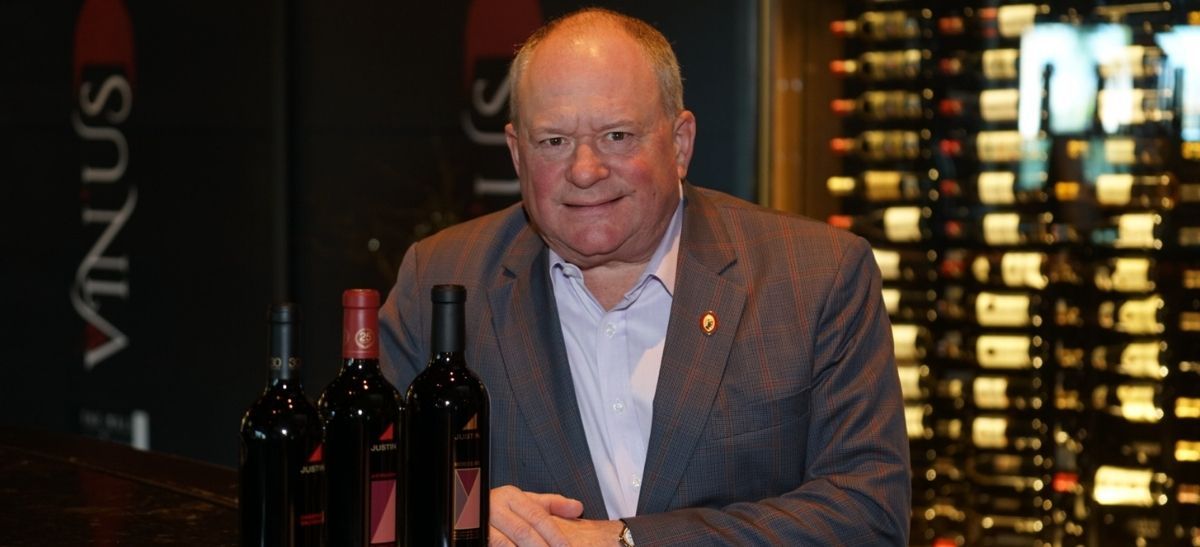 Joe Spellman  – Master Sommelier  speaking for Justin Wines (Paso Robles)
Started this week's show in the Pipe Shop North Vancouver at the Cider Fest. We finished back in the same room with our last guest.
I met and interviewed Master Sommelier Joseph Spellman who was attending the 2023 VanWineFest on behalf of Justin Vineyards and Winery in Paso Robles, California.
Joe has been a head sommelier, wine director and a star in Chicago's dining scene. Capping it off with a great relationship with Chef Charlie Trotter. They've released three books together.
He's a writer, consultant and educator on the geology, language and history of wine.
Many awards followed including Best Sommelier in the World. (French Wines and Spirits)
Founder Justin Baldwin planted his first vineyard back in 1981 with a mission to make world-class Bordeaux-style blends. Since then, Justin has expanded both their knowledge of viticulture in this unique region as well as their acreage.
They make a sensational Bordeaux Blend and the Cabernet Sauvignon is World Class.
Joe and I talk about Justin Vineyards and Wines of course but also about the state of wine in California, the rising profile of Paso Robles and its wines and his impression of BC wines.
Wonderful man with stories to tell. A total pleasure.
STORIES WE'RE WORKING ON
Stratus – stunning field blend from Ontario
Niche – Small Batch Big Love
Solvero –   welcoming Alison Moyes
New Releases – Everywhere
Fall Okanagan Wine Festival