hello
Hours after this show had been recorded and sent, I found out that my friend Tommy Banks had died.
Musician, mentor, humanitarian, Senator and one of the best people I had ever met,  Tommy Banks is very much woven into the fabric that is Canada.
The kind of person who will always be remembered by anyone who met or even knew him.
He brought light to our lives and that light has dimmed but not gone out.
He's left music and memories.
He should be honored at this year's Junos in Vancouver and frankly, I would suggest a permanent award in his honor.
Whatever that park is named adjacent to CKUA Radio on Jasper Ave in Edmonton should be renamed, Tommy Banks Park.
Goodbye Tommy …
---
Mulligan Stew
8:00-10 PM
It feels like Jesse Roper is just beginning what could be a fabulous career in music. He's just released this third album called Access to Infinity which is released Friday, Feb 2. He's more than paid his dues. Playing stages big and small getting his name and his songs out there.
Jesse is a really good songwriter, vocalist, and performer but man can he play guitar.
We talk about his influences and I hear Jimi and Carlos Santana in his playing.  Thankfully he agreed.
His third album is called Access to Infinity.  I can't wait to play certain tracks after "the embargo" is lifted.
Jesse's touring with Big Wreck and the dates are below.
---

Jim Cuddy RAW interview Jim Cuddy Constellation RAW Jan 2018
Jim Cuddy, co-founder, and co-leader of Blue Rodeo has released his fourth solo album "Constellation"  Friday under the name of The Jim Cuddy Band.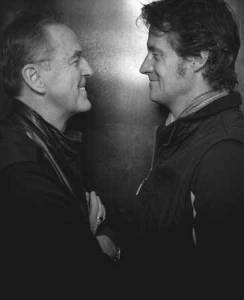 Jim and I work our way through several of the songs he wrote and he mentions there's a balance in the album between loss and love.
It takes a true songwriter to find that balance. As Jim says "I wanted to waste not one word on this album."
We talk about the koss of Gord Downey.  The battle John Mann is waging.  The title track called "Constellations" (with an s) is about yet another friend battling Cancer and what his loss meant.
Jim also lights right up when I mention his upcoming 33 date tour.
"33 doesn't sound right. It should be 35"
He wants to create a tour like Motown used to do. Various artists all sharing microphones and supporting each other.
That would make Jim Marvin Gaye and Barney Bentall Tammi Terrell.
The full line up is The Jim Cuddy Band.  Wicked Good.
Then Barney Bentall and his new album.
Jim's sons Sam and Devin.
This is going to be a memorable tour. One musical generation handing the flame to the next!!
Tour dates below  Jesse First and Jim Cuddy
                                                                                Jesse
| | | |
| --- | --- | --- |
| February 20, 2018 | Bo's Bar and Grill | Red Deer, AB |
| February 22, 2018 | Better Than Fred's | Grand Prairie, AB |
| February 23, 2018 | Eagle River Casino | Whitecourt, AB |
| February 24, 2018 | The Starlite | Edmonton, AB |
| February 25, 2018 | The Starlite | Edmonton, AB |
| February 27, 2018 | Vanier Hall | Prince George, BC |
| March 1, 2018 | The Commodore Ballroom | Vancouver, BC |
| March 2, 2018 | The Commodore Ballroom | Vancouver, BC |
| March 3, 2018 | Capital Ballroom | Victoria, BC |
| March 5, 2018 | Kelowna Community Theatre | Kelowna, BC |
                                                                                Jim
                                                                                Feb 22  Vogue  Vancouver
                                                                                  Feb 23  McPherson Victoria
                                                                                Feb 28  Jube  Edmonton
                                                                                March 1  Jube Calgary
                                                                                March 2  Harvey  Banff
                                                                                March 4  Esplanade  Medicine Hat
PLAYLIST:
| | | |
| --- | --- | --- |
| Welcome to The Stew | Guests Jesse Roper & Jim Cuddy | www.mulliganstew.ca |
| Live and Let Live | Bobby King and Terry Evans | Live and Let Live |
| Bring it on home | Van Morrison and Jeff Beck | Roll with the Punches |
| Gimme some loving (live) | Steve Winwood | Greatest Hits Live |
| Mulligan Stew | Guests Jesse Roper & Jim Cuddy | www.mulliganstew.ca |
| black sheep | Blackie and Serena Ryder | Kings and Queens |
| Summertime | harry manx | Faith Lift |
| TD Mulligan | Next Jesse Roper | www.mulliganstew.ca |
| Jesse Roper Interview with TDM | | |
| Wait | Jesse Roper | Access to Infinity |
| Jesse Roper Interview with TDM | | |
| Can't Sleep | Jesse Roper | Access to Infinity |
| Jesse Roper Interview with TDM | | |
| That Girl | Jesse Roper | Access to Infinity |
| Jesse Roper Interview with TDM | | |
| cherry | Jesse Roper | Access to Infinity |
| black country woman | Led Zeppelin | Physical Graffiti |
| Girl Friend | Anderson East | Encore |
| Ready to go | Alan Doyle | A week at the warehouse |
| pretty girls everywhere | eugene clark | pretty girls |
| good times | BareNaked Ladies and The Persuassions | BNL and The Persuasions |
| something on your mind | Jim Byrnes | Long hot Summer days |
| www.coyotesbanff.com | Coming NEXT – Jim Cuddy interview | www.mulliganstew.ca |
| Cocaine (live) | Eric Clapton and Steve Winwood | Live at MSG |
| Jim Cuddy NEXT | www.mulliganstew.ca | |
| Jim Cuddy Interview with tdm | RAW interview www.mulliganstew.ca | Constellation |
| Constellations | The Jim Cuddy Band | Constellation |
| Jim Cuddy Interview with tdm | RAW interview www.mulliganstew.ca | |
| Cold Cold Wind | The Jim Cuddy Band | Constellation |
| Jim Cuddy Interview with tdm | RAW interview www.mulliganstew.ca | |
| Lonely when you leave | The Jim Cuddy Band | Constellation |
| Thank you for listening | | |