hello

It's like having The Beatles on Saturday's Mulligan Stew. But you can only have two. Do you want Ringo and Paul or George and John?
Saturday our guests are Steven Page (BNL & Steven Page Trio) and Chris Murphy (Sloan).
The other members of TCH are Moe Berg (Pursuit of Happiness) and Craig Northey (odds and SP Trio)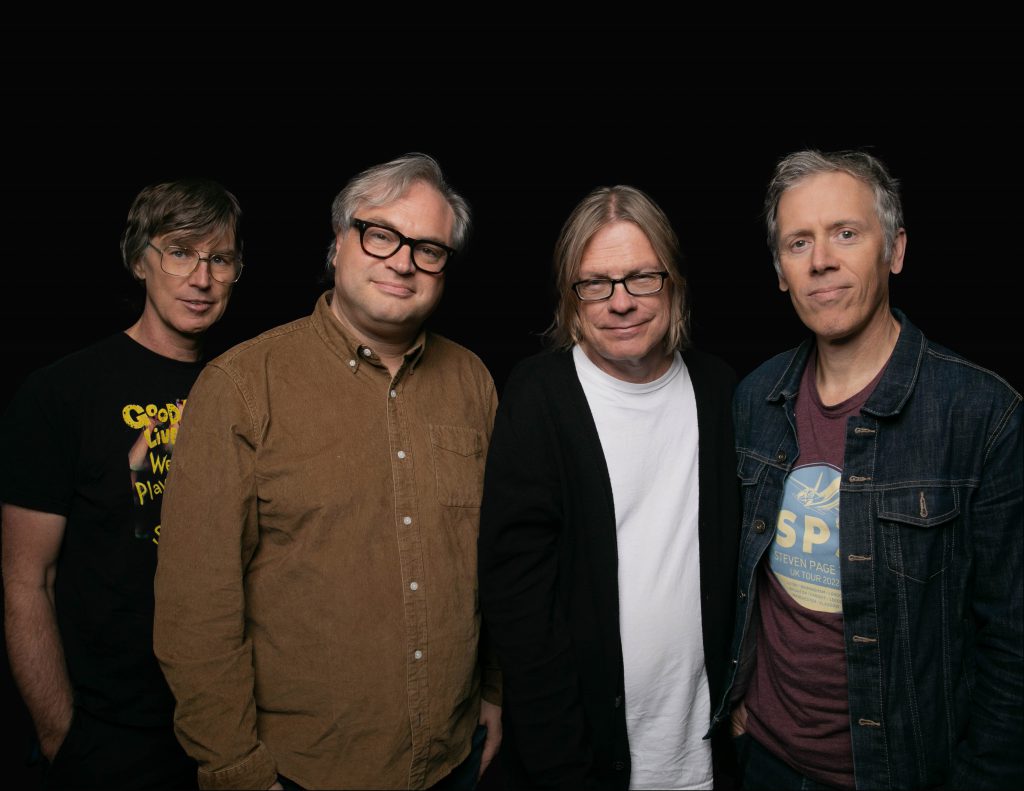 Each leads his own group but they got together to sing covers of each other's music. Then the K-Tel idea came along. For younger music fans  – K-Tel albums were Canadian hits crammed into 8 tracks,  cassettes and albums. With garish labels that you couldn't miss in your local store or gasoline station.  Great hits – horrid packaging. Which is why the guys covered the best hits and copied the artwork. Steven  makes the point that they loved these hits because they were Canadian.  They were ours. Our American friends had never heard these songs  but  to us they were Northern memories.
They each take turns singing the lead vocal and back each other up.
Covering hits by The Guess Who, Joni Mitchell, Paul Anka, April Wine, Bim (Roy Forbes), Lighthouse, Poppy Family etc.
Complete interview on the Mulligan Stew Podcast and the video version on the TerryDavidMulligan YouTube Channel 
PLAYLIST:
| | | |
| --- | --- | --- |
| Mulligan Stew with TDM | Guest: Steven Page & Chris Murphy | Trans Canada Highwaymen |
| Werewolves of London (live) | Warren Zevon | Stand in the Fire |
| Mockingbird | Taj Mahal and Etta James | Dancing the Blues |
| Hurts me too | Keb Mo | The Door |
| Deane House – River Café | Sponsor the Stew & Support CKUA | Coming up – Trans Canada Highwaymen |
| Come as you are (live) | Nirvana | MTV Unplugged |
| Remember the time | The Teskey Brothers | The Winding Way |
| Aged and Mellow | Catherine Russell | Bring it back |
| The Runner | Allison Russell | Outside Child |
| Mulligan Stew CKUA | TDMulligan | Next – The Beatles |
| Now and Then | The Beatles | Last Single |
| Something (live) | George Harrison | Live in Japan |
| The Long and Winding Road (live) | Paul McCartney | Back in the world (live) |
| The Stew | UP NEXT – Trans Canada Highwaymen | But first – Ringo |
| with a little help from my friends (live) | Ringo Starr | Ringo Live at The Greek |
| Next on Mulligan Stew | Steven Page and Chris Murphy | Trans Canada Highwaymen |
| NEXT – Trans Canada Highwaymen Interview | Steven and Chris | TDM |
| Steve Page and Chris Murphy | Trans Canada Highwaymen Interview | with TDMulligan |
| Loving you ain't easy | Trans Canada Highwaymen | Explosive Hits Vol 1 |
| Trans Canada Highwaymen Interview | Steven Page and Chris Murphy | Mulligan Stew @ckuaradio |
| Undone | Trans Canada Highwaymen | Explosive Hits Vol 1 |
| Trans Canada Highwaymen Interview | Complete interview on Mulligan Stew Podcast | and TDM YouTube Channel |
| Carry Me | Trans Canada Highwaymen | Explosive Hits Vol 1 |
| Steven and Chris and Mully | Trans Canada Babble – for the music fan | on The Stew CKUA |
| Theme for Trans Canada Highwaymen | Trans Canada Highwaymen | Explosive Hits Vol 1 |
| Steven Page and Chris Murphy | Complete Interview on Mulligan Stew Podcast | and TDM YouTube Channel |
| Can't catch me | Trans Canada Highwaymen | Explosive Hits Vol 1 |
| Mulligan Stew | tmulligan@ckua.com | NEXT – The Beatles – Together and Solo |
| You ain't goin' nowhere | Rosanne Cash, Mary Chapin Carpenter and Shawn Colvin | Bob Dylan 30th Anniversary (Deluxe) |
| Thunder Road (live) | Bruce Springsteen and the E Street Band | Live Hammersmith Odeon 1975 |
| A brief conversation with and remembrance of | Sharon Jones | From the archives |
| We get along | Sharon Jones and The Dap Kings | Give the people what they want |
| Come back to me | Devin Cuddy Band | Dear Jane |
| Keep the World we know | Bruce Cockburn | O Sun O Moon |
| Coyotes Banff | Closed for cleaning until Nov 24th | Thank You Coyotes |
| Complete Trans Canada Highwaymen Interview | Mulligan Stew Podcast | video version – terrydavidmulligan YouTube Channel |
| Why, am I treated so bad? (live) | Cannonball Adderley Quintet | Walk Tall |