hello


This is from my Live From RailTown series on RoundHouse Radio in Vancouver
Neil Osborne
Brad Merritt
Matt Johnson
Dave Genn
Have a new 54.40 lp called
La Difference. A History Unplugged.

They tell stories, remember moments from their 36 years together.
And play
She La
Casual Viewin
One Gun
Lies to me.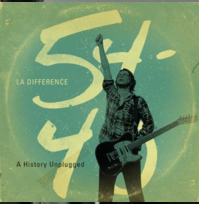 LA DIFFERENCE – A History Unplugged is an inspired acoustic re-work of our most cherished songs available January 8, 2016. We dedicate this to our beloved fans, thank you for all your continued support!
Produced by Dave 'Rave' Ogilive, Dave Genn & Neil Osborne
Say for to them me on Twitter @5440  -TDM
PLAYLIST:
| | | |
| --- | --- | --- |
| This is year 20 of | mulligan Stew with tdmulligan | playlist www.mulliganstew.ca |
| Getaway car | Ron Sexsmith | Carosel One |
| Crawling fromn the Wreckage (live) | RockPile | Live from Montreaux |
| One love/People get ready | Bob Marley | Legend |
| Jasper Sloan Yip | Horseshoe | Foxtrot |
| This is Mulligan Stew Year 20 | www.canadahouse.com | In 30 minutes – 54.40 unplugged |
| I found you | Alabama Shakes | Boys and Girls |
| Get Rhythm | Ry Cooder | Get Rhythm |
| Funky Good Time (live) | James Brown and the Famous Flames | World of Soul: Sex Machine |
| Coming UP – in 30 minutes -54.40 Unplugged | Mulligan Stew @ckuaradio | |
| Hobo Flats | Jimmy Smith | Hobo Flats |
| Mulligan Stew Year 20 | Terry David Mulligan | playlist mulliganstew.ca |
| No friend of mine | The Small Glories | Small Glories |
| Come on in my kitchen | The Allman Brothers | Shades of Two Worlds |
| Same Thing | The Band | Jericho |
| Roll the Stone | Amy Helm | Didn't it rain |
| 40 days and 40 nights | Muddy Waters | Fathers and Sons |
| www.coyotesbanff.com | NEXT – 54.40 in session and unplugged | |
| Blackbird | The Beatles | Box Set – White LP |
| Mulligan Stew Year 20 | Terry David Mulligan | |
| 54.40 Interview | Live from Railtown in Vancouver | TDM |
| One Gun | 54.40 La Difference | A History Unplugged |
| 54.40 Interview | Live from Railtown in Vancouver | |
| She La | 54.4 | La Difference: A History Unplugged |
| 54.40 Interview | Live from Railtown in Vancouver | |
| 54.40 Interview | Mulligan Stew @ckuaradio | |
| Mulligan Stew Year 20 | www.mulliganstew.ca | |
| 54.40 Interview | | |
| Lies to me | 54.4 | La Difference: A History Unplugged |
| 54.40 interview | | |
| since when | 54.4 | La Difference: A History Unplugged |
| Hold on I'm Coming | BB King – Eric Clapton | Riding with the King |
| Beast of Burden | The Rolling Stones | Some Girls |
| Pacing the Cage (live) | Bruce Cockburn | Bruce Cockburn – Solo live |
| | | |