hello

How better to celebrate

St Patrick's Day

than presenting 2 One hour specials from our recent 2 weeks in Ireland.






Part One starts on a farm in the South of Ireland..through Clonakilty and ends in Dublin.
Guests include c, Connor Higgins, Michael Lawlor (Irish Whiskey Tours), Michael Reddy (Teeling Whiskey) and Willie Ahearn from The Palace Pub..Fleet St.
 

Podcast: Play in new window | Download
THE SHOW…
 Gilly Murphy
We start in the very South of Ireland..outside a wonderful small town called ClonaKilty.
In a place so small..i don't think it's on any maps..Dunworly and Dunworly Beach.
There we meet our host at Dunworly Cottages… Gilly Murphy..who welcomes us and shows us our cottage. It was a barn built LONG AGO!
We do a quick interview about the area and Ireland..then without pause Gilly grabs her bags and is off to visit her daughter in  India. It was going to be that kind of trip.
Gilly does pop up dinners in her home – overlooking the Atlantic Ocean – and supplies organic vegetables to THE BEST  local restaurants.

https://www.facebook.com/DunworleyCottage
 Ellen McGailey – Molly's Wine Bar
Allison Roberts – Clonakilty Chocolate Company
 The closest town to our cottage was Clonakilty..51 km south of Cork,  on the South
West Coast of County Cork.
The first sign that caught our eye was Molly's Wine Bar and inside we found just the perfect person to talk about wine in Ireland  Ellen McGailey who was running the place when we got there.

Because I knew Ireland was a well established  home for beer and whiskey,  I needed to know wines place in every day Irish social life.
Ellen fills us in on what they're sipping and the rise of craft beer over the past 5 years.
https://www.facebook.com/Next.Door.Off.Licence.Clonakilty/posts/403740546334751
Then she introduced me to
Canadian Allison Roberts,
who hails originally from Toronto.
She arrived with her musician husband via Australia.
Allison had been working with chocolate since she was a kid..most of us do get covered in chocolate as tiny little babies but she never lost interest and has just opened Clonakilty Chocolate to serious acclaim in the area.

clonakilty chocolate… 
After filling me in on her new venture, I wanted to know Allison's take on the Ireland we think we know and the Ireland that IS.
It's a fun back and forth chat.
www.clonakiltychocolate.com
Deasy's Harbour Bar and Seafood Restaurant. Ring Village, Clonakilty
Chef Caitlin Ruth
Even though the address says Ring Village..I drove this part of the coast a dozen times..never really saw a village..a gathering of various houses yes but a village..not so much.
Crumbling ancient buildings and stone walls – yup!
A strong sense of history on this part of the road..you can see what attracted people even 3-500 years ago.
And there, surrounded by the ocean and a small fishing fleet stands Deasy's.
It came highly recommended by the locals.
 The trick was getting there early enough for one of 6 parking spots just off the highway (its on a nasty little corner) and gets busy very quickly.
The reason – the amazing cooking talents of Caitlin Ruth – The Chef.
Originally from the USA, she married an Irishman and found her way back to the homeland from Belgium. 
What a fine fine chef she is..
The menu features – as expected – many different fish, in many exceptional dishes. Paired with a very smart wine list.
It used to be an old pub..so it still has that comfortable pub feel but the windows give everyone a brilliant look at the ocean just across the highway.
Highly recommended destination. Memorable meals. Great hang!! Wicked parking.
https://www.facebook.com/pages/Deasys-Harbour-Bar-Seafood-Restaurant/126741324027491
Then we're off to Dublin..some 3-4 hours North.  Taking the train from Cork is a LOT more fun than driving..
It's fair to say we stumbled onto a small corner lunch place called Oxmantown..where owner Conor Higgins was holding court.

Oxmantown? At the time of the Norman invasion into Ireland, the Vikings, or Ostmen (East-men), as they called themselves were exiled to the north of the River Liffey where they founded the hamlet ofAustmanna-tún, later corrupted to Oxmantown. The district remained distinct from Dublin city for many centuries. Oxmantown celebrates this cultural distinction, its location in the heart of the homestead of the Ostmen.
Conor Higgins is the chef/owner at Oxmantown. Ex of Junior's and l'Gueuleton – two of Dublin's most lauded and successful eateries of the past decade – his provenance is distinguished. Applying classic culinary techniques to the art of sandwich making, with Oxmantown, Conor brings something unique to Dublin's burgeoning café scene.
The line-up was all the way to the door and out..and a rather bizarre mix of lawyers and judges from the law courts  and farmers from the market around the corner.
You could tell at a glance that this place was very popular and as soon as we stepped inside..you knew they were on to something..
Great small menu..mostly well made and very  inventive sandwiches, salads etc.
Out came the microphone and recorder and in between orders etc, Conner gave us the story.. (everyone here has a story)
http://www.oxmantown.com/  site is under construction but you can also find them on
Facebook  https://www.facebook.com/oxmantown/info?tab=overview 
Then it's a brisk 15 minute walk through
Temple Bar
(former site of original Viking settlement)..to Fleet Street and  the home of one of Dublin's historic pubs..The Palace Bar, established 1823.
The Aherne family bought the Palace in 1946..and have run it every since.
Its right around the corner from the Irish Times newspaper offices..thus many many columns have been written in its corners and nooks.
Its there that we meet three people…first

Michael Lawlor – Whiskey Expert and sales manager for Irish Whiskey Tours. www.irishwhiskeytours.ie
I don't think you can do a food and beverage tour of Ireland and not talk about Irish Whiskey.
Its fallen on some hard times, given the economy, but its making a wonderful comeback today.
I wanted to know from Michael..how their whiskey business made its comeback and why its so different from their Scottish neighbours.
We also talk trends..in craft brewing sand cider making.
Michael gives us a brief history of The Palace Bar, which was  the first bar to bring back the tradition of making in house whiskey.
www.thepalacebardublin.com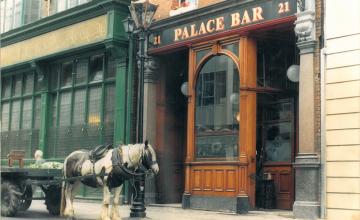 And then we finish off with
Willie Aherne – Grandson of the original owner and the man behind the bar on many days..and sitting beside him   Michael Reddy, one of the owners of The Teeling Whiskey Company, the first new whiskey maker in Dublin in

125 years.
Yes, we talk all about Irish Whiskey and Dubliners love for it but we also talk about what
St Patrick's Day
is like in downtown Dublin.
That last question about

March 17

is also answered by one of next weeks guests..John McKenna..Mckennas Guides!!
www.thepalacebardublin.com
www.teelingwhiskey.com
 and speaking of next week…
we have Ireland in an Hour Part Two..featuring some great storytellers..
 Darina Allen – the founder of the famous Ballmaloe Cooking School of Shanagarry.
2013 Winner of Irish Cook Book of the Year.
Darina has been credited with leading the movement to bring back local and regional farmers markets all over Ireland.
The author of many book and one of Ireland's leading culinary voices.
She joins me at Café Paradiso in Cork. The home of chef Denis Cotter..Ireland's chef of the year in 2005.
Best Chef in Cork 2009.
Catherine Cleary – Food journalist for the Irish Times. Author of the forthcoming book "The Sheridan Brothers Guide to Cheese"
Author of "For the love of Food" named best Vegetarian Cook Book in the World.
 Now THIS..is a wonderful sit down.  I just knew that once I started the verbal ball rolling..Darina and Denis would take over and I could sit back and enjoy the dialogue. What they give us is a great overview of Irelands food scene which is getting better and better.
 Then there's Ray Blackwell..who manages the famous bar and folk club de barras. And his tales of Noel Redding..who made de Barras his home club after his Jimi Hendrix days.
 We visit L Mulligan Grocer..a must see food and beer destination in Dublin..
Adam Killbain, the beer specialist and Seaneen Sullivan, who oversees the restaurant and bar talk about their clientele and about Stonybatter, the historic area they work in.

And finally John McKenna..famous Irish whiskey and food leader. He and his wife Sally run McKenna's Guides.
 More next week OK??
 
Podcast: Play in new window | Download
HAPPY ST PATRICK'S DAY!!