hello
Saturday night The STEW  will surely rock on Valentine's Eve.
  Those two hours will feature great suggestions from two donors..one of whom is our own Ken Regan.
They requested
Coco Jafro
IZ
Rolling stones
Two songs by John Mayall and Peter Green
Santana
I surrounded those choices with
The O'Jays
Tami Nielson
Eagles
Les McCann and Eddie Harris
Mose Allison
Supremes
Ariel Posen
Tedeschi Trucks band
Neil Young
Norah Jones
Jerry Garcia Band Live  (Dear Prudence)
For Finley. Dancing in her PJ's
The Mulligan Stew Podcast is with Kris Kristofferson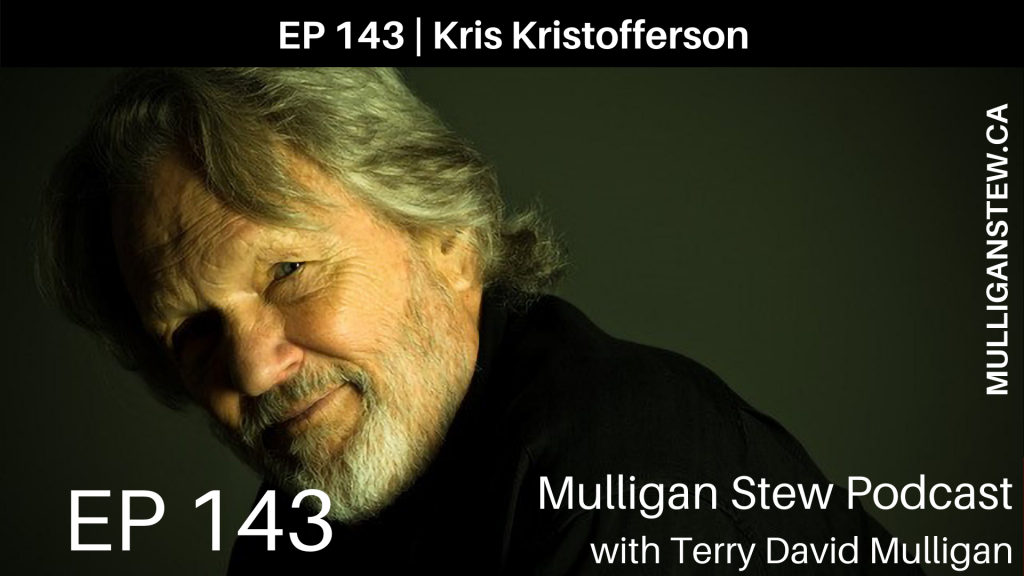 Kris Kristofferson has retired.
What a road he walked in his lifetime.
Hung around Johnny Cash's studio as the janitor and pitched him multiple songs ((he talks about it here)
Helped to start the songwriting trend in Nashville that brought respectability to Country Music (he talks about it here)
Joined Waylon, Willie, and Johnny to form The Highwaymen.
Leaves behind a really good film career. From A Star is Born to Blade. ( (he talks about it here)
Awarded a Rhodes' Scholarship. Was a helicopter pilot in the Army. ((he talks about it here)
When Kris left the Army to be a songwriter he was disowned by his family.
He leaves behind a wonderful rainbow of songs and memories of Janis Joplin, Johnny Cash, Shooter Jennings, the Cash film I walk the Line, John Prine, Dylan. All of which he talks about here.
This interview took place backstage at the 2006 Calgary Folk Festival.
It was a quickly arranged media press conference and the only other person I knew was Tom Coxworth, asking questions for Folk Routes.. I tried to include as many questions as I could hear on my recorder.
Kris'  greatest accomplishment?  Being a Father to 8 children.
Kris has asked that he would like the first three lines of Leonard Cohen's Bird on a Wire to be on his tombstone
Like a bird on the wire
Like a drunk in a midnight choir
I have tried in my way to be free
Subscribe on Spotify, Google Play, and Apple Podcasts
Have a memorable  Valentine's Weekend.  Give LOVE
PLAYLIST:
| | | |
| --- | --- | --- |
| The Stew Feb 13 2021 | Valentines Weekend – Kissing with Masks on | |
| Welcome to The Stew | Two hours of hand picked Prime Cuts | www.mulliganstew.ca |
| Shame | Tedeschi Trucks band | Signs |
| Sweet love | Coco Jafro | Forces of nature |
| Now I see | Ariel Posen | Now I see |
| www.winebc.com | www.mulliganstew.ca | |
| walk on (live) | Neil Young | NY at the Roxy.Tonights the Night |
| Don't be denied | Norah Jones | Spotify singles |
| www.mulliganstew.ca | Kris Kristofferson guests on the Stew Podcast | |
| Across the great divide (live) | The Band | Rock of Ages |
| Dear Prudence (live) | Jerry Garcia Band | Jerry Garcia Band |
| www.mulliganstew.ca | Next – IZ and The Stones for Finley and Buppy | |
| Somewhere over the Rainbow. Wonderful World | IZ | IZ |
| Angie | The Rolling Stones | Goats Head Soup |
| This is Mulligan Stew – Year 115 | | |
| If not for you | George Harrison | All things must pass |
| Love train | O'Jays | Love Train – Best of |
| call your mama | Tami Neilson | Re-mastered Chicka Boom |
| Mulligan Stew Podcast | Kris Kristofferson guests on the Stew Podcast | |
| So many roads | John Mayall with Peter Green | A hard road |
| It hurts me too | John Mayall with Peter Green | Looking back |
| ol' 55 | The Eagles | Very best of |
| Better now | Serena Ryder | The art of falling apart |
| The STEW – with tdm | Kris Kristofferson guests on the Stew Podcast | |
| Black Magic Woman/Gypsy Queen (live) | Santana | Sacred Fire |
| Compared to what (live) | Les McCann and Eddie Harris | Jazz Classics |
| your mind is on vacation | Mose Allison | Mose allison |
| Mulligan Stew Podcast | Special Guest – Kris Kristofferson | |
| Baby Love | The Supremes | Where did our love go |
| mulligan stew | Love the one you're with | |
| See the light | Emily Rault | See the light |