hello

Four guys..doing our 5th annual fishing trip!!!
Friends. Food, Fluids and  Fishing…
At the 7 ½ Diamond Ranch. North of Princeton BC  
Podcast: Play in new window | Download
---
THE SHOW
Its a pretty basic show this week.. get together with my wine pals..always include a chef..and FISH YER BRAINS OUT!! 
We return to the site of last year's 4F..The fabulous 7 ½ Diamond Ranch North of Princeton BC.   www.guestranchbc.com 
(do yourself a favour – and watch the short video. Be prepared to be wowed!)
Last year the  new bunkhouse wasn't  quite ready, so we used that as a lame excuse to return –" for the full experience."
Yes, they have their own private lake..stocked with trophy  Kamloops trout, which can only be caught and released with barbless hooks.
Electric motors make sure the water quality is preserved.
It's a small lake so you can stay in touch with those around you..watch the eagles do their foraging..ducks and their families, horses in the corrals and around the Ranch.
And we finally got to stay in the new bunkhouse..which is fact is a tricked out ocean going container..now covered inside and out in barn wood and really fine kitchens, stacked beds..with – wait for it – Flannel Sheets.
During the Summer  even though its hot during the day..at night it gets down to 10 degrees.
Showers and a really nice BIG front porch for just sitting and remembering the day.
---
Our guests are:
Justin O'Connor.
Our host and the son of owners Jim and Heather O'Connor!!
Justin is also the Vice President of the Canadian Home Builders' Association in the Okanagan.   Justin  and his spouse and partner Christy Hughes also publish the award-winning Okanagan HOME Magazine.
He also represents Sotheby's in the Okanagan
It was Justin who liked the idea of Tasting Room Radio spending a couple of days soaking up  ranch life , the fishing, the food and the wines.
Executive Chef Jeff van Geest –  Miradoro Restaurant at Tinhorn Creek  The  Golden Mile – South of Oliver BC
Chef Jeff Van Geest is one of British Columbia's most celebrated chefs, focusing on locally procured foods from sustainable producer partners.
Jeff was born in St. Catharines, the heart of the Niagara region. His grandparents were farmers and taught him to respect what farm-fresh meant – which might explain Jeff's desire to have a small garden on site at Miradoro, even if he doesn't have time to tend it every day.
With his culinary training at the Vancouver Community College, Jeff landed an apprenticeship at Bishop's restaurant in Vancouver – one of the earliest pioneers in sustainable cuisine. He worked his way through the ranks to Sous Chef before leaving to start his own restaurant: the Aurora Bistro. Highlighting field-to-table and honouring the farmer/chef relationship earned Jeff a reputation in the restaurant industry as someone who walked (or cooked) the talk.
After closing Aurora, Jeff accepted a position of Executive Sous Chef at Diva at the Met – another name on the who's who list of British Columbia restaurants. Yet at every move in the culinary chain, thoughts of Jeff's grandparent farmers stayed on his mind and the allure of rural living grew stronger. When Miradoro called in 2010, Jeff answered by moving his family to the Okanagan and the heart of British Columbia's agricultural country.
Jeff cooked two great meals with meats supplied by Jason Pleym at Two Rivers Specialty Meats I North Vancouver.  Two Rivers is the go-to meat source in Western Canada.
Jason also included lots of their handmade specialty sausages, which were truly appreciated at breakfast, out on the water and as an appetizer for dinner.
Jeff is in the BC Restaurant Hall of Fame.  Plus, he's an OK fisherman.  Not Hall of Fame material but maybe someday!!
John Weber – co-owner and winemaker at Orofino.  Similkameen Valley
 JOHN AND VIRGINIA WEBER both grew up in Southern Saskatchewan far away from anything to do with grapes and the wine industry. The closest they ever got to wine production was the jugs of chokecherry wine John's parents made in their basement. Virginia studied nursing and became a registered nurse and John received a Bachelor of Arts in English and then went on to finish an Education degree from the University of Saskatchewan.
The Orofino winery, Canada's only straw bale winery was constructed in 2004/2005. The eco friendly design consists of two buildings adjoined by a breezeway.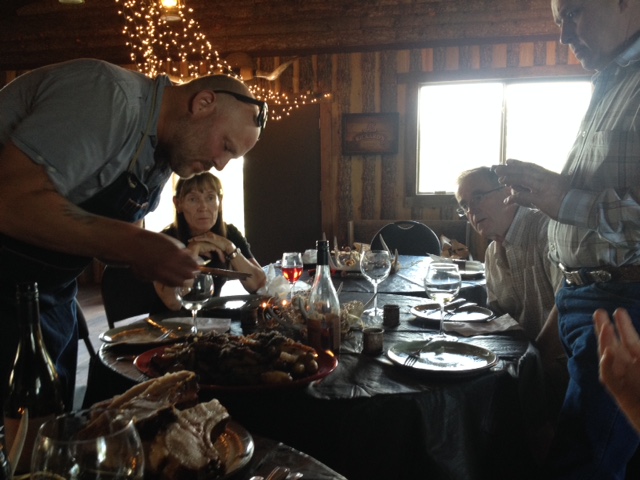 Six Similkameen vineyards currently supply Orofino, which made 5,200 cases in 2012. The winery's own 5.5-acre vineyard includes blocks of five varietals planted in 1989, along with replacement blocks planted at various times since 1999. The latest addition, in 2010, was 0.6 acre of Petit Verdot.
John and Virginia are making exceptional wines in the Similkameen outside of Cawston, including Four Rieslings.
Love these guys!!
http://johnschreiner.blogspot.ca/2013/08/orofino-raises-profile-of-single.html
http://www.orofinovineyards.com/
 Rhys Pender – Master of Wine. Co-Owner and winemaker at Little Farm. Cawston!!
John's next door neighbour. Fishing partner  and wine fan.
A passionate educator, wine lover, judge, writer, and grape grower/farmer, Rhys has worked in the wine industry since he was a teenager, back in Australia. His interest in food and wine really peaked by travelling through Europe and then a summer spent immersed in food, wine and language in the South of France with Alishan
Rhys and Alishan moved to the Okanagan in 1999 to pursue the food and wine culture. In 2003 Rhys and Alishan started a catering company and Okanagan Grocery Artisan Breads, and Rhys started his Wine Plus+ business doing wine education, consulting, writing and judging. Rhys then took on the grueling Master of Wine all while running Okanagan Grocery and Wine Plus+ and with two baby daughters and one sleep deprived mother-baker in the house. Yes, they thought he was crazy.
This culminated in Rhys becoming Canada's youngest Master of Wine (the wine world's highest level of achievement) in 2010, one of only 300 in the world. Through his studies, Rhys knew every reason why they shouldn't jump into the vineyard and winemaking dream but couldn't help doing it anyway. Instead he used his training to design and plant the 4 acre Mulberry Tree Vineyard at the property Rhys and Alishan purchased in Cawston in 2008.
Rhys looks after the vineyard, farming it organically and sustainably, to produce intensely flavoured grapes from the calcium carbonate rich soils. Having studied the world of wine he brings a global perspective to the project and an understanding of the world's wine regions and wine styles. He continues to run his Wine Plus+ business including a wine school, consultancy, writing for a number of publications and judging wine competitions around the world.
There is no category for master of fishing.
Little Farm Winery is the small hands-on operation of Rhys Pender MW and Alishan Driediger. It started with a passion for wine and developed into growing and producing Chardonnay and Riesling from their Mulberry Tree Vineyard at their home in Cawston, BC in the beautiful Similkameen Valley. The goal was always to make wines with minimal manipulation and intervention that really captured the vineyard site and the growing season. The vines were planted in 2009 on the calcium carbonate rich soil and braving the unforgiving Similkameen sun and wind. The first wines were made in 2011. In 2012 a dry Rosé was added to the lineup. Little Farm Winery will never be big and will always focus on making small batches of single-vineyard wine that reflect each site's unique characteristics. The goal is to make interesting, character natural wines and look after their  little farm.
Kamloops Wine Trail – Opens this weekend
Officially opening today, the Kamloops Wine Trail showcases BC's newest wine experience with four unique and diverse wineries pioneering a new wine region in the Kamloops Thompson Valley area of British Columbia. Situated along the picturesque banks of the North and South Thompson Rivers, the Kamloops Wine Trail connects Harper's Trail, Monte Creek Ranch, Privato, and Sagewood wineries.
On Saturday, June 27th, from 11:00am to 5:00pm, the Kamloops Wine Trail will celebrate our launch with an open house at each of the wineries. Complimentary wine tastings, tours, wine inspired appetizers, music and more will be offered! More information on the Kamloops wine Trail and the open house can be found at www.kamloopswinetrail.com
… our guests are:
Debbie Woodward at Privado     http://www.privato.ca
Vicki Collette at Harper's Trail  www.harperstrail.com
---
Podcast: Play in new window | Download
STORIES WE'RE WORKING ON
Garagiste NorthGARAGISTE – (gar-uh-jist-uh) noun, Fr. : The garagiste originally refers to a group of winemakers in the Bordeaux region of France, producing "vins de garage" or "garage wine". They were renegade small-lot winemakers, sometimes working in their garage, who refused to follow industry laws and protocol. synonyms: Rebels, pioneers, renegades, individualists, mavericks, driven by passion.
The small guys wine festival!! 
The Similkameen wineries pour in Vancouver
The Wine Diva Returns 
Kilikanoon Wines – Clare Valley Australia