hello
Sue Foley is the only female member of the famed "Jungle Show," featuring Billy Gibbons, Jimmie Vaughan, Mike Flanigin and Chris Layton, which became one of the hottest tickets in Austin in 2016. Soon after playing two sold-out shows at Austin City Limits Live 3TEN Club in December, Foley entered the studio with her Texan pals and began laying down tracks for the new album. Recorded throughout 2017, The Ice Queen represents Foley's full circle journey – her return to the roots of her career in Austin with producer Mike Flanigin. The album was recorded with her long-time friends and collaborators Vaughan, Gibbons, Layton, Sexton, and others, as well as members of the Tedeschi Trucks and Gary Clark Jr. bands.
"When I was a teenager I idolized Jimmie Vaughan and Billy F Gibbons," Foley says. "They're both legends now so this feels like a historical event (at least it does for me). And I grew up sitting at the feet of players like George 'Big Beat' Rains, Derek O'Brien and The Texas Horns. I spent many nights watching Charlie Sexton and the Arc Angels with Chris Layton. I learned and grew more musically in my years in Austin than at any point in my life. The fact that all these mega-talented musicians have graced my album is beyond anything I hoped for. I am still pinching myself."
A flood of inspiration and themes can be found on each of the tracks –Opening with the radio-friendly, funky, swamp-meets Bo Diddley beat of "Come to Me," The Ice Queen also features the upbeat and rollicking tracks "Run," "The Lucky Ones" (a duet with Jimmie Vaughan) and "Gaslight." There are several bluesy and soulful tracks, including "81," "The Ice Queen," (with its menacing John Lee Hooker vibe in tone and substance), "Fool's Gold" (featuring Billy F Gibbons on vocals and harmonica), "If I Have Forsaken You" (with the horns sounding echoes of the great Bobby "Blue" Bland), and a cheeky, guitar-heavy cover of Bessie Smith's "Send Me To The 'Lectric Chair." Sue  also the jazzy "Death of a Dream," the flamenco-blues hybrid "The Dance" (which showcases her acoustic guitar work) and a beautiful cover of the Carter Family's "Cannonball Blues."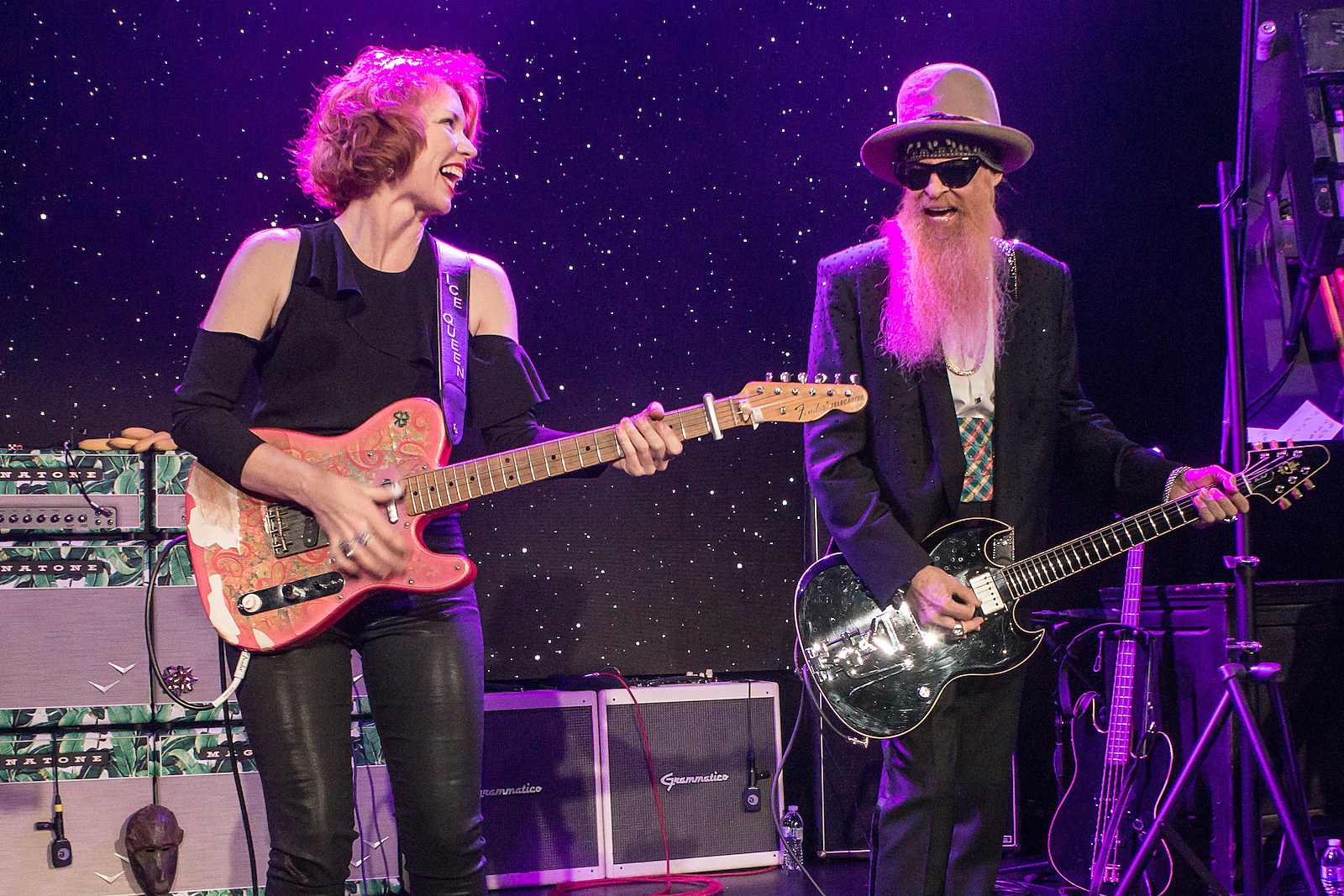 She has been working professionally since the age of 16, spent 3 years living in and learning from Vancouver's vibrant blues scene and by the age of 21,  Sue Foley had become a huge fan of Stevie Ray Vaughn and relocated to Austin, Texas, and began recording for Antone's, the esteemed blues label and historic nightclub that helped launch the career of Stevie Ray  and many others.  In 2001, she won the prestigious Juno Award and also holds the record for the most Maple Blues Awards in Canada and has earned three Trophies de Blues de France. She has also garnered several nominations at the Blues Music Awards from The Blues Foundation.
Foley's catalog includes 11 recordings under her own name, an instructional DVD and book, as well as various compilations and projects. As an offshoot to her professional recording and touring career, Foley started a project called Guitar Woman based around dozens of interviews she conducted with the world's leading female guitarists. From 2001-2008, she wrote articles, organized and promoted concerts, and worked on a book—fueling her passion for gender studies in music and her desire to bring the work of great women guitar players to light.
Tour dates
April 5th – Krossing Red Deer
April 6th – Studio Bell  Calgary
April 7th – Bourbon  St Albert
April 8th – Stettler
PLAYLIST:
| | | |
| --- | --- | --- |
| The Easter Stew | TD Mulligan | Special Guest – Sue Foley |
| long white Cadillac | Dave Alvin and the guilty ones | eleven eleven |
| taking another man's place | aretha franklin | the delta meets Detroit |
| I hear you knockin | Dave Edmunds | best of |
| mystery train (live) | The Band and Paul Butterfield | The last waltz |
| www.coyotesbanff.com | Coming UP – Stones, Steve Earle, Zepplin,Honeydrippers | Mulligan Stew |
| Promised Land | Elvis | Promised Land |
| Little Queenie (live) | Jerry Lee Lewis | Roots of R&R |
| The Easter Stew with TDM | www.mulliganstew.ca | Coming – Sue Foley The Ice Queen |
| Mona | The Rolling Stones | On Air |
| My back pages | Steve Earle | Side Tracks |
| People get ready | Lee Attwater, Sam Moore etc | Red, Hot and Blue |
| The Easter Stew | www.mulliganstew.ca | |
| Hots on for Nowhere | Led Zeppelin | Coda (deluxe) |
| Rockin at Midnight | The Honeydrippers | HoneyDrippers Vol 1 |
| Mulligan Stew – with tdm | Podcast MulliganStew iTunes, Google Play. Spotify | The Ice Queen is coming |
| Intro | Nathaniel Ratetliff and the night sweats | Tearing at the Seams |
| Every Day | Dave Mathews band | Every Day |
| Come to me | Sue Foley | The Ice Queen |
| Franklin | Jann Arden | These are the days |
| Watermellon Man | Herbie Hancock | Steppin Out |
| The Easter Stew | www.mulliganstew.ca | Sue Foley NEXT |
| Don't let pride takew you for a ride | The James Hunter Six | whatever it takes |
| The Easter Stew with tdmulligan | NEXT – The Ice Queen. Sue Foley | |
| Sue Foley Interview | | |
| Run | Sue Foley | The Ice Queen |
| Sue Foley Interview | | |
| The Ice Queen | Sue Foley | The Ice Queen |
| Sue Foley Interview | | |
| The Lucky Ones | Sue Foley and Jimmy Vaughn | the Ice Queen |
| Sue Foley Interview | | |
| Send me to the 'Lectric Chair | Sue Foley | The Ice Queen |
| Have a great Easter Weekend | Let's play some baseball | |
| | | |